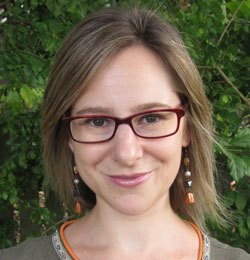 YEREVAN: Nikki Marczak, an independent researcher with the Australian Institute for Holocaust and Genocide Studies (AIHGS) and member of the International Association of Genocide Scholars, has been selected as the winner of the 2016 Lemkin Scholarship for Foreign Students.


The Armenian Genocide Museum-Institute (AGMI) under the National Academy of Sciences of the Republic of Armenia funds this Scholarship, and allows foreign students who specialise in genocide studies, especially the Armenian Genocide, to visit Armenia for a month to conduct research in local scientific institutions and libraries.
Since the Scholarship was introduced in 2011, winners have been selected from the UK, Switzerland, Italy, USA, Argentina and Hungary. This year, for the very first time, an Australian is selected as the winner of the Lemkin Scholarship.
Marczak has had a presence amongst the Armenian community, notably delivering the keynote address at the Centenary of the Armenian Genocide Commemoration in Melbourne. Based out of Brisbane, Marczak has a Master's degree in Holocaust and Genocide Studies and has worked in research and policy development for many years.
She is currently working on a number of articles relating to the Armenian Genocide, including a comparative analysis of the experiences of Armenian women and the horrors currently facing Yezidi women in Iraq.
When asked about how she felt about being chosen as the winner of the 2016 Lemkin Scholarship, she said: "When I received the email from AGMI to say I'd been selected as 2016 Lemkin Scholar, I was incredibly moved. I must have re-read the email a hundred times through my tears."
She added: "It is a huge honour to have been chosen, and I'm thrilled to be travelling to Yerevan to conduct my research. AGMI has a number of collections and testimonies and other materials, which I will be examining. I can't wait to join the institute for a month."
Marczak also spoke of the specific research she intends on focusing on while in Armenia, saying: "I'm going to be focusing on stories of women's resistance and how those stories impact on descendants of survivors. This combines two aspects of the genocide that have been under studied – women's resistance and the intergenerational effects of the genocide."
The Armenian National Committee of Australia's (ANC Australia) Executive Administrator, Arin Markarian said: "We are very proud to see Nikki Marczak, who is such a dedicated scholar in the field of genocide, be selected as the first Australian to win the Lemkin Scholarship."
"In a year that sees us focus on the Australian links to the genocide, it could not be more fitting for this Scholarship to go to an Australian. This is someone that many of our Armenian academic students can look up to when applying research and critical thinking to Armenian related topics in Universities."
"We congratulate Ms. Marczak and wish her all the very best with her research and travels."