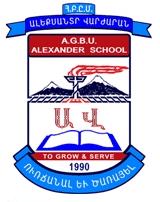 SYDNEY: The Australian Curriculum, Assessment and Reporting Authority (ACARA) recently updated the Australian Government's My School website, providing up-to-date, readily accessible information about all of Australia's schools. The published result charts on the website display average NAPLAN scores for 'Reading', 'Writing', 'Spelling', 'Grammar & Punctuation' and 'Numeracy'.
The update has also made public the 2016 National Assessment Program – Literacy and Numeracy (NAPLAN) results for students in Years 3, 5, 7 and 9, which included results showing that students of AGBU Alexander Primary School have achieved 'substantially above' average scores in each of the domains, compared to the average of all Australian schools. Similar outstanding results were also achieved when compared with schools serving students from statistically similar socio-educational backgrounds.
Alexander School Principal, Manoug Demirjian has congratulated all the students and staff for their hard work including the parents for entrusting their children's education at this great school.
He said: "As I have stated, we do not expect members of our community to simply enrol their children at our school because we are a bilingual 'Armenian' school, but because we are a school that continues to produce students with high academic results, is dedicated to excellence in education and the realisation of each student's potential. These English and Mathematics results plus the proven record of our Armenian language standard, provides the community a choice with the best of both worlds."
The school has also produced a graph comparing the results with the average of schools in New South Wales and Australia. According to Dr Kev Dertadian, former student and current member of the School Board: "These most recent results continue to highlight the benefits of bilingual education and the cognitive impact it can have on the development of a child."
AGBU Alexander Primary is a bilingual English and Armenian Christian school, dedicated to excellence in education and the realisation of each student's potential, providing a balanced curriculum, encompassing academic, spiritual, cultural, physical and practical areas of learning. The small school in Duffys Forest makes a big difference in providing a safe, caring, nurturing, harmonious and conducive learning and working environment to support its motto to 'Grow and Serve'.