By Gayané Kortian – Student Intern Armenia Media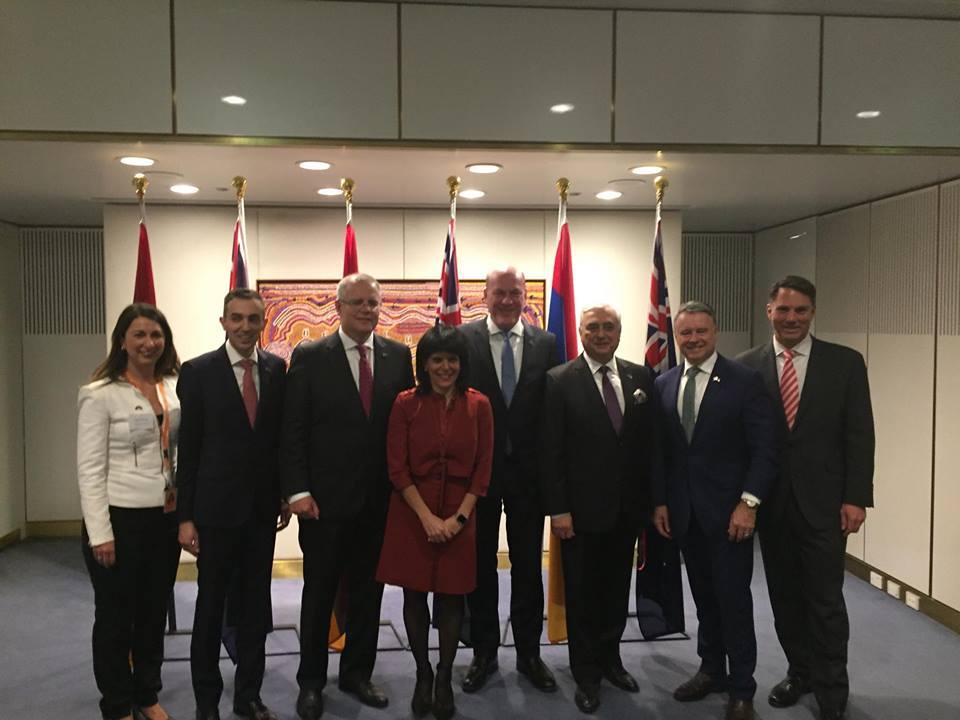 CANBERRA: The official launch of an Inter-Parliamentary Union called the Australia-Armenia Parliamentary Group took place on June 13th at Parliament House, with representatives of the Armenian-Australian community organisations, religious leaders and a number of high-profile parliamentarians in attendance, representing all political parties.

The Australia-Armenia Parliamentary Group, which is part of the international Inter-Parliamentary Union, is an initiative of the Armenian National Committee of Australia (ANC-AU) and key Federal politicians, including Trent Zimmerman MP - Member for North Sydney (who is Chair of the Parliamentary Group) and the Hon. Joel Fitzgibbon MP - Member for Hunter, Shadow Minister for Agriculture (Co-Chair).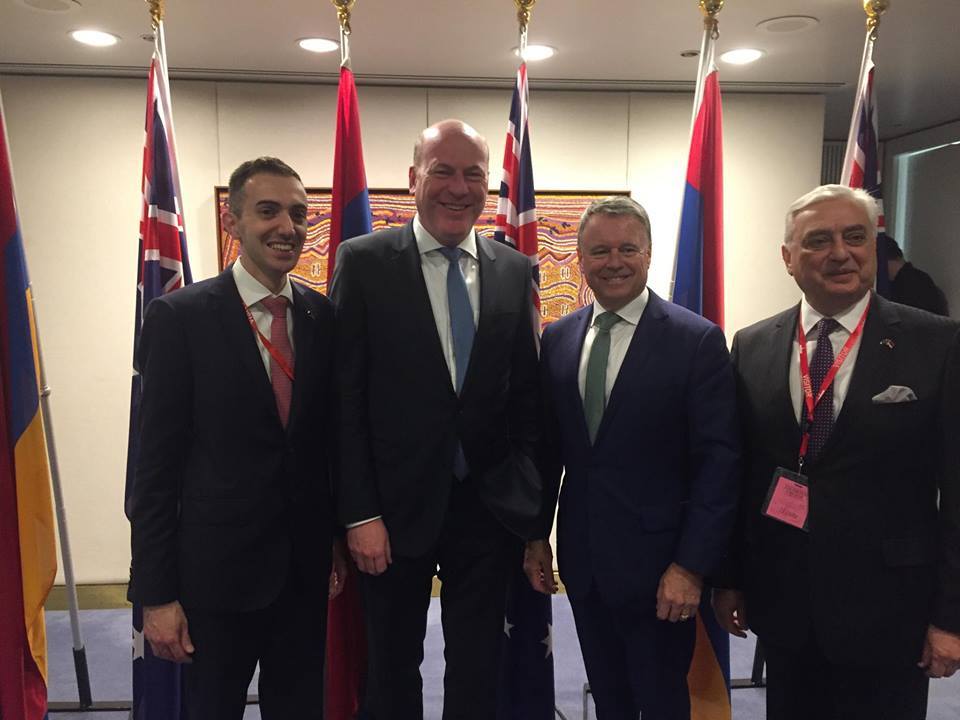 The Inter-Parliamentary Union Australia-Armenia Parliamentary Group aims, among other things, to foster closer political, cultural, trade and educational relations between Australia and Armenia, in particular, through the respective Parliaments.

The official launch showcased Armenian culture, trade, technology and historical ties between Armenia and Australia, while Armenian wine and brandy was served to the guests.  The leaders of the Parliamentary Group, as well as Australia's Treasurer, Scott Morrison stressed the significance and importance of the Parliamentary Group when addressing the attendees.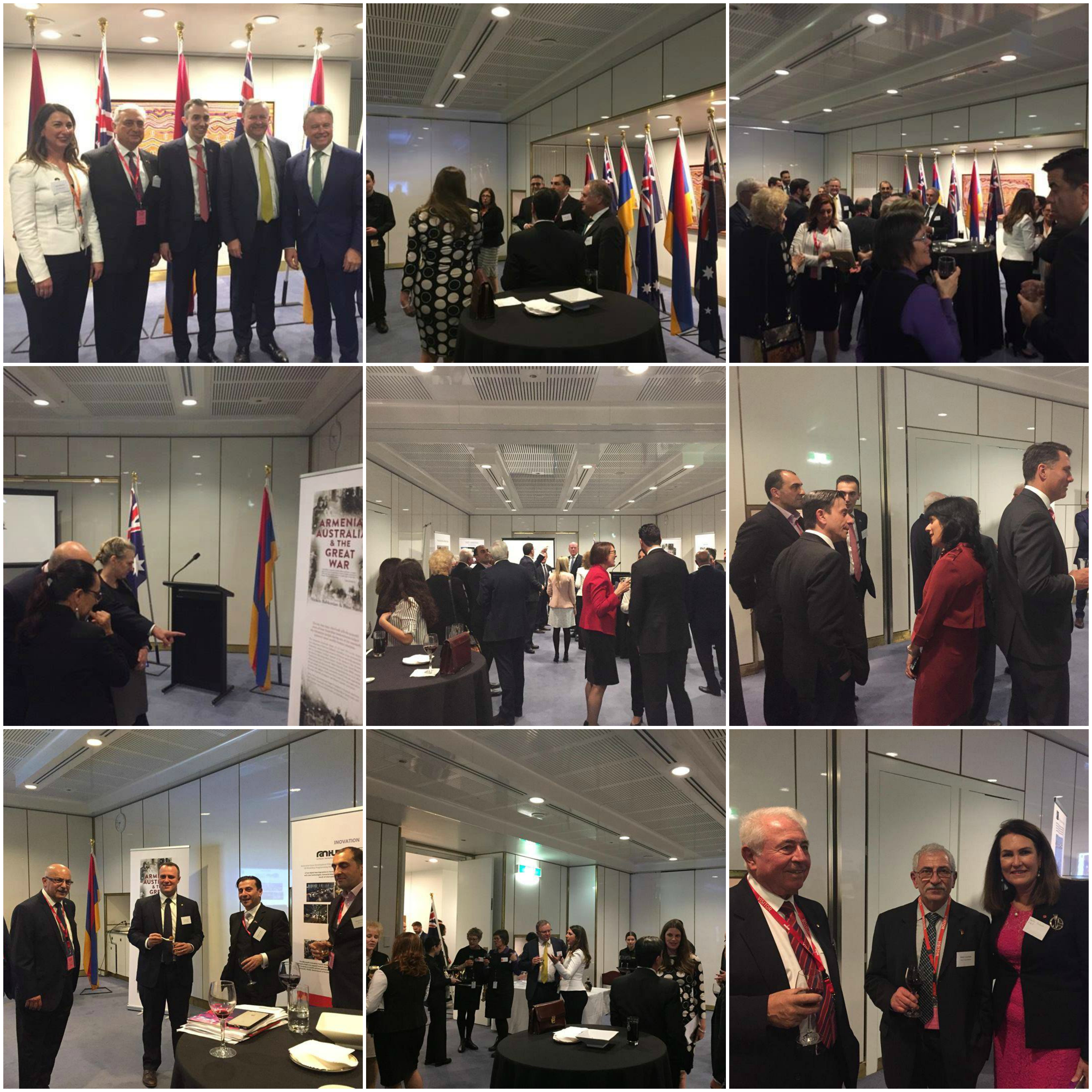 Zimmerman said: "I hope that we do strengthen relations between the two countries, particularly at a parliamentary level. Armenia is a country with an extraordinary history that has been home of the world's most resilient people. Armenia is a nation from which Australia can learn a great deal."

Vache Kahramanian, Managing Director of ANC-AU, in welcoming the guests to the special occasion noted: "Last year, Armenia and Australia celebrated 25 years of formal diplomatic relations. But the history between our two countries and the bond between our two countries can probably be best summarised by a photo which is front of us [referring to the reproductions of the covers of the book "Armenia, Australia and the Great War" by Vicken Babkenian and Professor Peter Stanley] of Armenian Genocide orphans saluting the Australian flag. It is a vote thanks for what Australians did to save the victims of the Armenian Genocide."

New South Wales Premier, Gladys Berejiklian also addressed the event and its attendees through a recorded video message. Berejiklian expressed her pride and congratulated Inter-Parliamentary Union Australia-Armenia Parliamentary Group members on the launch.

The Hon. Joel Fitzgibbon MP, in giving his vote of thanks and proposing a toast to the official launch as Co-Chair of the Group, highlighted the importance of the more formal and official "parliament-to-parliament" relations created by the establishment of such an Inter-Parliamentary Union Country Group.

Many of the nearly 50 current members of the Inter-Parliamentary Union Australia-Armenia Parliamentary Group were present at the official launch, including The Hon. Anthony Albanese MP (Federal Member for Grayndler, Shadow Minister for Transport & Infrastructure, Shadow Minister for Cities), The Hon. Paul Fletcher MP (Member for Bradfield, Minister for Urban Infrastructure), Senator  Sam Dastyari (NSW), Jason Falinski MP (Member for Mackellar), Tim Hammond MP (Member for Perth, Shadow Minister for Consumer Affairs), Cathy McGowan MP (Member for Indi), Tim Wilson MP (Member for Goldstein), Susan Templeman MP (Member for Macquarie), Senator Claire Moore (QLD), Senator Brian Burston (NSW), Senator The Hon. Don Farrell (South Australia – Deputy Opposition Leader in the Senate), Jane Prentice MP (Member for Ryna, Assistant Minister for Disability Services), Andrew Wallace MP (Member for Fisher), Mike Freelander MP (Member for Macarthur), Julian Leeser MP (Member for Berowra), as well as Mr Kaylar Michaelian (Representative to Australia for the Republic of Artsakh), and Mrs Hanriet Andriasian (Advisor to the Minister for the Diaspora of the Republic of Armenia).

Commenting on the launch of the Parliamentary Group Vache Kahramanian, Managing Director of ANC-AU said: "The Inter-Parliamentary Union Australia-Armenia Parliamentary Group is a major step towards the future of vital and important connections between Armenia and Australia, and strengthens our already present ties with the countries. It is a positive step towards closer political, cultural, trade and educational relations between the two countries."

He added: "The Armenian National Committee of Australia looks forward to working closely with the Inter-Parliamentary Union Australia-Armenia Parliamentary Group to help further strengthen those important ties between Australia and Armenia."