SYDNEY: The Armenian Professional Network (APN) - an initiative of the Armenian National Committee of Australia (ANC-AU) - will relaunch with a super networking event featuring a keynote by Mr. Michael Carapiet at Sydney's Cafe Del Mar this Thursday, 14th March 2019.
With the goal of connecting Armenian professionals across Australia, the APN was reformed by the ANC-AU in 2018, with a Committee being chaired by Dr. Viken Kortian - who consults in organisational excellence and currently lectures at the Macquarie Graduate School of Management. The Committee also includes cosmetic dentist, Gamer Verdian; property manager, Sarah Panossian; as well as lawyers Jacqueline Chelebian and Alexia Ereboni Yazdani.
Prominent Armenian-Australian business leader, Mr. Michael Carapiet will keynote the networking event, which will be followed by an interactive question and answer session with the former senior executive at Macquarie Group.
The Armenian Professional Network of Australia launch is proudly sponsored by Bank of Sydney, digiDIRECT Cameras & Imaging, Sydneywide Commercial Cleaning, HYECORP Property Group, Weston Aluminium and Cafe Del Mar.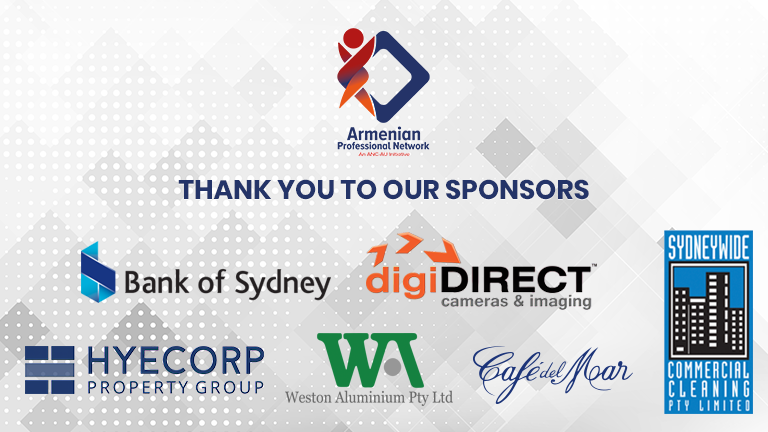 Keynote speaker Michael Carapiet has 30 years' experience in banking and financial services, gained across the major financial markets of the world. He also has extensive governance and board experience with private and Government entities.
Carpiet is currently the Chairperson of the Boards at iCare; Link Group Ltd; Smartgroup Corporation Limited; and Adexum Capital Limited. He is also a board member of Infrastructure Australia, while previous roles include chairing the Safety, Return to Work and Support Board, during which the Workers Compensation Scheme returned to surplus while delivering premium rate reductions.
Carapiet's previous government roles include Chairperson of the SAS Trustee Corporation, the trustee entity for NSW State Super which managed over $40 billion in investment funds. He chaired the Review of Crown Land Management in NSW and was a board member of Clean Energy Finance Corporation and Deputy Chairman of Export Finance Insurance Corporation.
In a distinguished career, he has held a number of senior executive roles with the Macquarie Group, which he first joined in 1985. He was a member of Macquarie's Executive Committee from 2005. Prior to his retirement in July 2011 he was Executive Chairman of Macquarie Capital and Macquarie Securities. Carapiet has a Master of Business Administration from Macquarie University.
"We have been planning for this Launch for most of the past 6 months," said Dr. Vik Kortian. "Our emphasis has been on launching the Armenian Professional Network right to ensure it lasts beyond the odd networking event and allows Armenian professionals across Australia to not just connect, but to remain connected."
Kortian added: "To this end, we will be revealing an exciting technology at the launch event, and couldn't be more delighted that one of the most distinguished business leaders in Australia, Mr. Michael Carapiet has agreed to keynote our event."
"We invite all Armenian professionals to join us for what will be a night of free-flowing drinks, canapés, networking and hearing from Mr. Carapiet on March 14th," Kortian concluded.

The APN launch event will take place on the Terrace at Cafe Del Mar – located on Cockle Bay Wharf in Sydney's iconic Darling Harbour (35 Wheat Road)  –from 7:30pm on Thursday 14th March, 2019. Entry is free for all Armenian-Australian professionals, and while RSVP is not essential, the Committee would appreciate you doing so by
clicking here for the Facebook Event page
.