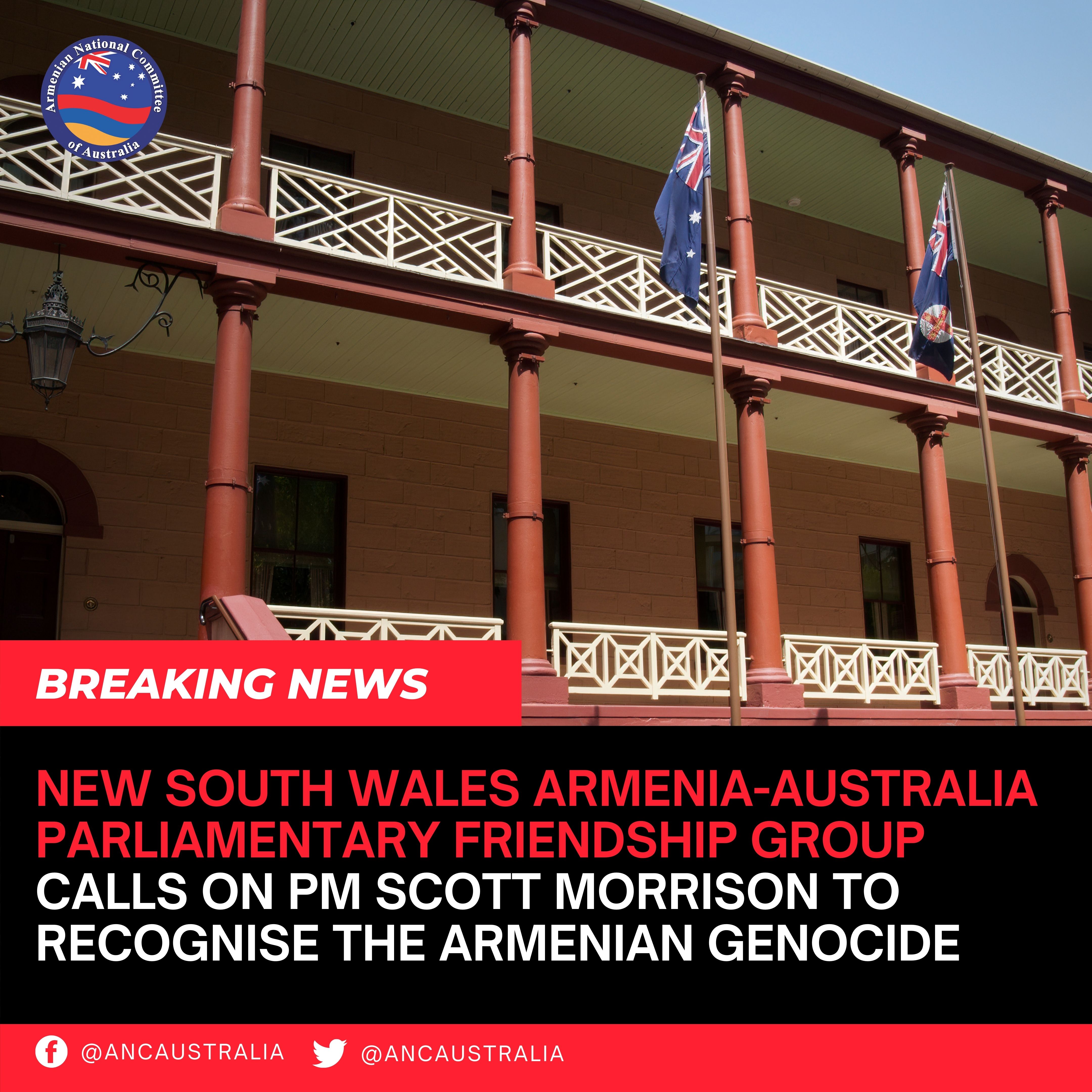 SYDNEY: The New South Wales (NSW) Armenia-Australia Parliamentary Friendship Group has joined growing calls for Prime Minister Scott Morrison to accurately recognise the Armenian Genocide with his statement marking the 106th Anniversary of the unpunished crime against humanity, reported the Armenian National Committee of Australia (ANC-AU). 
The Group's Chair, Speaker of the NSW Legislative Assembly Hon. Jonathan O'Dea MP and Vice-Chair, NSW Shadow Treasurer Hon. Walt Secord MLC have written to the Prime Minister echoing
a community letter
urging he returns to his convictions as outlined in 2011, when he called on Australia to recognise the Armenian, Assyrian and Greek Genocides in a speech to Parliament.
The NSW Armenia-Australia Parliamentary Friendship Group consists of 42 members, including parliamentarians from all represented parties and Independents of the Upper and Lower Houses of Australia's largest state's legislature.
ANC-AU Executive Director, Haig Kayserian welcomed the representation made released by the NSW Armenia-Australia Parliamentary Friendship Group, which adds to a
similar appeal from major Christian charity Barnabas
, ahead of Prime Minister Scott Morrison's anxiously awaited annual statement on the anniversary of the Armenian Genocide.
"We welcome the bi-partisan statement from some of the leading legislators in New South Wales, calling on the Australian Government and Prime Minister Scott Morrison to stand on the right side of history," said ANC-AU Executive Director Haig Kayserian.
"It is high time the Australian Federal Government follows in the footsteps of the New South Wales and South Australian State Parliaments and over 30 nations worldwide in recognising the mass killings of Armenians, Assyrians and Greeks as Genocide."
The Armenian-Australian, Assyrian-Australian and Greek-Australian communities have united under the Joint Justice Initiative banner, announcing a
#SpeakUpScoMo March for Justice
in Sydney and Melbourne on 24th April 2021.