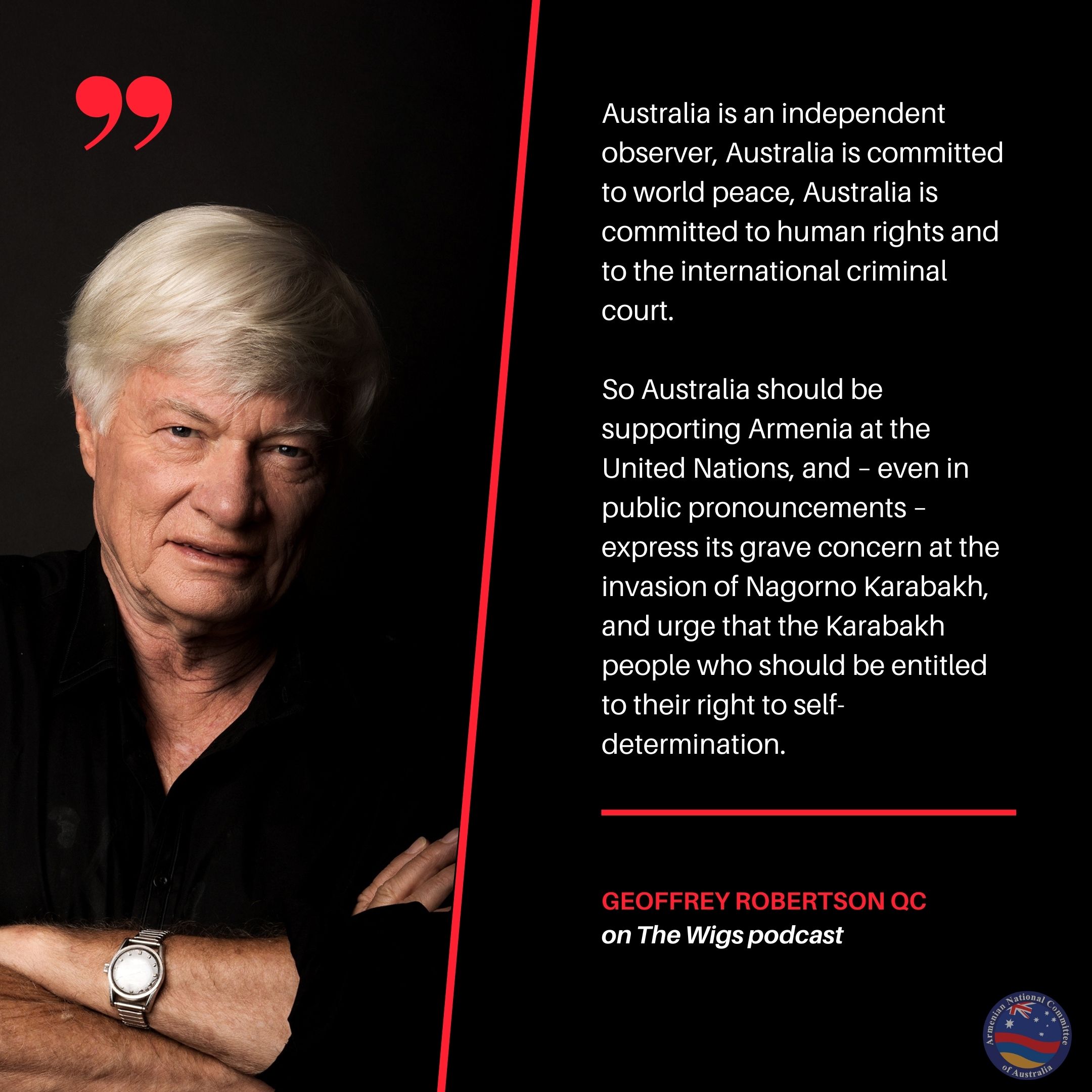 LONDON: Australian human rights barrister of the London-based Doughty Street Chambers, Geoffrey Robertson QC has followed up his pivotal op-ed in The Australian newspaper by
appearing on The Wigs podcast
, where he has called upon the Australian Government to condemn Azerbaijan's Turkey-backed attacks on the Republic of Artsakh (Nagorno Karabakh), reported the Armenian National Committee of Australia (ANC-AU).
"Australia is an independent observer, Australia is committed to world peace, Australia is committed to human rights and to the international criminal court," Robertson said. "So Australia should be, I think, supporting Armenia to the extent that it should, at the United Nations, and – even in public pronouncements – express its grave concern at the invasion of Nagorno Karabakh, and urge that the Karabakh people who should be entitled to their right to self-determination."
Robertson, who called out both Turkey and Azerbaijan for their attacks on Armenia and Artsakh in
his op-ed last week (click here)
, added that Australia should not be concerned with the empty and aggressive political threats made by the authoritarian leadership of the dictatorships and proposed self-determination as the "obvious solution".
"It may irritate Turkey, it will irritate Turkey and Azerbaijan, but it seems to me ... most independent observers who've actually observed the situation in Nagorno-Karabakh in recent years have said, and I say too, there is an obvious solution. Keep Nagorno-Karabakh independent, or make it a province of Armenia, which it is really, and return some of the buffer areas that were captured in the 1992 war to Azerbaijan," he said.
Robertson said in his op-ed: "It would be intolerable if Artsakh were to be invaded and its people killed or forced to flee. Yet this is the declared objective of Turkey. They will not surrender Artsakh and nor should they. Australia should not hesitate in its support for them – not for the sake of Christianity but for democracy."
Robertson told The Wigs podcast that his motivation for writing the article was his personal witnessing of the democratic Republic of Artsakh.
"I wrote the article because I'm one of the few Australians to have ventured into this beautiful little country, country in the clouds I call it because it's got lots of high mountains that are kept with clouds, beneath which are thousands of amazing early Christian churches," he explained.

"Armenia was the first country to convert back in 300 AD and you couldn't find churches almost as old as that in Nagorno-Karabakh or Artsakh, as it was historically known a place for Highland Armenians throughout its history. And that history is the reason why it's being bombed and strafed, it's 170,000 people who have their own little democracy."


Robertson added: "I've been there to actually undertake a study of how democratic they are. I met all their judges. I met their 45 lawyers they have for 170,000 people and I looked at their politics and their elections and so forth. And it is truly an independent democracy."
Armenian National Committee of Australia (ANC-AU) Executive Director, Haig Kayserian praised Robertson for "calling out Australia for fence-sitting".
"The Armenian-Australian community is frustrated and disappointed with our Government's current passive position on this brazen military aggression by the two neo-Ottoman dictatorships, who have already threatened to continue the genocidal work of their grandfathers," Kayserian said.
"Now we have one of the most credible defenders of human rights, Mr. Geoffrey Robertson warning Australia of the impending humanitarian crisis. As we have seen throughout history, failure to call out and condemn an aggressor and an enabler out by name – especially when they are bombing civilians and openly threatening ethnic cleansing – only emboldens said aggressor to continue committing war crimes."
Kayserian added: "Geoffrey Robertson QC, Prime Minister Trudeau (Canada) and President Macron (France) are joined by several Federal MPs from Australia – including Trent Zimmerman, Tim Wilson and John Alexander, along with The Australian Greens, the Executive Council of Australian Jewry, the Greek, Assyrian and Kurdish communities, the NSW branch of the Young Liberals, among others, in openly condemning this military aggression by Azerbaijan and Turkey. We call on our Government to do the same."
Listen to The Wigs podcast with Geoffrey Robertson QC, co-anchored by Armenian-Australian barrister Emmanuel Kerkyasharian, by
clicking here
or listening below.