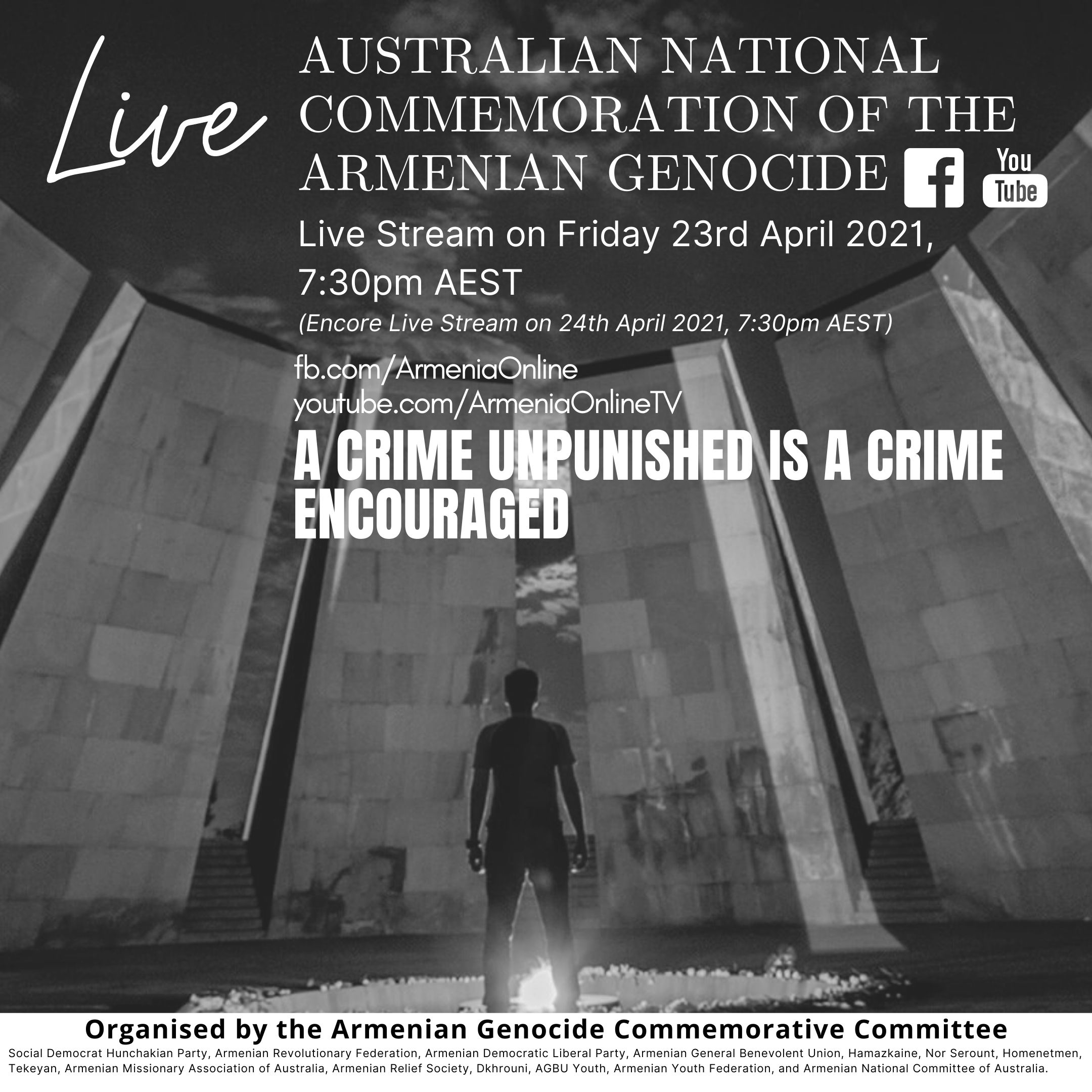 (AGCC) Australia's National Armenian Genocide Commemoration Evening, which is typically held in Sydney before an audience of around 1000 guests and community, will again be a Live Stream event in 2021, simulcast via Facebook and YouTube to ensure maximum participation by Armenian-Australians in honouring the 106th Anniversary of the memory of their ancestors despite continued COVID-19 uncertainty.

The Armenian Genocide Commemorative Committee announced that on Friday 23rd April 2021, a special program will be premiered live on Facebook and YouTube from 7:30pm (Australian Eastern Time). There will be a special encore live stream the following evening, on Saturday 24th April 2021, 7:30pm (AEST). The broadcasts will be delivered through the YouTube channel of Australia Live by Armenia TV and the Facebook pages of Armenia Media and all major Armenian-Australian organisations.

The one-hour long production will include important messages from prominent Federal and State parliamentarians marking the anniversary, the latest updates in advocacy efforts targeting justice, as well as a keynote feature highlighting how the ideology that led to the Armenian Genocide resurfaced during the 2020 attacks by Azerbaijan and Turkey against the indigenous Armenians of the Republic of Artsakh.

"Given the success of last year, where a massive 15,000 tuned into the virtual Australian National Commemoration of the Armenian Genocide within 24 hours of its broadcast, we have decided to again commemorate the memory of those who fell in 1915 while ensuring the safety of the community," said the Armenian Genocide Joint Commemorative Committee's Hratch Loussikian.

"We are working hard to produce an event that goes above and beyond last year while giving the occasion the reverence it deserves, details of which will be revealed over coming weeks," Loussikian added.

The member organisations of the organising Armenian Genocide Commemorative Committee are the Social Democrat Hunchakian Party, the Armenian Revolutionary Federation, the Armenian Democratic Liberal Party, the Armenian General Benevolent Union, Hamazkaine, Nor Serount, Homenetmen, Tekeyan, Armenian Missionary Association of Australia, Armenian Relief Society, Dkhrouni, AGBU Youth and the Armenian Youth Federation, in addition to Sahagian Sporting Club in Victoria and the Armenian National Committee of Australia and its branches in Melbourne, Perth and Canberra.

The Armenian Genocide Commemorative Committee will shortly release all events being organised to honour the 106th Anniversary of the Armenian Genocide.