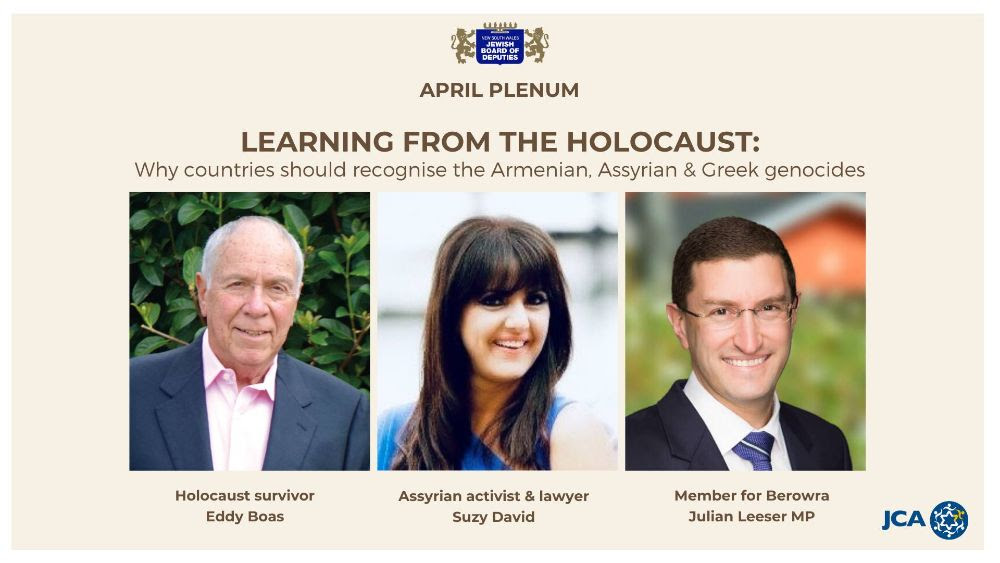 SYDNEY: The drive for international recognition of the Armenian, Assyrian, and Greek Genocides will be the focus of this month's special plenum organised by the New South Wales Jewish Board of Deputies on Tuesday 20th April 2021 in Sydney, Australia.
In a conversation titled "Learning from the Holocaust: Why countries should recognise the Armenian, Assyrian and Greek genocides", participants at the in-person and virtual event will hear from Dutch-born Holocaust survivor Eddy Boas, Assyrian-Australian activist and lawyer Suzy David, and Member for Berowra Julian Leeser MP – who will deliver a video message.
Armenian National Committee of Australia Executive Director, Haig Kayserian and Greek-Australian community representative Maria Anthony will feature in a Question and Answer panel following Ms David's presentation.
The Armenian-Australian, Assyrian-Australian and Greek-Australian communities launched the Joint Justice Initiative in February 2020, calling on the Australian Government to recognise the 1915 Genocides. Julian Leeser is one of 40 parliamentarians who have signed affirmation of support for the Joint Justice Initiative.
"We thank the New South Wales Jewish Board of Deputies for recognising this as an important topic of discussion following the commemoration of Yom Hashoah and on the eve of our communities' commemoration of the Armenian, Assyrian and Greek Genocides," said ANC-AU Executive Director, Haig Kayserian.
"As a fellow survivor race of genocide, this event signifies the importance of accurate remembrance and condemnation as a method of prevention, and to this end, we hope that Australia and the international community can learn from the lessons of history as those who fail to learn from the lessons of the past are doomed to repeat it," Kayserian added.
Location: Hybrid (online and in-person)
Venue: Details to be released to registrants closer to the event
Date: Tuesday, 20 April 2021
Time: 7:30pm
Registration (for both in-person and online attendance) required: 
https://www.nswjbd.org/events/learning-from-the-holocaust/
. 
Please submit any questions to 
mail@nswjbd.com
.