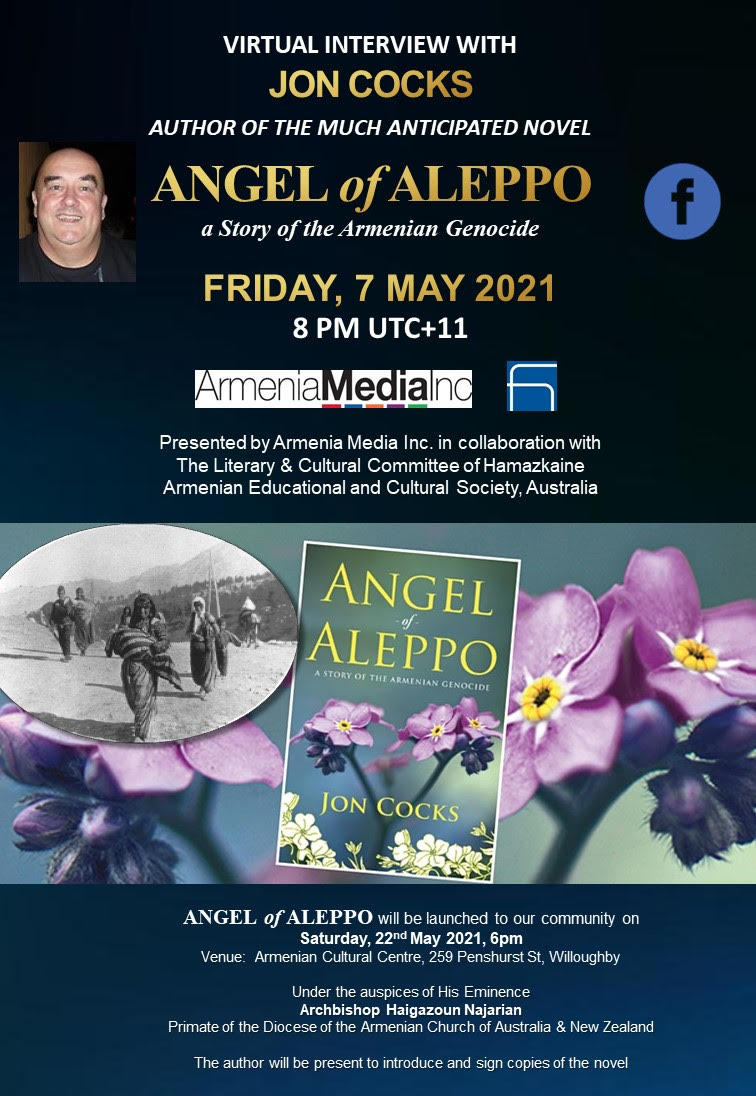 SYDNEY & ADELAIDE:  Armenia Media Inc. in collaboration with The Literary & Cultural Committee of Hamazkaine Armenian Educational & Cultural Society, Australia, will be hosting a virtual INTERVIEW with Adelaide author Jon Cocks in advance of the launch of his much anticipated novel Angel of Aleppo, a story of the Armenian genocide.
The Virtual INTERVIEW with Jon Cocks will be streamed on Friday, 7th May, 8:00pm (Australian Eastern Daylight Savings Time - AEDT) on the Facebook pages of the Armenia Media Inc. and The Literary & Cultural Committee.
Angel of Aleppo is Jon's first full-length novel.  Inspired by his Armenian born wife, Lilit, in 2014 he penned Journey of Faith, an extended one-act play to commemorate the 2015 Centenary of the Armenian Genocide, which was staged in Adelaide during the week leading up to April 24 and in Sydney, three weeks later. Jon has further adapted this play into a novel resulting in the Angel of Aleppo.
"From Anatolia to Aleppo and beyond, through the outrages and injustices of the 1915 Armenian Genocide, 'Angel of Aleppo' is a story about losing everything but the healing power of love. Anoush, a courageous young Armenian woman, sees her mother shot by a Turkish soldier in 1915. Forced to endure the horrors of the Armenian Genocide, she learns to nurse, and in living up to her mother's legacy and caring for countless victims, she becomes known as the Angel of Aleppo. Pain and loss are constant companions. Can the love she has nurtured in her heart help her find peace?"
Jon's in-depth research of the genocide and reporting in the form of a novel is an invaluable service to preserving the stories of the Armenian people and educating the world on real life events around the dark days of the 20th Century's first genocide.
Tune in to Facebook at 8:00pm (AEDT) on Friday, 7th May to hear from Jon his journey to writing this novel.