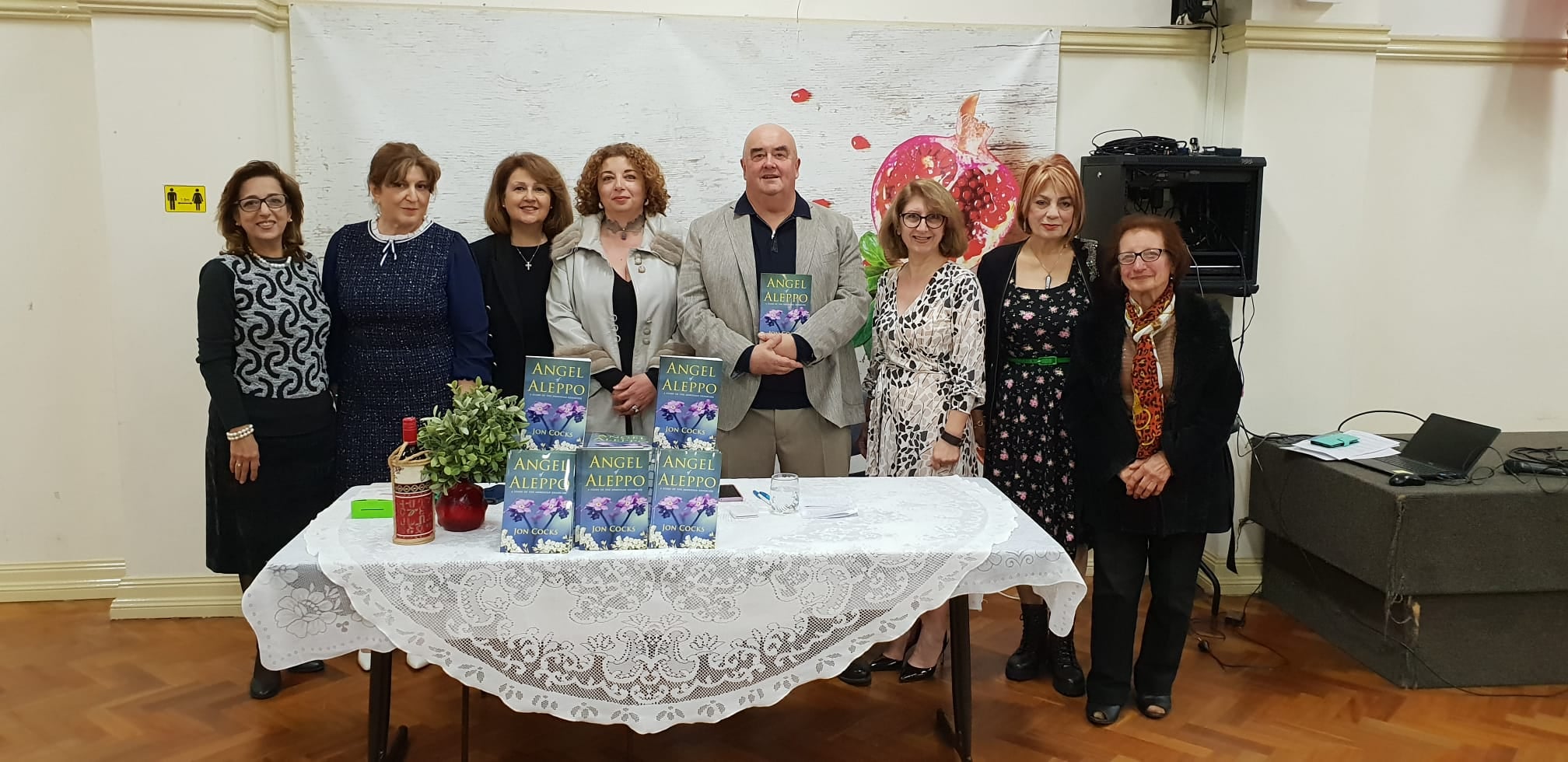 SYDNEY: The Literary & Cultural Committee of Hamazkaine Armenian Educational & Cultural Society, Australia, successfully hosted a Book Launch event – Angel of Aleppo, a story of the Armenian Genocide, by Adelaide author Jon Cocks.
The book launch was held on 22nd May 2021 at the Armenian Community Centre in Penshurst Street, Willoughby, under the auspices of His Eminence, Archbishop Haigazoun Najarian. The event was attended by representatives of the Hamazkaine Regional Committee, Australia, members of the Diocese of the Armenian Apostolic Church of Australia & NZ, as well as members of Armenian cultural organisations, invited guests and an enthusiastic audience, ready to support the author on the publication of his first full-length novel.


Jon Cocks and his Armenian born wife, Lilit Petrosyan, travelled to Sydney from Adelaide, to launch the novel to the Armenian community.


The program commenced with a warm welcome by Sylvia Iskenderian, followed by a biography of the author by Nora Bastajian. Jon was invited to introduce Angel of Aleppo, reading excerpts from significant events from the novel, hoping not to give spoilers to the plot. Jon's introduction of his novel followed with the Armenian folk dance Moush, choreographed and performed beautifully by Anna Berberian.


A live Q&A session followed, showing Jon's mastery of not only historical events surrounding the genocide but his insights into modern geo-politics. He provided his own views as to why the Australian and New Zealand Prime Ministers may not recognise the genocide formally in the same way as US President Joe Biden made recently in April.


His Eminence Archbishop Najarian closed the event with his remarks, thanking Jon on behalf of the community for writing this novel and making the world aware of the Armenian genocide.


Following the formalities of the launch, the audience had the opportunity to mingle over a glass of wine and light refreshments provided by the Committee.


The attached photos show the author during the launch with the Committee and various invited guests.


The Literary & Cultural Committee would like to thank Jon once again for his invaluable service for educating the world on the genocide through his beautiful novel. His book is a great gift to the Armenian people and we are grateful to him.


We invite our community to strongly support Jon in return and purchase the novel – please follow the links below.



Jon Cox will be launching his book next in his home city of Adelaide.