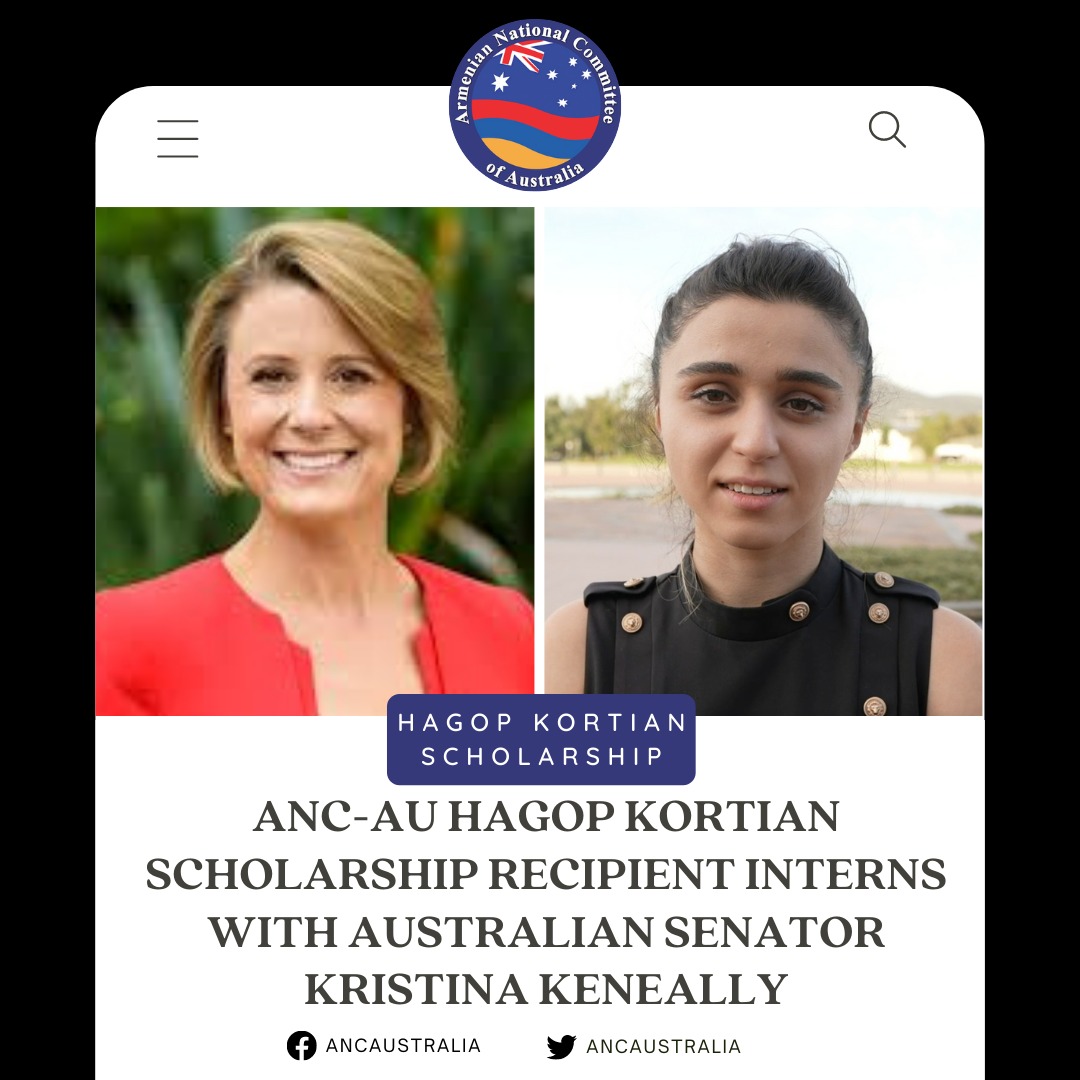 CANBERRA: The recipient of the 2020 Armenian National Committee of Australia (ANC-AU) Internship Program's Hagop Kortian scholarship, Tamara Kotoyan is undertaking three months of work experience with prominent Australian Senator, the Hon. Kristina Keneally.
Kotoyan, a University of Sydney graduate and Administrative Assistant at the ANC-AU National Head Office, commenced her placement with Senator Keneally in May 2021, serving in the former New South Wales State Premier's electorate and parliamentary offices, in Sydney and Canberra respectively.
Senator Keneally is currently Deputy Leader of the Opposition in the Senate and Shadow Minister for Home Affairs, Immigration, Citizenship and Government Accountability, elected to the Australian Senate in 2018.
Kotoyan applied for the Hagop Kortian Scholarship after participating in the 2020 Youth Advocates program and was eager to experience Australian politics first-hand. After spending three months interning at the head office of the ANC-AU, she joined Senator Keneally's team.
"I would like to sincerely thank the Kortian family for their generosity and the ANC-AU for accepting my application and facilitating this invaluable experience, a platform to enter and excel in the competitive political industry in Australia," said Kotoyan.
Over the last three months, Kotoyan has been tasked with assisting Keneally's Chief of Staff and colleagues conducting research, speech writing, dealing with correspondence, and assisting with Senate Estimates preparations. Her work has included three sitting periods in Federal Parliament House in Australia's capital, Canberra.
"I have always dreamt of walking the hallways of Australia's Federal Parliament as a political staffer, advisor or chief of staff, and the ANC-AU Hagop Kortian Scholarship program helped start that journey and placed me one step closer to achieving a dream," said Kotoyan.
Kotoyan added: "I would also like to thank Senator Keneally and her amazing team who have welcomed me with open arms and been extremely supportive during my placement."
As part of the internship, Kotoyan has also spent time working at the Armenian National Committee of Australia Headquarters serving the interests of the Armenian-Australian community and advocating on behalf of issues important to them.
The Kortian family congratulated Tamara Kotoyan and wished her all the best for the remainder of her internship.
"My family is proud to support young Armenian-Australians such as Tamara, who have a passion for politics and the drive and determination to make a positive difference in Australia and for the Armenian-Australian community. We wish Tamara all the best," said Dr. Tro Kortian.
MORE ON THE HAGOP KORTIAN SCHOLARSHIP


Applications are now open to candidates for the 2021 ANC-AU Internship Program's Hagop Kortian Scholarship, who should email their applications to
interns@anc.org.au
including:
a current Curriculum Vitae (CV) with full contact details.



a personal statement, no longer than 1000 words, that answers the following question: What do you hope to learn during your proposed internship with a Federal politician, and how will you use your acquired skills and ideas to further Hai Tad (the Armenian Cause) in your own community or campus?


at least one letter of recommendation from an individual, not related to you, with knowledge of your abilities and qualifications.

The ANC-AU Internship Program's Hagop Kortian Scholarship was established in 2018 and is a long-term commitment from the family, and in memory, of one of the founding forces of Hai Tad in Australia and founding member of ANC-AU.

The annual Scholarship totalling $10,000 is funded by the proceeds of the Hagop and Makrouhy Kortian Endowment Fund established in their honour by their sons and their families. Part of the Hagop Kortian Scholarship funded the 2018, 2019 and 2020 ANC-AU Young Advocates Program in Canberra.