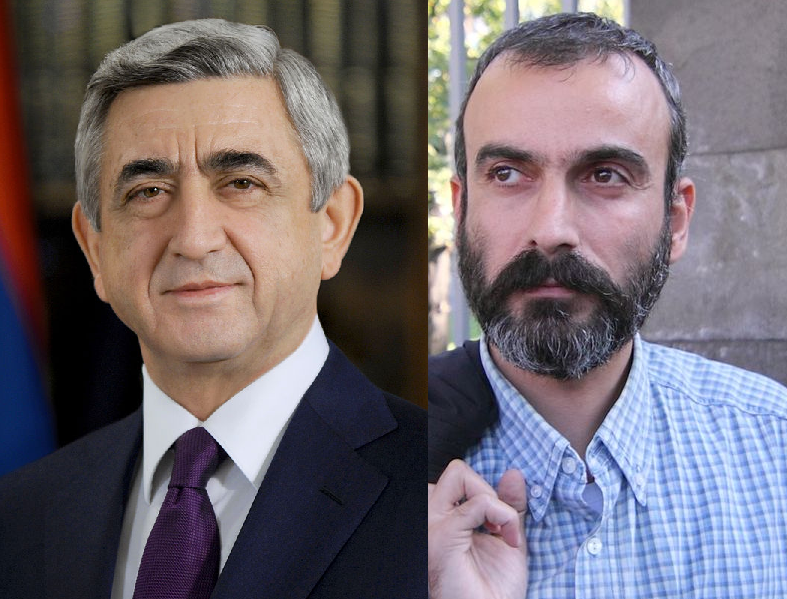 YEREVAN (A.W.)—Armenian President Serge Sarkisian is ready to meet imprisoned opposition leader Jirair Sefilian according to retired Nagorno-Karabagh (Artsakh/NKR) general and mediator in the ongoing armed occupation of a Yerevan police station, Vitaly Balasanian.
"[Sarkisian] has expressed readiness to invite Jirair Sefilian and explain to him the reality and prospects immediately after the group lays down arms and surrenders," Balasanian said as cited by Armenia's ArmenPress news agency.
According to Balasanian, Sefilian no longer supports the armed group's chief demand of Sarkisian's resignation, and has since set other conditions.
Lebanese-born Armenian military commander and opposition political activist Jirair Sefilian was arrested in Yerevan on June 20 after Armenian authorities said he planned on leading an armed coup against the government. According to a statement released by Armenia's Investigative Committee, a total of seven men—including Sefilian—were arrested in connection with the planned coup, and a large arsenal of weapons was confiscated.
On July 23, the armed opposition group calling themselves "Sasna Tsrer," who have occupied the Yerevan police station since July 17, released all four police officers they were holding hostage, after extensive negotiations with the Armenian government.
During the negotiations, it was agreed that in return for the hostages' release, Armenian law enforcement officers and authorities would permit the armed group's leaders to speak to journalists in a neutral zone around the occupied police station. Nearly 40 reporters were transported to the area late Saturday afternoon, though none of them were allowed to hold a live broadcast the gunmen's news conference.
Balasanian criticized the armed group for carrying weapons during a press conference for engaging in a "live demonstration of weapons and militancy," when they fired guns in the air during a broadcast with reporters. Balasanian called the act "unacceptable," and urged the gunmen to surrender to law enforcement authorities. During their interview on July 23, two of the gunmen, Varuzhan Avetisian and Pavel Manukian said that they had no intention of giving themselves up and reiterated their call for Sarkisian's resignation.