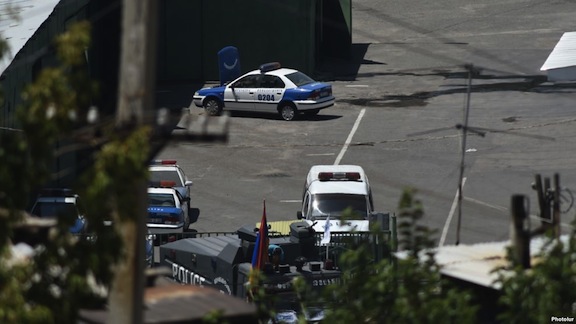 The armed men occupying the Yerevan police station may avoid imprisonment if they surrender to authorities, Armenia's National Security Service (NSS) said on July 25.
"In case of the existence of conditions defined by Armenian legislation, individuals voluntarily backing away from a crime can be exempted from criminal liability," the NSS said, according to RFE/RL's Armenian service, Azatutyun.am.
"In this regard, the militants were handed on July 25 written clarifications and explanations on the sequence of actions which must be taken by them and the route for their surrender," the NSS added in their statement. The statement also said that the gunmen "still have time" to lay down their weapons and to surrender to police.
The NSS did not say whether the authorities would prosecute any of the men in connection with the killing of an officer during the July 17 takeover of the police station.