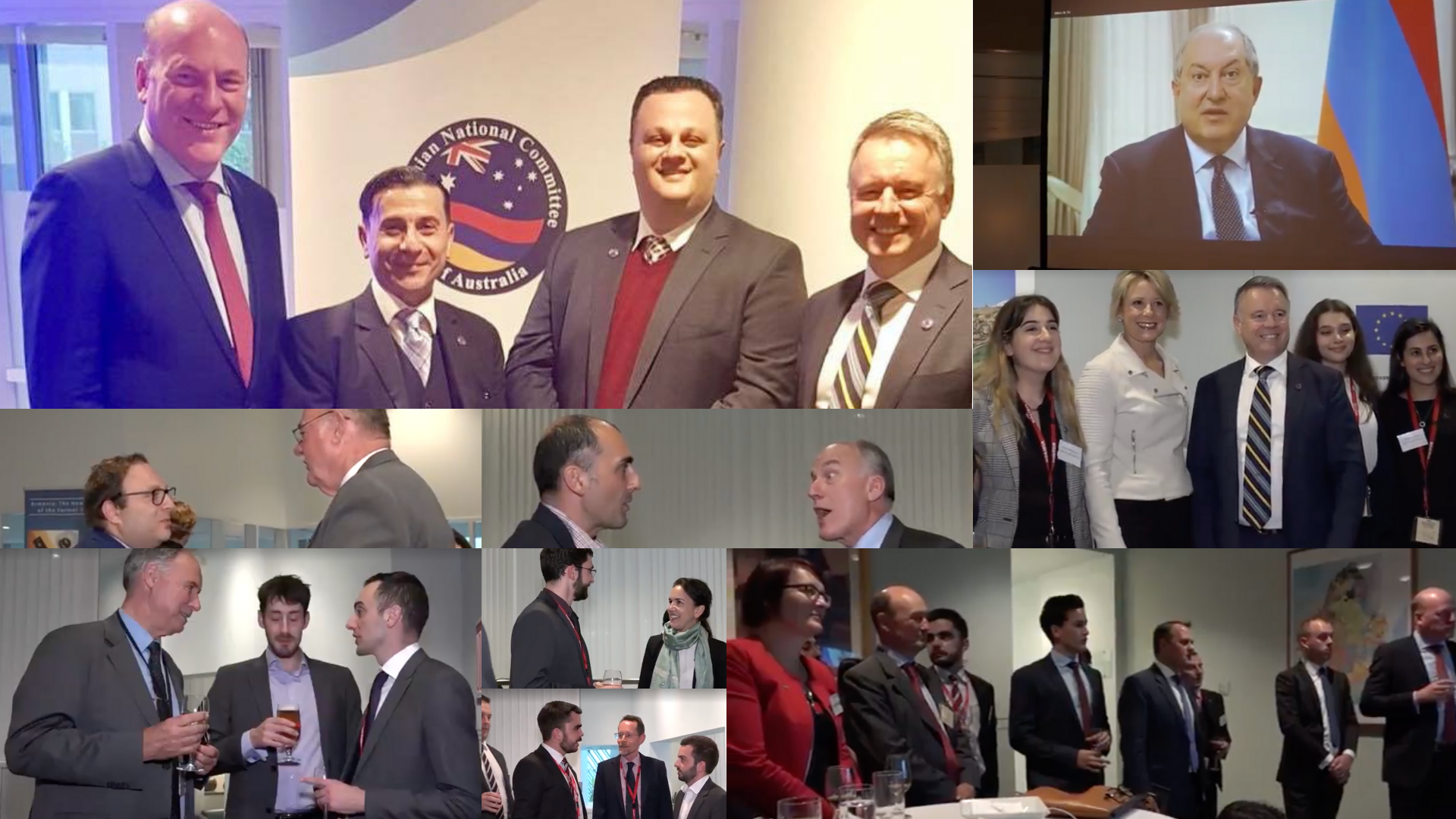 CANBERRA: Members of Parliament, Senators, Media and Staffers were part of the capacity crowd at the Sir Richard Baker Room in Parliament House, as the Australia-Armenia Inter-Parliamentary Union (IPU) and the Armenian National Committee of Australia (ANC-AU) hosted a celebration of 100 Years since the Independence of the First Republic of Armenia.
Chair of the Australia-Armenia IPU, Trent Zimmerman MP and Vice-Chair Joel Fitzgibbon MP congratulated the gathered on the historic milestone, after ANC-AU Executive Director Haig Kayserian had briefly introduced the critical role of the First Republic of Armenia, which was a beacon of hope and of great importance to Armenians the world over.
Guests, who were toasting the occasion with Armenian Wine and Brandy, were treated to a special video message from Armen Sarkissian - the President of the Republic of Armenia.
President Sarkissian heaped praise on the First Republic of Armenia, stating that without it, the current Independent Republic would not be possible. After mentioning the recent Velvet Revolution that accomplished regime change in Armenia, Sarkissian saluted the organising Chairs, Zimmerman and Fitzgibbon, as well as the Armenian National Committee of Australia.
The President recalled the special friendship between Armenia and Australia, formally thanking Australia for their first international humanitarian relief effort, which provided critical aid to survivors of the Armenian Genocide.
"Australia is very close to our hearts because more than 100 years ago a lot of Armenians who took refuge from the Armenian Genocide that happened at the end of the Ottoman Empire were supported by Australian humanitarian organisations," Sarkissian said. "From that point of view, thank you Australia."
An Exhibition – focusing on
Armenia 100 Years Ago
,
Armenia Today
,
Armenia in the International Community
,
Armenia as the Silicon Valley of the Caucasus
and
Famous Armenians –
was displayed for all attending, which included Argentina's Ambassador to Australia, His Excellency Hugo Javier Gobbi.
Joining Zimmerman and Fitzgibbon, the Members of Parliament in attendance included John Alexander MP, Tim Wilson MP, Jason Falinski MP, Julian Leeser MP, Tony Zappia MP, Steve Georganas MP, Maria Vamvakinou MP, Chris Crewther MP, Warren Entsch MP, Julian Hill MP, Michael Sukkar MP and Susan Templeman MP. The Senators in attendance included Eric Abetz, Kristina Keneally and Lisa Singh.
Members of the ANC-AU delegation who were present, included the inaugural ANC-AU Youth Advocates Program participants, who were in Canberra as part of ANC-AU Advocacy Week.
Following the event, the 20-large delegation of Armenian-Australians attended a rousing speech by Jason Falinski MP in the House of Representatives, in support of Armenian Genocide recognition and the Republic of Artsakh
(click here for more)
.