Haig Kayserian - ARF Australia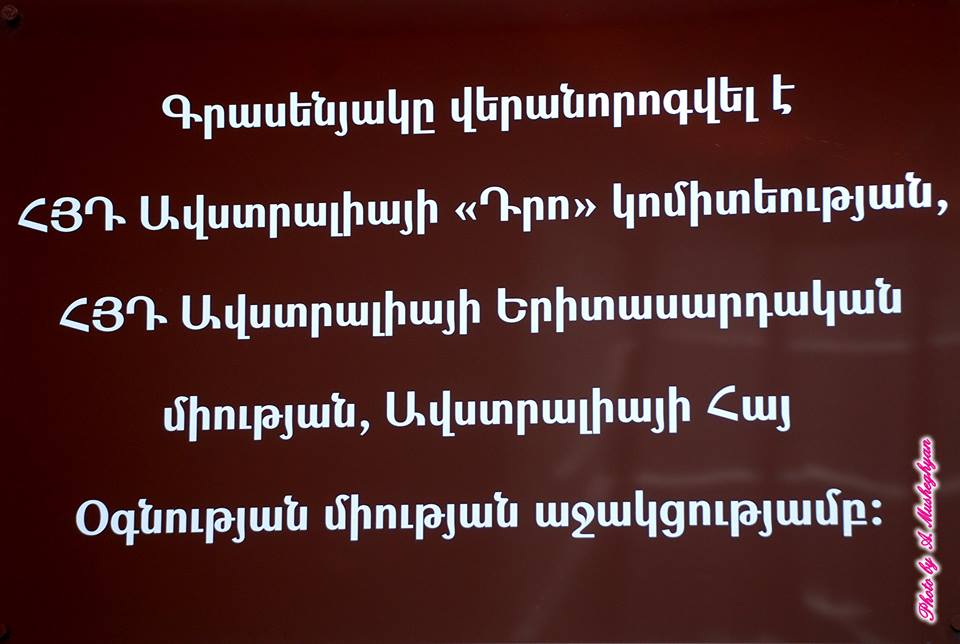 Last month, I had the pleasure of representing the Armenian Revolutionary Federation of Australia at the opening of the new and improved Nor Nork "Nigol Touman" Youth & Community Centre in Armenia.


ARF Australia funded the renovations of what is our region's "Sister Agoomp" in Armenia, which serves the sizeable Nor Nork community. The aim of the renovations was to render the Centre more useful for the area's youth and greater community, where they wish to run education programmes and develop the size of the local Armenian Youth Federation chapter.


For ARF Australia, this presented a unique and unmissable opportunity to connect our local membership with a Sister Agoomp - a little piece of Armenia that Australia contributed to building, which we can all visit and be proud of.


More significantly, it presented an opportunity for our Armenian Youth Federation members in Australia to connect with their brothers and sisters in the homeland. As part of this partnership, AYF Australia will send a group of members to Nor Nork regularly - starting in July this year. These members will organise and host a 2-week Camp for the local children during their school holidays, with programs designed to educate, entertain and motivate.


ARF Australia was able to fund this US$15,000 renovation thanks to the generous contributions of our members, community, as well as significant contributions from the Armenian Relief Society of Australia and AYF Australia, as well as Mr. and Mrs. Hagop and Hasmig Zaratsian. We thank them, as do the people of Nor Nork, Armenia.

This article is titled "Organisational Priorities", because I wish to highlight what should go into making such funding decisions by organisations like the ARF, which are here to serve our community.


The majority of our community organisations raise funds through our community - you're all familiar with Sponsorship or Partnership programs, Member fees, Event tickets, Donations, etcetera. Therefore, it is very important that we as elected leaders within the community spend the funds raised in a very thoughtful way, by identifying "organisational priorities" which are acceptable to our constituents; our community.


With this article, I am not hinting that there are any underhanded deeds going on in our community. Rather, I am stressing the importance of community organisations getting their "organisational priorities" right when fundraising and dispersing said funds.


The way the ARF thinks about such priorities is always bottom to top. As a political organisation with Socialist roots, we always think about who needs the funds most before we raise them, and before we decide where to distribute them. This is the same methodology adopted by our sister organisations.


Nor Nork, elaborated on above, was a definite "organisational priority" for us - the goal being to connect our community and youth to Armenia in the strongest way possible.
Another "organisational priority" for us is the plight of Syrian-Armenians. As many of you would know, we have raised and sent over $100,000 in the last 3 years with the active partnership of our sister organisations (in fact, the Armenian Relief Society of Australia raised over $11,000 last month to add to this total).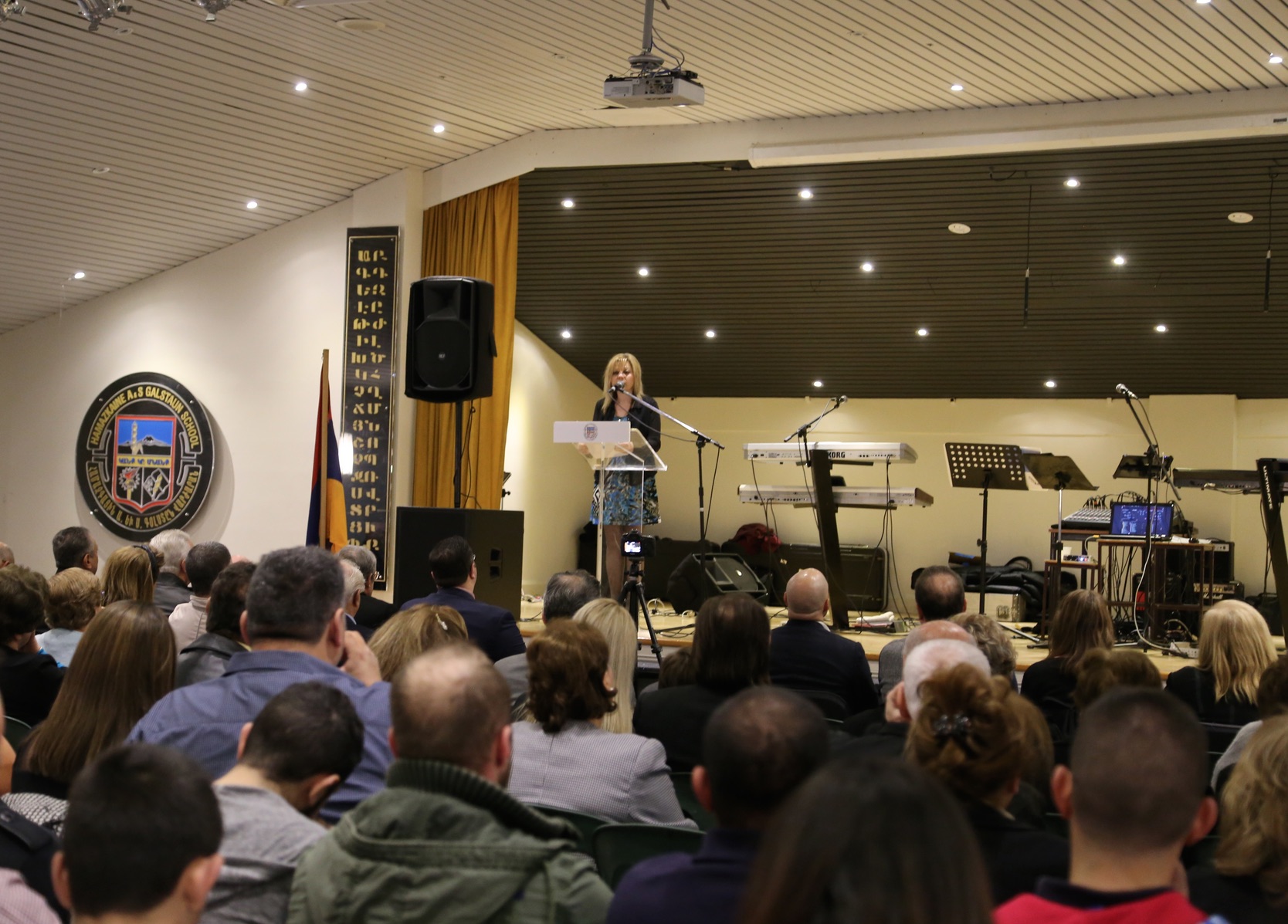 Make no mistake, if we were unable to contribute to the immediate financial assistance of Syrian-Armenians, we would not have been able to commit as much as we did to the Youth & Community Centre Project in Nor Nork, Armenia. This highlights the importance of prioritising within your list of "organisational priorities".


Another "organisational priority" in all communities is education. During Elections, the importance of paying for "health" and "education" is always highlighted. These are the two funding priorities of today's society.


As a community organisation in Australia, we don't have to fund healthcare as we are well looked after by our government, however education is an area where we need to play a part. Funding our schools, like the school I graduated from - Galstaun College - which brings together over 250 Armenian children daily, who are brought up as great Australians in an Armenian environment, taught the Armenian language, the Armenian culture and our history.


Schools are not easy to preserve. They require sacrifice. They require moral and financial commitment from its constituent community. The ARF and our sister organisations rate the preservation of Galstaun College as very high on our list of "organisational priorities" when fundraising and committing funding.


Our organisations also have significant expenses. Footballers and Scouts from Homenetmen need uniforms, halls, gyms and ovals. AYF Australia organised a camp with over 100 young Armenians in Melbourne recently - this also required financial commitments. Hamazkaine's cultural programs require dance teachers, theatres, etc. The Armenian Relief Society cares for orphans and builds kindergartens in Karabakh. Our organisations and their needs are also high on our "organisational priorities" list.


Nagorno Karabakh is also high on our on our "organisational priorities" list. Many Armenians lost their lives to liberate Artsakh from Azeri rule and return it to Armenian hands. It needs serious moral and financial commitment to ensure all borders are liveable and secure.


How we as leaders in the Armenian-Australian community select our "organisational priorities", then prioritise within them is critical. It is also fairly simple.


As parents, before indulging in a luxury purchase, we often ask ourselves if we can afford it. Have we got our priorities covered - mortgage, food, clothes, etc? If so, we may indulge. If not, we shouldn't indulge.


As leaders in the Armenian community of Australia, we should ask ourselves if we have financially contributed recently to the Armenians in Syria, who are often without electricity and water. We should ask ourselves if we are giving to our schools and organisations. We should ask ourselves if we are helping preserve the future of Karabakh with the funds the community has provided us to spend on their behalf. We should ask how we are bringing our next generation closer to their homeland.


If the answers to these questions are satisfactorily answered, then we should allow ourselves to indulge into new priorities, which will benefit our community.