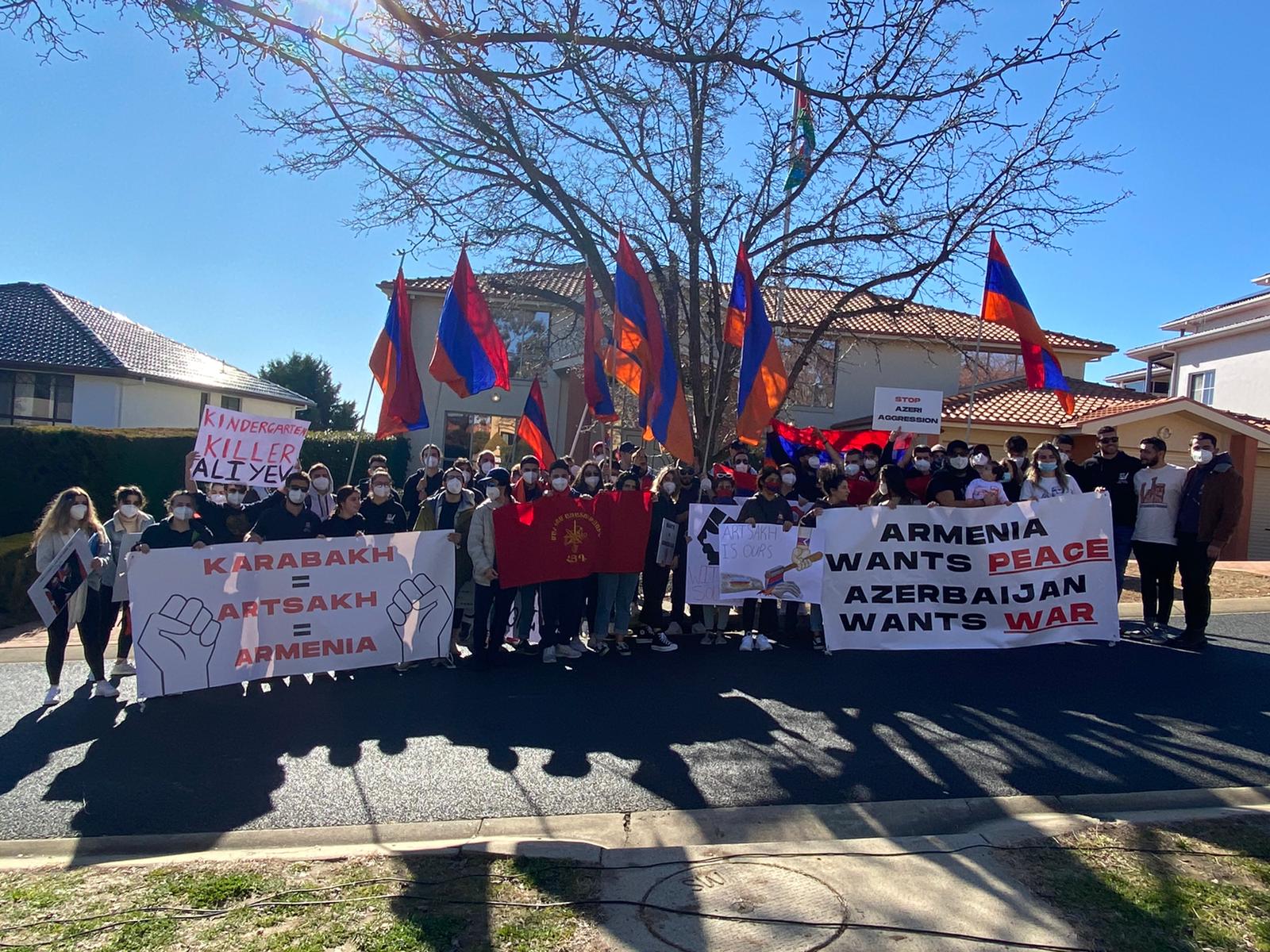 BY MEGHETY ZAITOUNIAN


In the age of social media, particularly in 2020, our news feeds and timelines seem to be constantly flooded with updates of current affairs from around the world. While scrolling, I see footage of protests part of the Black Lives Matter movement, calling for equality for all and an end to police brutality. Scrolling further, I find videos of youth in Baku, Azerbaijan demanding their government to start a war with Armenia and chanting "death to the Armenian".
It can be hard to believe that two movements so different could exist simultaneously. The former fighting for love and peace, and the latter spreading Armenophobia and calling for war, all in the context of a global pandemic. What is more jarring is the international community's response to Azerbaijan's aggression. Silence.
On Friday, 24 July 2020, the Armenian Youth Federation of Australia (AYF-AU), joined by members of the Armenian-Australian Community, protested at the Embassy of Azerbaijan in Canberra. Following local restrictions and social distancing measures, the protest saw around 100 Armenians from Sydney travel to Canberra to have their voices heard.
During the protest, statements by AYF members Aram Tufenkjian, Anna Berberian, Hrant Boujikian, and Sarin Zaitounian were read, condemning Azerbaijan's attacks on the Tavush region of Armenia, civilian property, and their nuclear terrorism threats.
AYF-AU Chairperson, Aram Tufenkjian, delivered an open letter the Ambassador of Azerbaijan to Australia. "We demand a stop to your attacks. We demand you respect the sovereign borders of the Republic of Armenia. We demand that you accept the democratic and human right to self-determination for the indigenous Armenian people of the Republic of Artsakh. We Armenian-Australians, stand shoulder to shoulder with our sisters and brothers defending the two Armenian Republics of Armenia and Artsakh."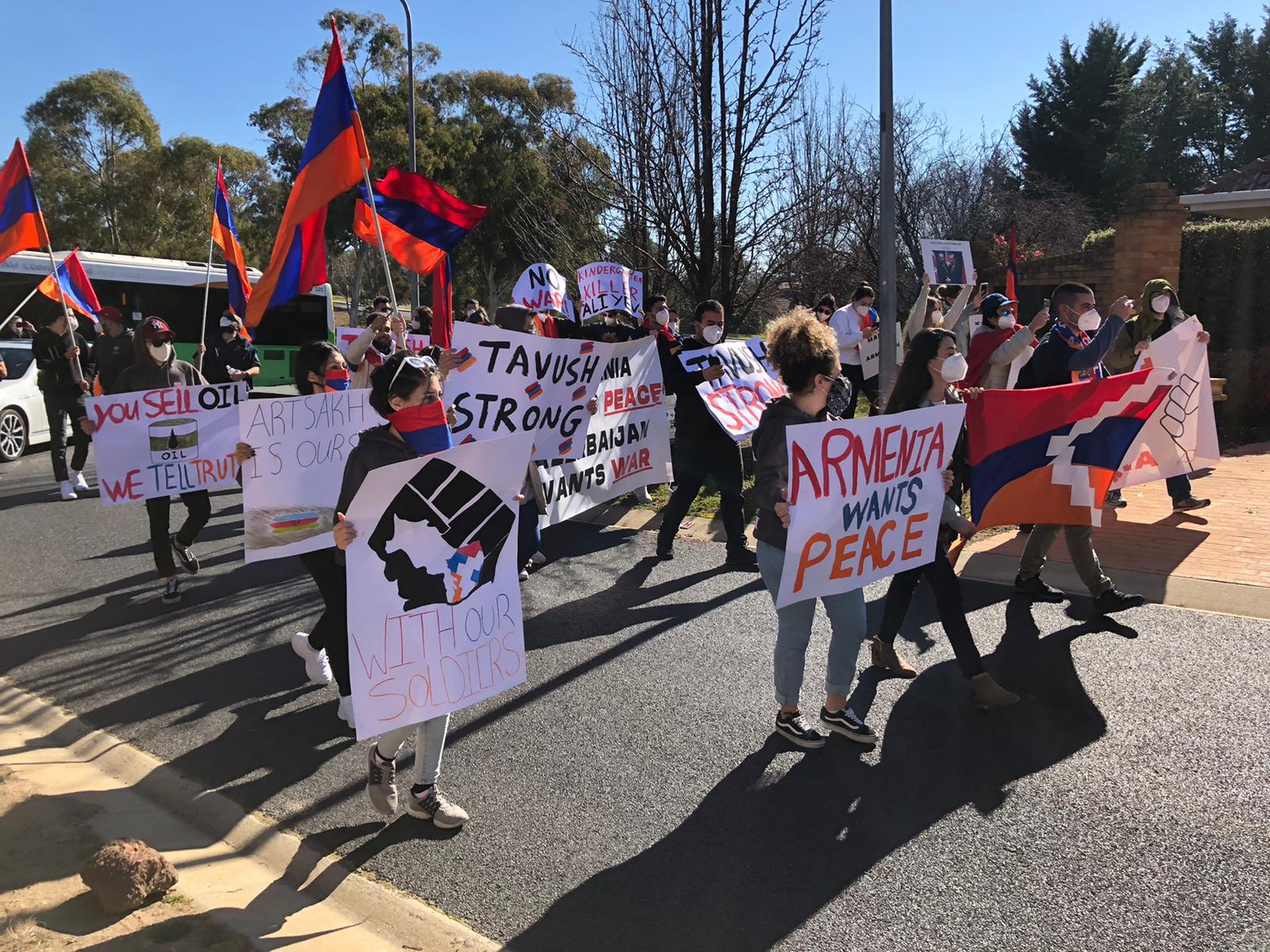 After the protest concluded, I spoke to some of my fellow AYF-AU members for their thoughts and feelings on current events happening in Armenia and why they attended the protest.
"The reason I attended the protest is to raise awareness of what is happening in Armenia. Every country deserves peace but Azerbaijan does not want that. Peace is a human right, it's our right to do what we can for our brothers and sisters." – Sarina Mouzenian
"I feel, ever since I visited Armenia, I saw how happy and care-free the people are. They just want to live a good life for their families and be free. Armenians living in the diaspora have the privilege to build peaceful lives, but our brothers and sisters in our homeland haven't had that chance. They strive for excellence, but keep being halted by foreign powers who want to start war for their personal gain. I want to be here for the people who can't be here to represent themselves." – Aram Amirghan
"I'm feeling proud of everyone for coming to Canberra and dedicating their day to have their voices heard. It's not easy to take time off work on such short notice, we're in the middle of a pandemic, but everyone did their part to attend and make it a safe protest. It makes me really proud to be Armenian" – Salbi Dilanchian
"Coming to Canberra today to protest against Azerbaijan's attacks is our duty. As Armenians living away from our lands, this is the least we can do. We need to show the world that although we live in the diaspora, the Armenian spirit lives within us and we care about the people of our nation. It has been amazing seeing the global Armenian community stand with our soldiers by holding similar protests in their cities and I feel privileged that I could be part of this movement too" – George Shishoyan
"This is not a situation that Armenians want to be in, we don't want conflict with our neighbours, but this is the sad reality. I'm so thankful for everyone who united today to protest against war. It is difficult to take time out of our lives to attend protest like this, but it's a small price we pay to share the voices of the people who pay the ultimate price for us on the frontlines." – Nareg Yedelian
Watch the full protest here.