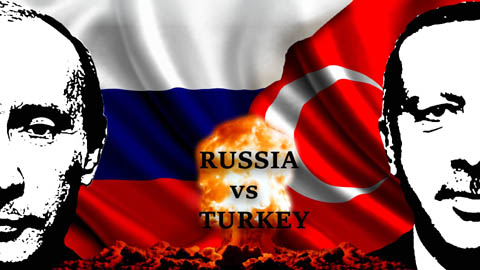 Bloomberg - Turkey's allegation that Russia once again violated its airspace has reignited concerns of a military confrontation between the two powers, unsettling investors and further straining frayed ties.
Turkey shot down a Russian warplane in November after saying it crossed the border from Syria, and reported another breach over the weekend. The Turkish military has given pilots permission to shoot without awaiting orders if they register an incursion, local media reported. Russia has denied the latest charge, and President Vladimir Putin hasn't decided whether to take a requested call from Turkish leader Recep Tayyip Erdogan, Kremlin spokesman Dmitry Peskov told reporters on Monday.
Russian sanctions on Turkey following the November confrontation have already hurt exports and tourism. The lira weakened 0.4 percent on Monday, trading at 2.9710 a dollar at 12:27 p.m. in Istanbul. "Geopolitical risk seems to be coming back to the agenda," Erkin Isik, a strategist at Turk Ekonomi Bankasi in Istanbul, wrote in a report.
The two powers are on opposing sides in Syria's civil war, with Moscow backing President Bashar al-Assad against an array of rebels and radical militants seeking his ouster. Turkey says Russian airstrikes in Syria focus on rebel forces supported by Ankara, Saudi Arabia and other Gulf nations.
"Russia can't cover up the airspace violation," Turkish Prime Minister Ahmet Davutoglu said at a news conference in Saudi Arabia on Sunday. While Turkey isn't seeking to escalate tensions with Russia, it may not tolerate further breaches, he said.
"We are warning Russia once again that damage it is inflicting on moderate Syrian opposition elements and its threatening stance toward Turkish airspace are not in its favor," Davutoglu said. "All necessary measures have been taken along our borders."