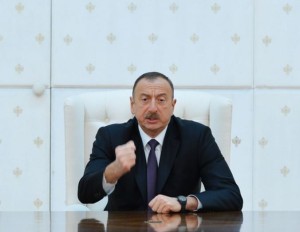 On April 2, the spokesperson for U.N. Secretary-General Ban Ki-moon issued a statement expressing "concern" over the use of heavy weapons and the large number of casualties reported, including civilians. "The Secretary-General urges all relevant parties to put an immediate end to the fighting, fully respect the ceasefire agreement, and take urgent steps to de-escalate the situation," read the statement. "The Secretary-General reiterates his full support for the efforts of the OSCE Minsk Group and all parties working to resolve this dangerous situation and pursue a peaceful negotiated settlement of the Nagorno-Karabagh conflict."
The European Union's foreign policy chief Federica Mogherini also issued a statement expressing concern.
Press Secretary of the Collective Security Treaty Organization (CSTO) Vladimir Zaynetdinov said on April 2 that Azerbaijan's actions were escalating the situation, and that there can be no military solution to the conflict. "Everything must be decided through negotiations. The Azerbaijani side's actions in this case are leading to the escalation of the situation and the conflict," he was quoted as saying by Russia's Interfax news agency.
On April 2, Iran's Ministry of Foreign Affairs called on both sides to cease the fighting, in a statement made by ministry spokesperson Hossein Jaberi Ansari. "Whereas the region is witnessing destructive acts from extremist groups and needs tranquility and stability, hearing of escalation of clashes in the Karabagh region between Azerbaijan and Armenia is [a] source of deep concern for the Islamic Republic of Iran," Ansari was quoted as saying. "We urge Azerbaijan and Armenia to cease clashes promptly and use all their might to restore tranquility and peaceful settlement of differences within the peace groups and under the United Nations."
Among other heads of states, French President Francois Hollande also called on the sides to adhere to the ceasefire agreement, stressing that negotiations are the only means to achieving peace.
On April 2, First Deputy Minister of Defense of the Republic of Armenia Davit Tonoyan received the French, German, and Italian ambassadors to Armenia, as well as a European Union delegation to discuss the situation on the NKR Line of Contact.