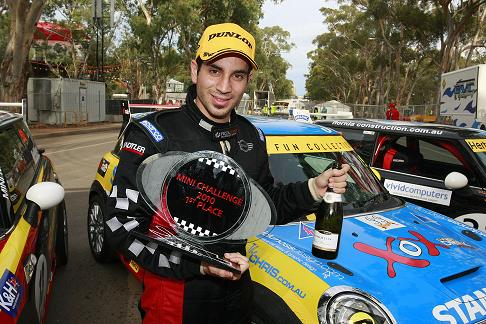 SYDNEY: Australian MINI CHALLENGE series leader Chris Alajajian will join Paul Stokell in Spain next month representing Australia in a round of the Spanish MINI Challenge.
Stokell and Armenian-Australian Alajajian received the drive after finishing first and second in the 2009 Australian Championship.
The pair will share a MINI when they compete at the Jarama circuit in early June.
Alajajian expects Stokell to come to grips with the car a little quicker but will aim to show a clean set of heels against an international line-up.
"It will be left-hand drive," Alajajian said. "Stokell has a fair bit of experience of that himself. I've just got to try and concentrate and get used to it."
Alajajian is excited by the doors that could be opened by competing in Spain. "I'm not sure if it is an one off thing," Alajajian stated. "It could lead to a few bigger things over there. The sport overseas is very strong."