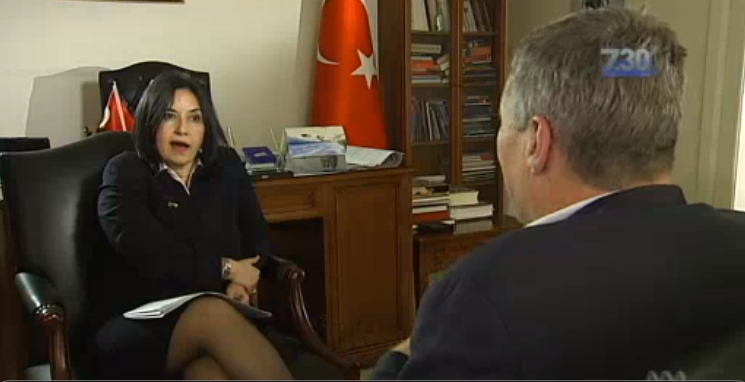 SYDNEY: Australia's national broadcaster, the ABC (Australian Broadcasting Corporation), aired a powerful feature on Australia's connection to the Armenian Genocide, and the recent threats made by the Turkey's Foreign Ministry to ban Australian politicians from attending ANZAC Day centenary commemorations in Gallipoli.
The feature was part of the prime-time "7.30" program (
WATCH THE FEATURE BY CLICKING HERE
), and was prepared by the ABC's Chief Defence Correspondent, Michael Brissenden.
The threat to ban Australian politicians was initially made after the country's largest state's parliament (New South Wales) adopted a unanimous motion to recognise and condemn the Armenian, Greek, and Assyrian genocides perpetrated by the Ottoman-Turkish Empire.

In the 7.30 program, Turkey's Consul General in New South Wales, Ms Gulseren Celik, confirmed the threat. Since the threats were made, politicians including NSW Premier Barry O'Farrell, Rev. Fred Nile and Marie Ficarra have condemned them as an attempt by Turkey to muzzle allies from recognising a dark chapter in the country's history.


During World War I, countless numbers of Australian Prisoners of War recorded witnessing the mass deportations and massacres of the Armenian people. Turkish Consul General Celik also claimed that these testimonies are fabrications of history; a claim denied by some of Australia's leading historians, including Dr. Peter Stanley, the pre-eminent expert on Australian WWI history.

This intertwining of Australian and Armenian histories was covered in the 7.30 feature, which included direct quotes from prominent Australian ANZACs, one of whom ended up a Minister in government.


The Armenian National Committee of Australia's Executive Director, Vache Kahramanian, remarked: "The 7.30 feature provides a powerful insight into the extent that the Turkish Government is willing to go to deny the Armenian Genocide."


"We thank Michael Brissenden and the ABC for covering an important part of Australian and Armenian history, which will set the foundations for continued education of mainstream society," he added.

WATCH THE FEATURE BY CLICKING HERE


TAKE 30 SECONDS - CLICK HERE AND THANK THE ABC