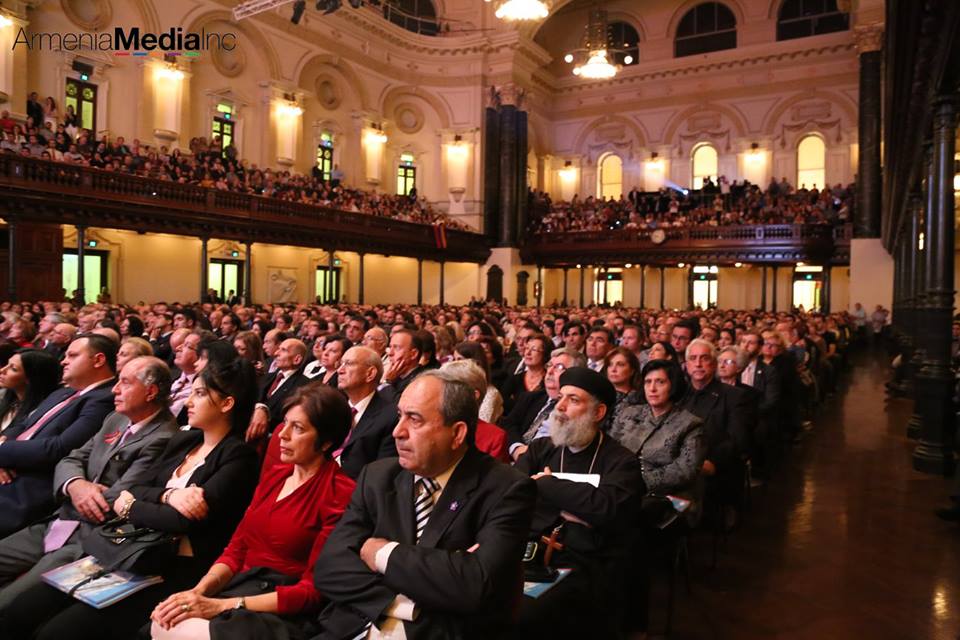 SYDNEY: Geoffrey Robertson QC earned a standing ovation after delivering a powerful keynote address at the National Armenian Genocide Centenary Commemoration Evening at Sydney Town Hall, unequivocally proving that the massacres and forced deportations of Armenians in Ottoman Turkey in 1915 was genocide, while calling out the Australian government for bowing down to pressure by Turkey on this issue.
Robertson told the over 2,200 in attendance: "Isn't it ironic that here we are, 100 years after (Gallipoli), celebrating the courage of young Australians in facing Turkish bullets, and we have a government that lacks the courage to stand up to Turkey?"
"I can't refute what is obvious to every honest scholar, that what went on in 1915 was genocide."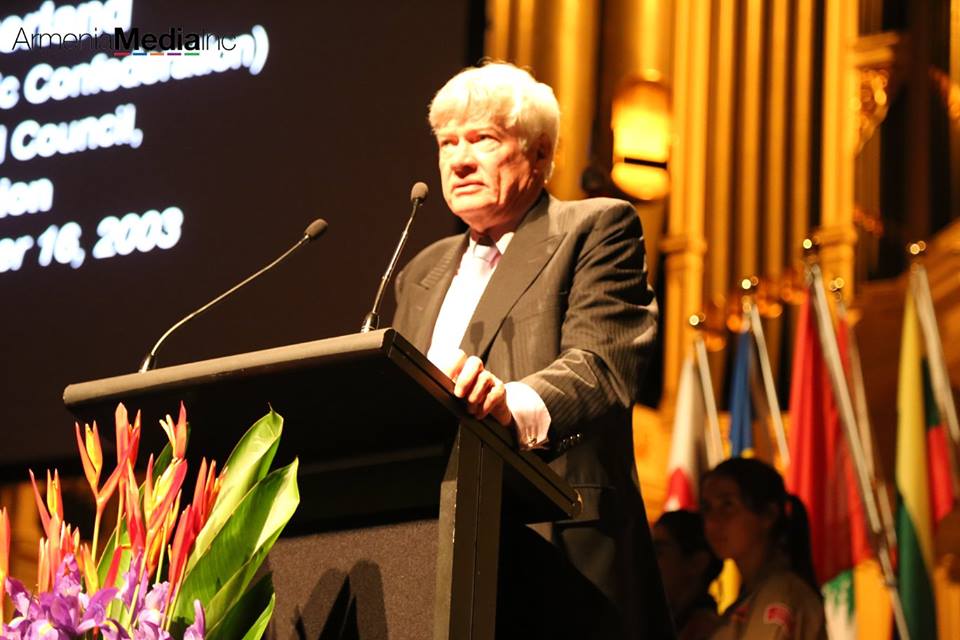 This keynote address came on a day that Australian media reported that Australia's Treasurer, Joe Hockey was gagged by the government from speaking at the event after pre-ANZAC Day meetings in Turkey between Prime Minister Tony Abbott and Turkish Prime Minister, Ahmet Davutoglu.
Long-time Armenian Genocide recognition advocate Hockey, who was in the audience, maintained that his views on the Armenian Genocide had not changed and he was attending the Commemoration to hear Robertson's keynote and reflect on the Centenary with his Armenian audience rather than speak himself.
Hockey, who has Armenian roots, did release the following statement to the organising Committee for the event, correctly referring to the Armenian Genocide as he always has in his political career.
The statement, in part, read: "... proper recognition of historical truths, such as the Armenian genocide, will steal us all to be ever vigilant against any attempt to repeat this horrific event against ourselves or future generations."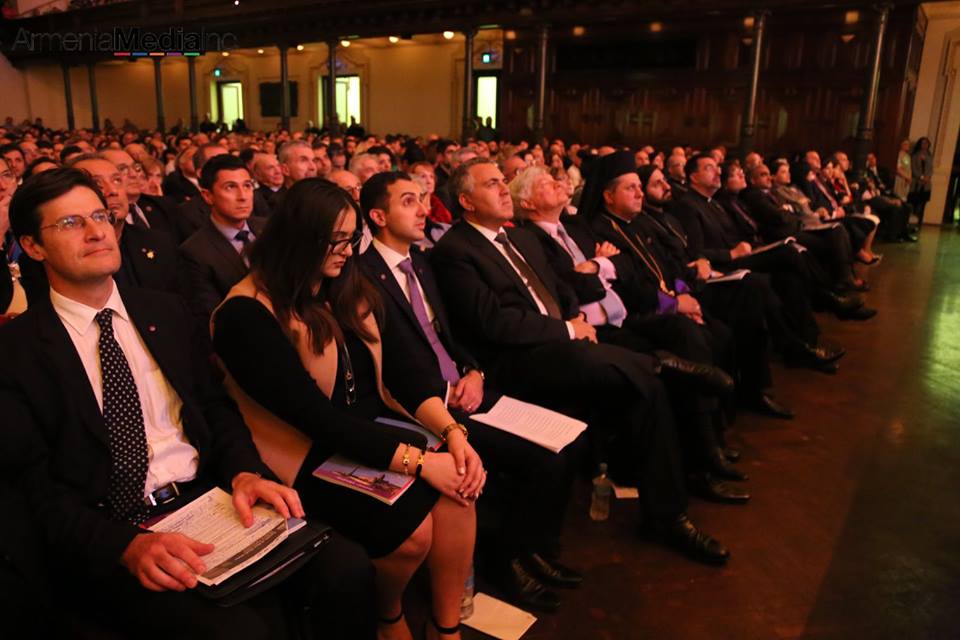 Australian-born Robertson and Hockey were joined by many high-profile guests for the Commemoration Evening, including Greece's Ambassador to Australia, Russia's NSW Consul-General, Jonathan O'Dea MP (representing NSW Premier, Mike Baird), the Hon, Walt Secord MLC (representing NSW Opposition Leader, Luke Foley), the Hon. Rev. Fred Nile MLC, the Hon. David Clarke MLC, the Hon. Shaoquett Moslemane MLC, Australia's Human Rights Commission Chair, Prof Gillian Triggs, Australia's Human Rights Commissioner, Tim Wilson and Race Discrimination Commissioner, Dr. Tim Soutphommasane, along with numerous Councillors, Clergy, and representatives of ethnic community and Armenian community organisations.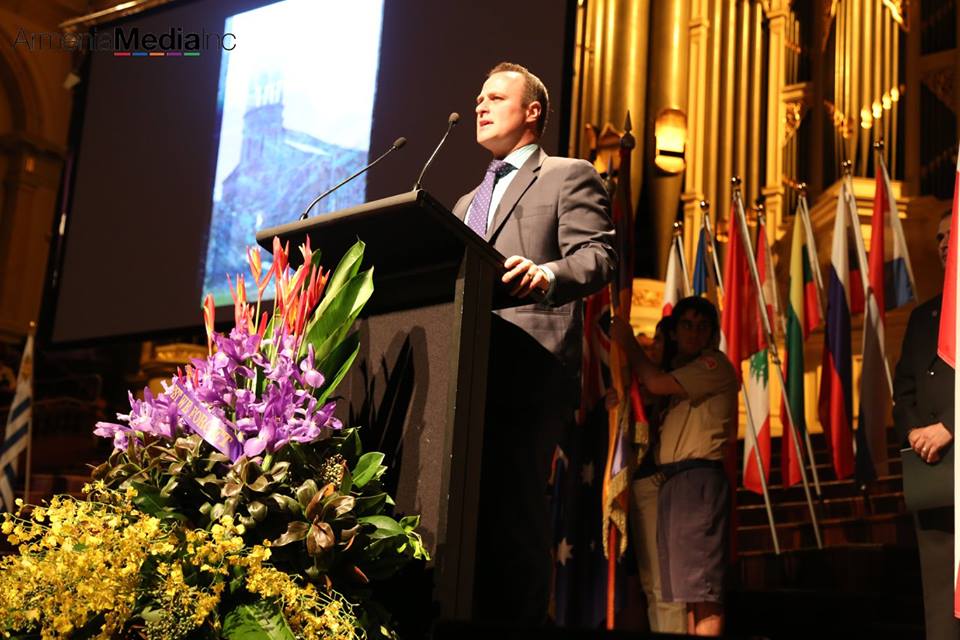 A Commemoration Evening was also held in Melbourne, Victoria where over 1,000 guests were in attendance to hear from keynote speaker, Nikki Marczak.
A Commemorative Play was performed in Adelaide, South Australia for the week leading up to April 24th.
April 24th 2015, 100 years to the day the Armenian Genocide began, saw an unprecedented level of media across coverage across mainstream  Australian print, radio and television outlets.
A sample of those article and interviews can be found below:
SBS TV: http://www.sbs.com.au/news/video/433687619539/One-and-a-half-million-Armenians-were-killed-at-thSBS: http://www.sbs.com.au/news/article/2015/04/24/robertson-urges-australia-recognise-armenian-genocideSMH: http://www.smh.com.au/world/armenians-mark-100-years-since-massacre-20150424-1mstog.htmlABC (with audio): http://www.abc.net.au/news/2015-04-24/armenians-mark-100-years-since-ottoman-massacres/6419838The Australian: http://www.theaustralian.com.au/news/world/a-century-later-15m-victims-of-the-armenian-genocide-made-saints/story-e6frg6so-
1227319403138ABC (with audio): http://www.abc.net.au/newsradio/content/s4223399.htm


CLICK HERE FOR MORE PICTURES FROM THE NATIONAL ARMENIAN GENOCIDE COMMEMORATION EVENING