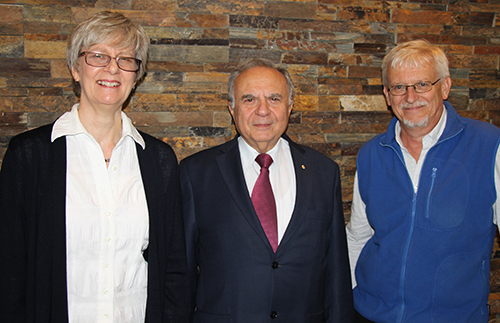 SYDNEY: The inaugural recipients of the Kerkyasharian and Kayikian Fund research awards have been named, with University of Sydney academic staff, Professor Iain Gardner and Dr Jan Shaw taking out the honour.

The fund was established in late 2014 through a generous donation from Mr Stepan Kerkyasharian AO (DLitt '07) and Mrs Hilda Kerkyasharian. It supports awards, grants and scholarships for University of Sydney academic staff, honours students and postgraduate students carrying out research related to Armenian history and culture from the 19th century and earlier.

"It is very exciting that this research is now being undertaken, as it is probably the first time that non-Armenian academics in Australia have taken an interest in Armenia's very rich history," said Mr Kerkyasharian.

"Armenia had centres of learning equivalent to universities as early as the 9th and 10th century. Places like Datev and Haghpat had more than 500 scholars at one time and produced incredible treasures which are yet to be explored by western academics. I hope that these awards are just a very small step at the start of an incredibly exciting academic journey."

The University of Sydney reported: Professor of the History of Religions, Iain Gardner, will use the award to explore Armenian history and try to uncover whether Mani, the founder of Manichaeism, travelled through Armenia in the third-century. This research will resolve a long-standing point of contention in the field, and further illuminate the history of Christianity in Armenia, which remains a core issue in its national identity.

Professor Gardner will travel to Aghveran in Armenia next month to speak at an international conference dedicated to the 20th anniversary of the peer-reviewed multi-disciplinary journal, Iran and the Caucasus. In attending this conference and visiting archeological sites in Armenia, he hopes to understand more about the construction of Armenian identity, and how it relates to his broader research on the historical development of Manichaeism and Christianity east of the Roman Empire.

"I am grateful for the opportunity to delve further into an area of Armenian history that has not been widely researched. I am hoping to make new discoveries and better understand what was happening in Armenia prior to 301, a period in history that we currently know very little about," said Professor Gardner.

Dr. Jan Shaw from the Department of English plans to explore historical English perceptions of Cilician Armenia through the study of the French romance Melusine and its English adaption in 1500. This research will confront both the real and the imaginary impact that eastern Christian communities had on fifteenth-century English culture, and the interplay between these two regions.

"Receiving this award will enable me to further explore the text and the triangulation of France, England and Cilician Armenia during this period," said Dr Shaw.

"I'm looking forward to exploring the interesting connection between history and literature, by looking at what was actually happening in Cilician Armenia during this period. The story hasn't been informed by an Armenian perspective, so I'm hoping to be able to shift the focus to recover the Armenian voice in this story."

The Kerkyasharian and Kayikian Fund research awards will be awarded annually, in perpetuity. For further information about these awards please contact the Faculty of Arts and Social Sciences Research Office at fass.research@sydney.edu.au.