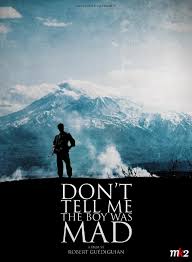 Directed and produced by Robert Guédiguian, "Don't tell me the boy was mad" (French title: Une histoire de fou) is a 2015 French drama (with English subtitles) which explores the long lasting impact of the Armenian genocide on subsequent generations.  The movie is set in Paris, 1981. Aram, a young man of Armenian origin, is secretly involved in an Armenian underground organisation planning the assassination of the Turkish ambassador. The assassination plot is rehearsed many times and Aram is responsible for pushing the remote control to set off a bomb, planted in front of the ambassador's car. As he sets off the bomb, a passing cyclist, Gilles Tesserie, is seriously injured. Aram flees to Beirut to join the Armenian Liberation Army. His mother, Anouch, realising that her son is responsible for the attack, meets with Gilles at the hospital to ask for his forgiveness. Gilles wants to meet his attacker face to face and, with revenge in mind, he heads to Marseille to confront Aram's family. Instead however, he finds himself welcomed into their home for a prolonged stay.  Aram agrees to meet with Anouch and Gilles, who travel to Beirut to see him, but his decision causes a clash with his comrades.
The screenplay is adapted from an autobiographical novel by the Spanish journalist, Jose Antonio Gurriaran, who was left semi-paralysed after a bomb attack by the Armenian Secret Army in Madrid 1981. After his injury, he studied the history and crimes of the Ottoman Empire. As a result of his research, he is now a principal activist for Spain's recognition of Armenian genocide.
Robert Jules Guédiguian is a French/Armenian film director, screenwriter, producer and actor.  The film "Don't tell me the boy was mad" was shot in Marseille, Armenia and Beirut as Mr Guédiguian wanted to "film in authentic locations". When asked what he would like spectators to take away from the film, Mr Guédiguian's replied:  "That they feel emotion!...My wish is that, through this emotion, spectators will understand this moment of history better…I would like the spectator to be more moved and more intelligent upon leaving the screening than before entering".
SYDNEY ARMENIAN FILM FESTIVAL "Don't tell me the boy was mad" is the second film in a series of films being released between September and November 2016 as part of the Sydney Armenian Film Festival, organised by Hamazkaine Shant Chapter.  
Stay tuned for news of other films to be released as part of this festival.
PREMIERE DETAILS 
Date: 21 October 2016, single screening only
Time: 8:30pm, doors open 30 minutes prior to screening
Venue: Events Cinema Top Ryde Shopping Centre
Tickets: Adults $25, no reserved seating
Tickets can be purchased:  Online at www.trybooking.com/NHPG
Carolyn 0432 571 756
Hilma 0411 405 371