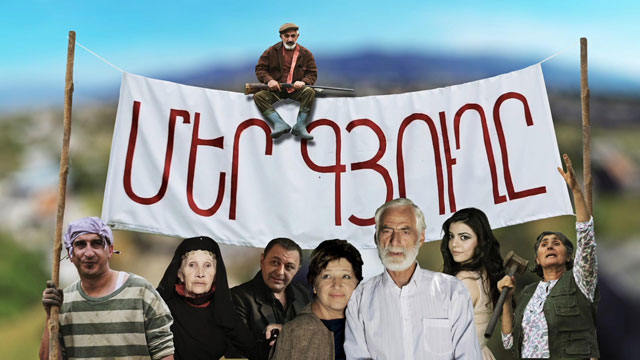 Our Village is an award winning movie based on a popular Armenian TV series about the lives of 'typical' Armenian families living in an Armenian village.
Directed by Yelena Arshakyan, Our Village ("Մեր գյուղը"/"Mer Gyughe" in Armenian) tells the story of three particular families, who are neighbours in a rural, moddern village. The story that unfolds provides a comedic and colourful insight to the issues faced by those families, including immigration (a problem for all Armenians),  their relationships, lives, wishes and troubles.
The director (depicted to the right), Yelena Arshakyan, born 2 July 1984, graduated from the Yerevan State Institute of Theatre and Cinema, Department of Film Directing, in 2008. Since 2002, Ms Arshakyan has been a film director and scriptwriter at the Public TV Company in Armenia.
The shooting of Our Village took place in Dsegh, a village in Armenia, where the famous Armenian poet and writer Hovhannes Toumanian was born. According to Ms Arshakyan, "it was majestic making a film in the land of such a genius."
Through the genres of lyrical comedy and drama, the stories of three rural families in Armenia are presented in a thoughtful manner. The film captures their relations, aspirations, and the impact of emmigration upon their lives, bringing to light in a humorous manner one of the most important issues facing Armenia.

SYDNEY ARMENIAN FILM FESTIVAL
"Our Village" is the third film in a series of films being released between September and November 2016 as part of the Sydney Armenian Film Festival, organised by Hamazkaine Shant Chapter.
Stay tuned for news of other films to be released as party of this festival.
PREMIERE DETAILS
Date: Sunday 23 October 2016, single screening only
Time: 5:00pm, (doors open)
Venue: Event Cinemas -Top Ryde
Tickets: Adults $25, no reserved seating
Tickets can be purchased:
Online at www.trybooking.com/NHPG
Carolyn 0432 571 756
Hilma 0411 405 371