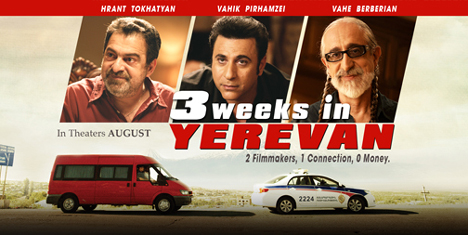 In this Armenian comedy (with English subtitles), two filmmakers (Armen and Raffi) from Los Angeles, go to Armenia to shoot a movie about a third generation American Armenian travelling to Yerevan to adopt a child. Teaming up with a local (Rubo), the team begins the arduous task of casting for the parts, scouting for locations and securing funding. But what seems to be a perfect plan becomes a storm of absurd meetings, unexpected discoveries and the significant divergence in the plot of the movie.
The chemistry between Rubo, Armen and Raffi creates an amazing hilarity, and their journey to realise their dream brings them face to face with some colourful characters, crazy situations, and beautiful backdrops.
Watch the trailer:


Both Vahe Berberian and Vahik Pirhamzei have performed to sold out audiences.  Mr. Berberian, a Lebanese-Armenian artist, is a multi-talented force, recognisable with his two signature braids. Mr Pirhamzei, an Iranian-Armenian, is also a polymath delving into acting, writing, producing and directing. The collaboration between these two skilled individuals to bring to you "3 Weeks in Yerevan" promises to be exciting, entertaining and simply brilliant.
There will be two screenings of "3 Weeks in Armenian". Each screening will be followed by a Q&A session with Mr Berberian.
SYDNEY ARMENIAN FILM FESTIVAL
"3 Weeks in Yerevan" is the fourth and final film to be shown in the 2016 Sydney Armenian Film Festival, organised by Hamazkaine Shant Chapter.
We will be back again next year. Stay tuned for news of films to be released as part of the 2017 festival.
AUSTRALIAN PREMIERE DETAILS
First screening: 8:30pm, 12 November 2016
Second screening: 1pm, 13 November 2016
Venue: Events Cinema, Top Ryde City
Tickets: Adults $25, no reserved seating
Tickets can be purchased:
Online at www.trybooking.com/NHPG
Carolyn 0432 571 756
Hilma 0411 405 371
STAY UP TO DATE
Follow 'Sydney Armenian Film Festival' on Facebook for updates on the 2017 Sydney Armenian Film Festival.
Follow 'Hamazkaine Shant Chapter' for news and updates about our cultural and educational events.