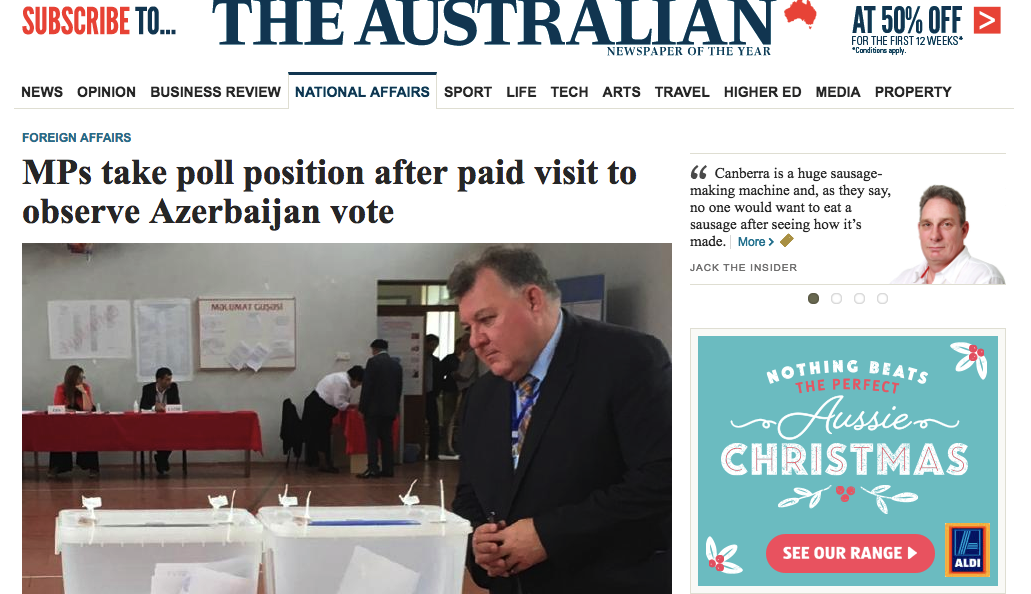 CANBERRA:
The Australian
ran a story on page 2 of its national newspaper and online earlier this week, exposing a delegation of Australian MPs who took an all-expenses-paid trip to Azerbaijan to observe a referendum, which extended the power and reign of the country's dictator, Ilham Aliyev.
The Armenian National Committee of Australia's (ANC-AU) Managing Director, Vache Kahramanian was also quoted in the article.
The Australian delegation, which included current Member of Parliament Craig Kelly and Senator Chris Back, returned to Australia and comically suggested that Australia should "learn from Azerbaijan" after observing a referendum that independent watchdogs have slammed as undemocratic.
The Australian
writes: "After taking an all-expenses-paid trip to the former Soviet republic to observe its constitutional referendum — and despite claims of ballot stuffing and the detention of people protesting against the procedures — Senator Back and Mr Kelly praised the 'safeguards' Azerbaijan had in place for its vote, which strengthened the country's autocratic President Ilham Aliyev's grip on power.
Eyebrows are further raised by
The Australian
, when the article authored by Rosie Lewis titled
"MPs take poll position after paid visit to observe Azerbaijan vote",
revealed the following: "The September trip saw a company owned by the honorary consul, Aida Rzaeva, pay for Mr Simpkins, Mr Kelly and Senator Back to visit Azerbaijan for about a week to 'observe' the referendum process."
The name Simpkins mentioned in this quote refers to former MP for Cowan, Luke Simpkins,
who was exposed in an article earlier this year by The Australian
as being wooed by Azeri "shuttle diplomacy" (sometimes referred to as Caviar Diplomacy), when he returned from his first trip to the Caucasus nation by outspokenly rejecting the rights to self-determination of the Armenians of Nagorno Karabakh (which is an Armenian enclave at war with Azerbaijan) in a Parliamentary Constituency Statement, when he had only four Azeri constituents in his electorate.
When asked why he was still involved in such delegations despite no longer holding public office,
The Australian
reveals "
Mr Simpkins said he was not employed or paid by the honorary consulate, but his ongoing involvement with Azerbaijan has raised concern from its fierce rival Armenia after he instigated an Australia-Azerbaijan parliamentary friendship group and accompanied numerous MPs on delegations to the country."
ANC-AU Managing Director, Vache Kahramanian was quoted by
The Australian
slamming the trip and the subsequent defence of the petro-dictatorship that is Azerbajian by Australian MPs.
"We've seen that these two members of parliament travelled to Azerbaijan and now somehow become the poster boys of democracy in what is internationally regarded as a dictatorship," he said.
"To claim that referendum transparency in Azerbaijan is higher than in Australia — I'm not sure if they were monitoring or observing the same referendum that was held. Many major international news outlets covered the referendum and regarded it to be marred in controversy."
"You have now a trend that Azerbaijan is utilising its petrodollars to try and change its image in the western world ... It's worrying that Australian MPs would fall for such caviar diplomacy."
CLICK HERE TO READ THE AUSTRALIAN ARTICLE