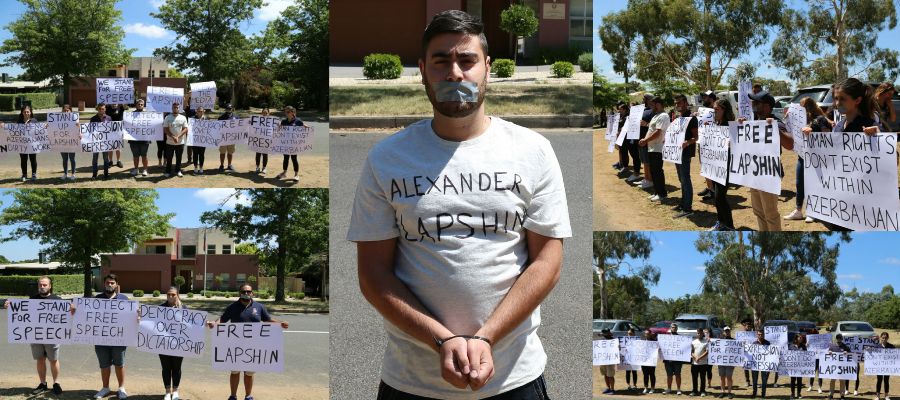 CANBERRA: Members of the Armenian Youth Federation Australia (AYF-AU) and the Armenian Students Association (ASA) staged a silent protest in front of the Embassy of Belarus in Canberra against the arrest of Russian-Israeli blogger, Alexander Lapshin.

The Armenian National Committee of Australia (ANC-AU) released a statement announcing the action (click here), after condemning the government of Belarus for accepting Azerbaijan's demand for Lapshin's extradition facing charges of visiting the Republic of Nagorno Karabakh and reporting on injustices in Baku.

"The Armenian National Committee of Australia calls on the Australian government, as well as all human rights and civil liberty organisations in Australia and internationally, to join us in condemning this blatant act of the Azerbaijani dictatorship in attempting to 'export' its repression of freedom of speech," read the ANC-AU statement.

The Silent Protest featured around 20 young Armenian-Australians standing together while demonstrating the lack of free speech with taped mouths and an AYF-AU member depicting the arrested Lapshin. They held signs calling for 'democracy over dictatorship', 'expression not repression' and calling on Belarus President Alexander Lukashenko to 'not do Azerbaijan's dirty work'.

Aram Tufenkjian of AYF-AU's Central Executive during the protest stated that "Azerbaijan's is one of the world's biggest jailers of journalists, and that is the case again after Mr. Lapshin traveled to Nagorno-Karabakh."

"His denial of free speech is something that we stand against and that's why we're here today," Tufenkian continued.



"Lapshin was detained in Belarus at the international arrest warrant of the Azerbaijani government and his public condemnation of President Aliyev and his dictatorial regime," said Alex Galitsky, Assistant to the Permanent Representative of the Nagorno-Karabakh (Artsakh) Republic to Australia, at the protest.

"Belarus is now complicit in this denial of free speech and the right to free movement of the people of Azerbaijan and the people of Artsakh."

"This potentially means a total of 13 years imprisonment for doing nothing more than calling for self-determination and security for the people of Artsakh, and the provision of basic human rights to the people of Azerbaijan."



The Silent Protest was part of a worldwide condemnation campaign against the government of Belarus by Armenian National Committees and Armenian Youth Federations. The employees of the Canberra embassy had anotified police that they would not be accepting any form of material from the protesters, but a letter calling on the government not to extradite Alexander Lapshin was left in the mailbox.