STATEMENT
THE SHOW MUST GO ON - ARA GEVORGYAN CONCERT MONDAY 6 MARCH 7:30pm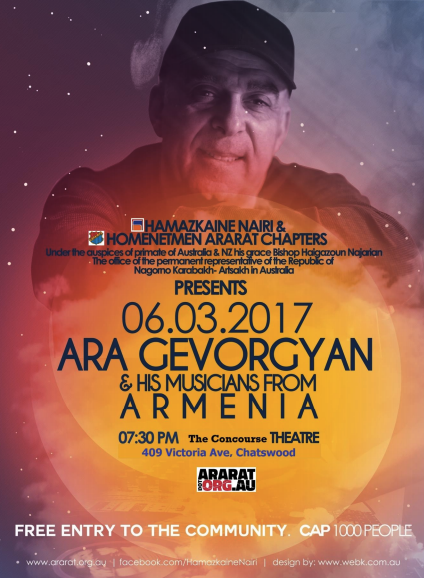 As many in the Sydney Armenian community are aware, legendary Armenian composer and musician, Ara Gevorgyan and his talented musicians from Armenia and abroad, were scheduled to take the stage on March 4th, 2017.
Due to circumstances we would rather not dwell on, the venue terminated the event on contractual grounds, leaving the overseas acts, volunteer performers, event sponsors and patrons disappointed.
The Homenetmen Ararat and Hamazkaine Nairi joint chapter was to be among the volunteer performers at this event with our Nairi Dance Group, and have decided that "the show must go on" in the best interests of the Sydney Armenian community.
We have reached an agreement with Ara Gevorgyan and his team, who will take the stage on Monday, 6th March 2017. It will be held at The Concourse, Chatswood. The event will start at 7:30PM. This event has been initiated and organised by Hamazkaine Nairi and Homenetmen Ararat.
We are offering this event to our community free of charge, bringing to the stage as much of the planned showcase as viable and possible. Please note as the venue capacity is 1,000, seats will be available on a first come first served basis.
We stress to point out that Hamazkaine Nairi and Homenetmen Ararat were not the organisers of the original event and, are in no way responsible or liable for the events that have occurred to date.
We felt it was necessary to step in and ensure international guests of Ara Gevorgyan's calibre do not return to Armenia without gracing our community with a performance.
We look forward to seeing our community tomorrow night at 7:30pm (The Concourse, Chatswood).
Yours sincerely,
Homenetmen Ararat & Hamazkaine Nairi Committee
5th March 2017 (Sydney, Australia)