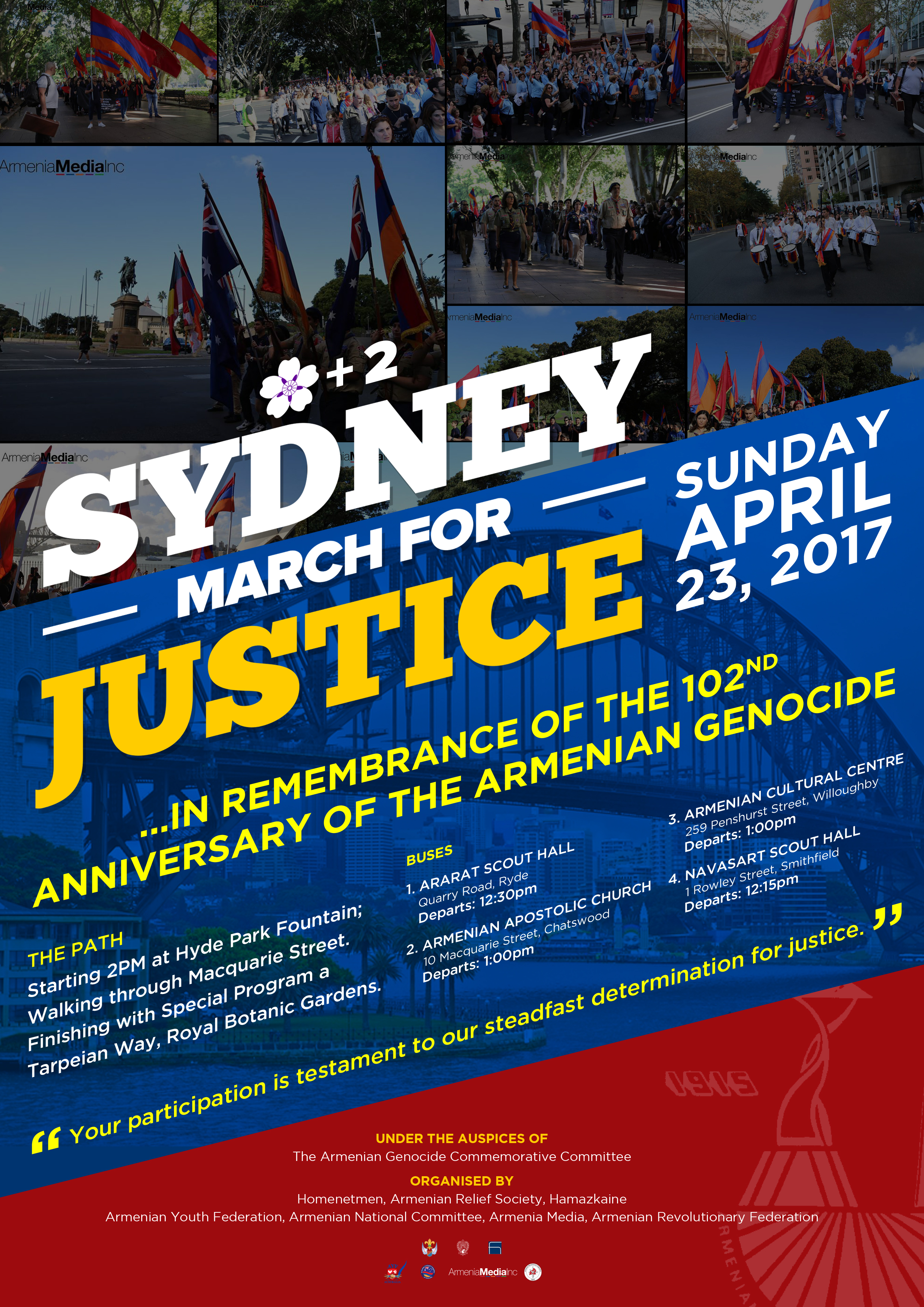 SYDNEY: For the second year in a row, the Armenian community of Sydney will #MARCHFORJUSTICE in Sydney's CBD (Central Business District) on Sunday, April 23rd in remembrance of the 102nd anniversary of the Armenian Genocide.


Last year, in April 2016, the inaugural Sydney #MARCHFORJUSTICE was held, where over 3,000 members of the Armenian community united in a show of unity in remembrance of the 1.5 million victims of the Armenian Genocide, and renewed their calls for justice for what is a crime not yet recognised by Turkey - the successor state of the perpetrating Ottoman Empire.
Participating in the March for Justice in 2017 will be clergy from all Armenian churches, Armenian political, youth, relief and cultural organisations, as well as schools, dance groups and the entire Armenian community. The March will be led by the Homenetmen Scouts Band.
Marchers will meet at the iconic Hyde Park Fountain at 2pm. They will walk through Hyde Park, then Macquarie Street, which will be partially blocked to traffic by local police. Marchers will pass through Martin Place, the NSW Parliament House, before
continuing through to the Royal Botanic Gardens, where a short program will be held with the backdrop of the Sydney Harbour Bridge.
A statement from the organisers read: "Last year, the community came together to say "We Remember. We Demand." and this march again presents that unique opportunity to show that we will not relent despite 102 years passing since the genocide of Armenians and other Christian minorities in Ottoman Turkey."
"It is time, with Artsakh under constant threat of attacks by Azerbaijan, for our community to join in numbers, show our solidarity with those in the motherland, and participate in what is a unique event that will be remembered for the ages."
A number of buses have been organised to transport participants to and from the City. They will depart from:
Ararat Scout Hall - Quarry Road, Ryde at 12:30pm
Armenian Apostolic Church - 10 Macquarie Street, Chatswood at 1:00pm
Armenian Cultural Centre - 259 Penshurst Street, Willoughby at 1:00pm
Navasart Scout Hall - 1 Rowley Street, Smithfield at 12:15pm
Please note all buses will be returning back to their original locations after the closing of the event, by around 4:30pm.
The Sydney #MARCHFORJUSTICE is being held under the auspices of the joint Armenian Genocide Commemorative Committee, and is being organised by Homenetmen, the Armenian Relief Society, Hamazkaine, the Armenian Youth Federation, the Armenian National Committee of Australia, Armenia Media Inc. and the Armenian Revolutionary Federation, with the participation of the entire Sydney Armenian community.