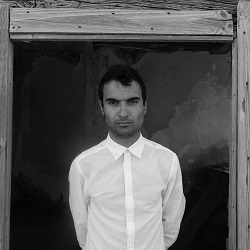 One of the most exciting artists in jazz today, Armenian pianist Tigran Hamasyan, will tour to Australia for the first time this month. Celebrating the release of his latest solo piano album, the multi-award winning pianist will undertake a national tour that includes performances at major international jazz festivals in Melbourne, Sydney and Perth as well as a series of masterclasses and workshops.
A piano virtuoso with groove power, Tigran's latest adventurous project is An Ancient Observer (Nonesuch Records), his second solo album and eighth overall as a band leader. The album is a collection of new original compositions, two which are based on Armenian melodies. Conceptually, An Ancient Observer is a poignant album focusing on the art of observing.
In regards to his latest recording, Tigran took advantage of living in Armenia to compose beauty—looking at his surroundings and reflecting on the bigger picture. "When I gaze out of my window and see the biblical mountain Ararat with the perpetual snow on its peak with foregrounds of electrical towers with wires cutting the picture, and the satellite dishes melted onto old and modern houses, ancestral smoke coming out of the chimneys and the birds hovering above the trees with occasional airplane trails in the vastness of the sky is the dialogue, the interaction of the God-given ancient nature and our modern human achievements," he says. "For me it is an awakening and a beautiful feeling to be able to observe the magnificence of this sleeping volcanic giant which has existed for millions of years and was observed by from the Ararat Valley Koura-Arax culture to the present-day citizens of the Armenian republic."
Tigran's soulful appraoch is shining a light on contemporary piano with his ability to seamlessly blend jazz, folk, progressive rock and classical forms. The prolific pianist has won a swag of awards including top prizes at the Montreux and North Sea Jazz Festivals as well as the grand prize at the prestigious Theolnious Monk International Jazz Competition.
Born in Gyumri, Armenia, in 1987, Tigran grew up in a household that was full of music—his father more of a rock fan while his uncle was a huge jazz buff. As a toddler, he gravitated to tape players and the piano instead of regular childhood toys. By the time he was 3, he was working his way through figuring out songs on piano by the Beatles, Louis Armstrong, Led Zeppelin, Deep Purple, Black Sabbath and Queen. His jazz tastes early on were informed by Miles Davis's fusion period. By the age 10 when his family moved to Yerevan, he came to discover the classic jazz songbook under the aegis of his teacher Vahag Hayrapetyan, who had studied with Barry Harris. "That's when I understood what jazz is," Tigran says. "He taught me about bebop. He was a great teacher."
Even so, he also began to dive into the deep music well of his country. "When I was 13, I began to understand the rich culture of Armenia," says Tigran. "I thought, it's in my blood. I grew up with this incredible music without realizing it. Slowly I began to listen more to the folk music, and it shocked me how much it had been completely ignored. The more tunes I learned—listening to recordings from the Armenian Folk Radio channel—the more I saw the rich potential for merging those with improvised music. That started me on a lifetime journey."
While he studied classical music at an Armenian high school geared toward music studies, Tigran continued to grow on his own as a jazz pianist. He performed at the First International Jazz Festival in Yerevan in 1998 and again in 2000 where he met Chick Corea, Jeff Ballard and promoters who booked him to tour the European festival circuit. At 16, his parents moved to Los Angeles to give their two children (Tigran's sister is a painter and sculptor) better artistic opportunities. From here, Tigran entered the University of Southern California and started to gig. Tigran moved to New York for a spell and began writing, when he was signed to Universal Jazz in France in 2010, before moving back to his native Armenia where he resides today. tigranhamasyan.com
TIGRAN HAMASYAN NATIONAL TOUR DATES
Brisbane International Jazz Festival Friday 2 June (7:30pm), Queensland Multi-Cultral Centre
Sydney Con International Jazz Festival Sunday 4 June (7:30pm), Sydney Conservatorium
Melbourne International Jazz Festival Monday 5 (6:30pm) & Tuesday 6 June (6:30pm), The Jazzlab (Brunswick)
MEDIA ENQUIRIES: AMY CURL, 0413 237 119, amycurlpublicity@gmail.com