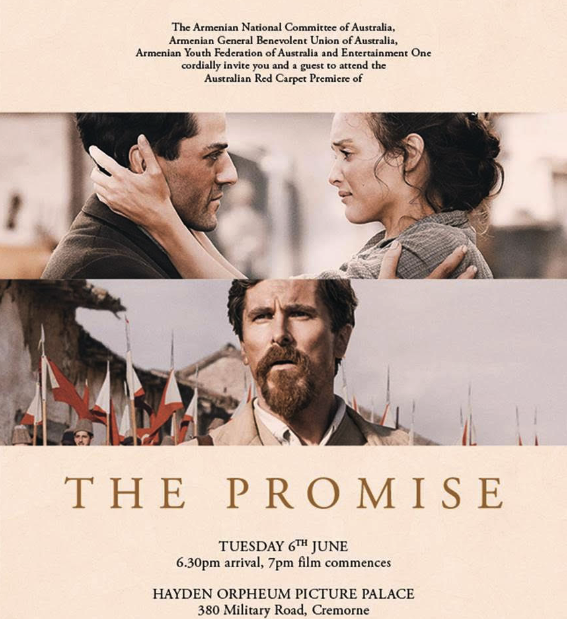 SYDNEY: A red carpet premiere has been announced for The Promise in Sydney, with a line-up of guests led by the Premier of New South Wales, Gladys Berejiklian.
The Promise, which will be released for the Australian public in over 40 movie theatres on June 15th, will kick off with this invite-only, red carpet premiere at The Orpheum in Cremorne on June 6th. Berejiklian is joined on the guest list by fellow political leaders, members of the media, Armenian-Australian community leaders, and members of the clergy.
The red carpet premiere has been organised by distributors
eOne
, along with
The Promise Australia Committee
, which includes the
Armenian National Committee of Australia (ANC-AU)
, the
Armenian General Benevolent Union in Australia (AGBU-AU)
and the A
rmenian Youth Federation of Australia (AYF-AU)
.
In recent weeks,
The Promise Australia Committee
has been able to confirm the list of movie theatres across Australia, which are scheduled to show The Promise to audiences from opening day, June 15th, while 
work is being done to increase the number of cinemas, including in other key regions.
The Promise facebook page has renamed to ThePromiseAU
, in anticipation of the Australian release.
The Promise, a legacy project by the late Kirk Kerkorian's Survival Pictures, is a love story set with the backdrop of the Armenian Genocide, which saw the Ottoman Empire claim the lives of over 1.5 million Armenians. The film, directed by Terry George and starring Christian Bale and Oscar Isaac, also shows the beginning of the denial movement which has seen the crime of the Armenian Genocide remain unpunished.
The Promise Australia Committee's Khajaque Kortian said: "We encourage all Armenians to see the film as close to opening day as possible and by the end of opening weekend."
He added: "We need to encourage our non-Armenian friends and neighbours to also see the film at their closest movie theatre. Every pair of eyes that sees this film will go towards justifying the investment by Mr. Kerkorian and others, who wanted to bring the story of the Armenian Genocide to as wide an audience as possible."