SYDNEY: Scholarly sisters, Doris and Arda Melkonian have been confirmed to be joining Professors Henry Theriault, Peter Balakian and Armen Marsoobian on an all-star Sydney Panel of international scholars, which will discuss "Armenian Genocide Studies 2.0".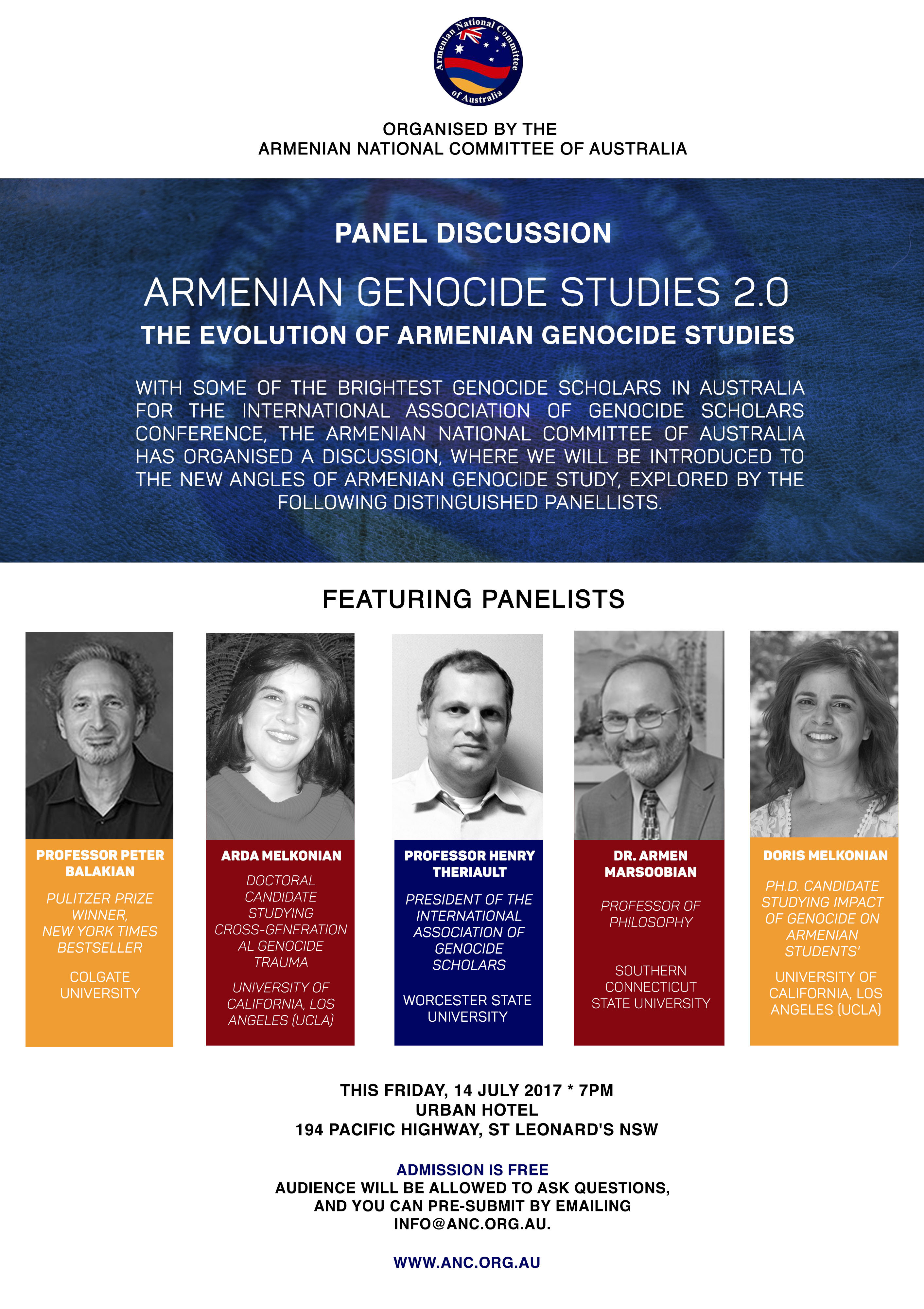 With some of the world's brightest genocide scholars currently in Australia for the 
International Association of Genocide Scholars Conference
, the Armenian National Committee of Australia (ANC-AU) has organised this event, where the audience will be introduced to the evolution of Armenian Genocide study, as explored by the distinguished panellists.
Doris Melkonian 
is a Ph.D. candidate at the University of California, Los Angeles (UCLA). She conducts research at Armenian private schools in Southern California, examining the impact of the Armenian Genocide on Armenian students' identity formation. She also applies an interdisciplinary approach to analyse Genocide survivor narratives, examining topics such as sexual violence, cultural maintenance, resistance, and Islamised Armenians.


Arda Melkonian is a doctoral candidate at UCLA. Her research also focuses on Armenian private schools in the diaspora, examining cross-generational transmission of Genocide trauma. Arda Melkonian has presented her research on gender-based survival options, resourcefulness of Armenian women, and types of intervention during the Armenian Genocide, at scholarly conferences in Armenia, Israel, Turkey, and the United States.
The Melkonian sisters join the newly-confirmed President of the International Association of Genocide Scholars (IAGS), Professor Henry Theriault, Professor Peter Balakian (Pulitzer Prize Winning Poet and New York Times Bestselling Author), and Professor Armen Marsoobian (Professor of Philosophy at Southern Connecticut State University) in what will be an unprecedented panel line-up of international scholarly talent speaking in an Australian forum.
Theriault, who was this week confirmed as the first Armenian President of the IAGS, is Professor in and Chair of the Philosophy Department at Worcester State University in the United States. From 1999 to 2007, he coordinated the University's Centre for the Study of Human Rights. His expertise is in genocide and human rights studies, and his research focuses on reparations, victim-perpetrator relations, genocide denial, genocide prevention, and mass violence against women and girls.
Since 2007, he has chaired the Armenian Genocide Reparations Study Group and is lead author of its March 2015 final report, 
Resolution with Justice
. He sits on the Board of the Armenian Legal Centre for Justice and Human Rights.
Balakian is the author of seven books of poems, four books of prose, and two collaborative translations.
Ozone Journal
won the 2016 Pulitzer Prize for poetry;
Black Dog of Fate
won the PEN/Albrand Award for memoir; and
The Burning Tigris: The Armenian Genocide and America's Response
won the Raphael Lemkin Prize 
and a
New York Times bestseller
. He is Donald M and Constance H Rebar Professor of the Humanities in the department of English at Colgate University.
Marsoobian is Professor and Chair of Philosophy at Southern Connecticut State University. He has lectured and published on topics in aesthetics, pragmatism, and genocide studies. He is the author of the highly praised,
Fragments of a Lost Homeland: Remembering Armenia
and two recently published companion books,
Reimagining a Lost Armenian Home: The Dildilian Photography Collection
and the bi-lingual,
Dildilian Brothers – Memories of a Lost Armenian Home: Photography and the Story of an Armenian Family in Anatolia, 1888-1923
.
He is a descendant of the Dildilian family and has organised exhibitions in Turkey, Armenia, the United Kingdom and the U.S. based upon his family's Ottoman-era photography collection.
The Panel Discussion, which will be held this Friday (14 July), 7PM at The Urban Hotel in St Leonard's, will be moderated by the Managing Director of the Armenian National Committee of Australia (ANC-AU), Vache Kahramanian.
Professors Balakian and Marsoobian will also be delivering lectures in Sydney on Saturday, 15th July. For more information on this event, organised by the AGBU, please
click here
.