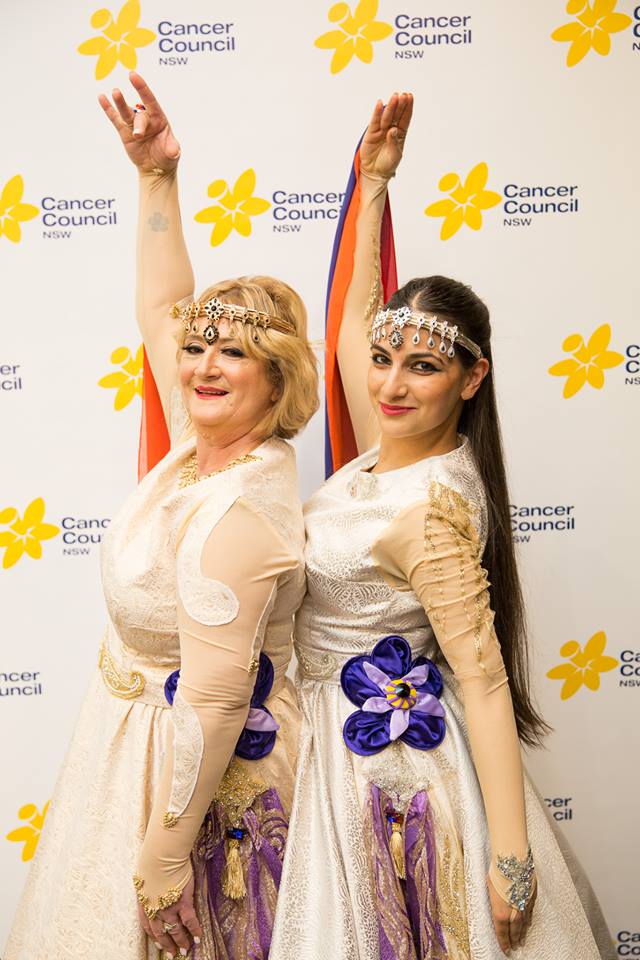 SYDNEY On Saturday June 24, the Cancer Council held its "Stars of the North" event held at Norths Leagues Club, where Armenian-Australian duo, Maggie Minassian and Colette Mardirossian were among the 12 pairings (each with one non-dancer/local hero and one professional dancer) to compete in the "Dancing with the Stars" formatted fundraiser.
Minassian, a member of the Armenian Relief Society of Australia, is a cancer survivor, while Mardirossian is an instructor at the Hamazkaine Armenian Sydney Dance Company. The duo fundraised for six weeks prior to the event, and learnt an Armenian dance routine during the same period. They raised $8,000 which was part of the total $134,000 raised by the Cancer Council of NSW due to this event.
Minassian, despite having never smoked, was diagnosed with lung cancer eight years ago and given a prognosis of 12 months to live. Today, she is proud to call herself a cancer survivor. With a single lung, she continues to do everything she loves most in life. She gets most strength from her three young grandchildren; Michaela, Annie-Rose and Leonie. In November, Minassian held a fundraiser for the Lung Cancer Foundation in Brisbane and raised just under $19,000. She also held another large fundraiser this past April, raising more than $24,000 for Kolling Foundation's cancer research. She believes it is because of the incredible advances in cancer research that she is here today.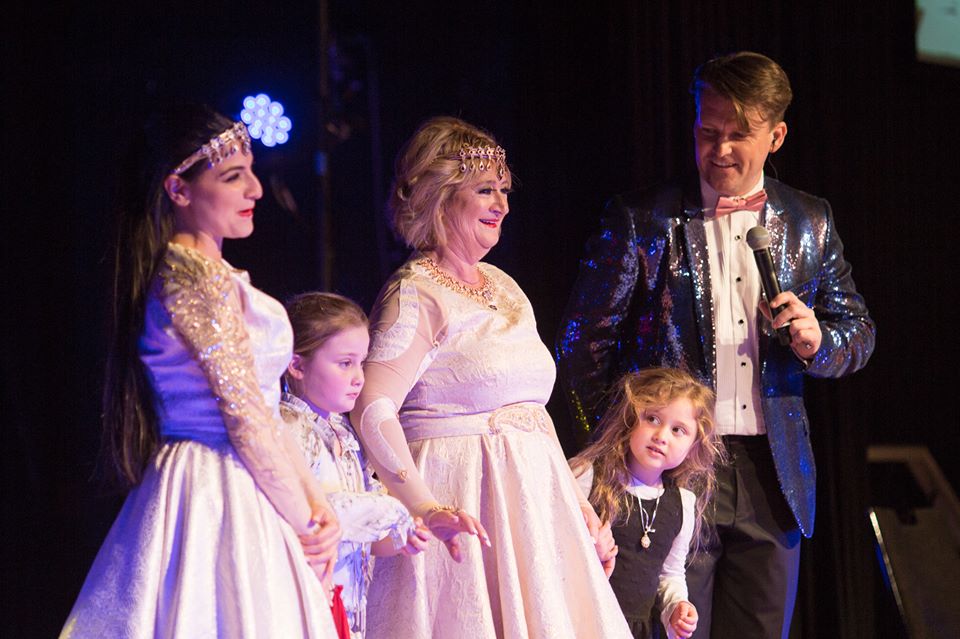 Minassian said: "My fight for cancer is very emotional. I have a husband and three children, who although grown up, still need me. The week that they had given me 12 months to live, was my son's 21st birthday. I asked him 'Harrison, what would you like to have on your birthday??'  He replied 'For you to live'. Now, after 7 years, I'm here, I'm alive and danced with one lung on stage for an audience of 300."
"I also now have three beautiful grandchildren who keep me alive and active and give me happiness. Thank you to Harry, my husband who has supported me in all my fundraising together with Linda who found me my second opinion doctor who gave me hope and she was was also my primary career while juggling pregnancy and having three babies for me. Hope is all I'm living on now as I'm on a trial drug which is keeping me alive until a real cure is found. My cancer changed into something called ROS1 and there are about 150 world-wide."
"No one knows what's ahead. It's like we are walking on a bridge that has not been finished being built. We are walking on it and as we walk they are putting a new section or span. I also have great oncologists and my faith in God and St. Mary Mackillop."
Colette Mardirossian has studied various types of dance since the age of three. Since her passion for cultural dance took precedence, she joined Hamazkaine Armenian Sydney Dance Company (ASDC) when it was formed in 2000 and became a lead soloist over the years to come. Having many years of Armenian Dance experience, she was invited to join ASDC as an instructor/choreographer in 2008. She has also taken part as a key dancer for ASDC's performances abroad in Armenia and Los Angeles and has studied Armenian dance overseas.
She feels privileged to have responsibility for the 100 + dancers she teaches ranging from 4 year olds to 16 year olds (which includes Minassian's two grandchildren) hoping to foster their love for their culture through this beautiful art form. Moreover, she teaches over 50 adults ASDC's newly formed Armenian style Zumba classes (including Minassian) and continues to dance in ASDC's senior's group and teaches Armenian Fitness/Dance to the elderly patients at Alexander Aged Care (which includes Minassian's father).
She also teaches Armenian Dance at Happy Kids Preschool.  Mardirossian explains: "It was an absolute pleasure and joy to teach an inspirational and courageous women like Maggie and dance next to her and show the wider community our rich and unique culture through our exquisite dance, costume and music".
Maggie and Colette wore a beautiful costume designed and created by ASDC artistic costume coordinator, Maral Komchian. They proudly wore their costumes, donated by Minassian's daughter, Linda and showed the wider audience the strength and survival of the Armenian culture through the Forget Me Not Genocide Flower.
Maggie said: "My grandparents from both sides of the family were Armenian Genocide survivors. Two years ago my sister got a tattoo on her wrist of this flower and then I followed and got one too. Maral wanted to represent the flower on the costume. It not only needed to represent Armenia, our culture, but it had to have a bling factor in it that I love. The flower was made before we even saw the movie, The Promise.
"It was appropriate on the night and especially while dancing our Armenian genre that we had the three colours of our flag, red blue and orange. This was achieved by making tree lights as our prop as well as through our "tashkinaks". I made sure to explain to the audience and judges after our dance what the flower on our dress meant. I also made sure to mention the movie, The Promise as it has been released to the public only last week"."
The judges, including Mayor Gail Giles-Gidney, Mayor of Willoughby and singer Deni Hines were delighted with the Armenian duo's performance as reflected through their comments and feedback about how beautiful the Armenian culture is. Councillor Giles-Gidney thanked the pair for sharing their culture with them.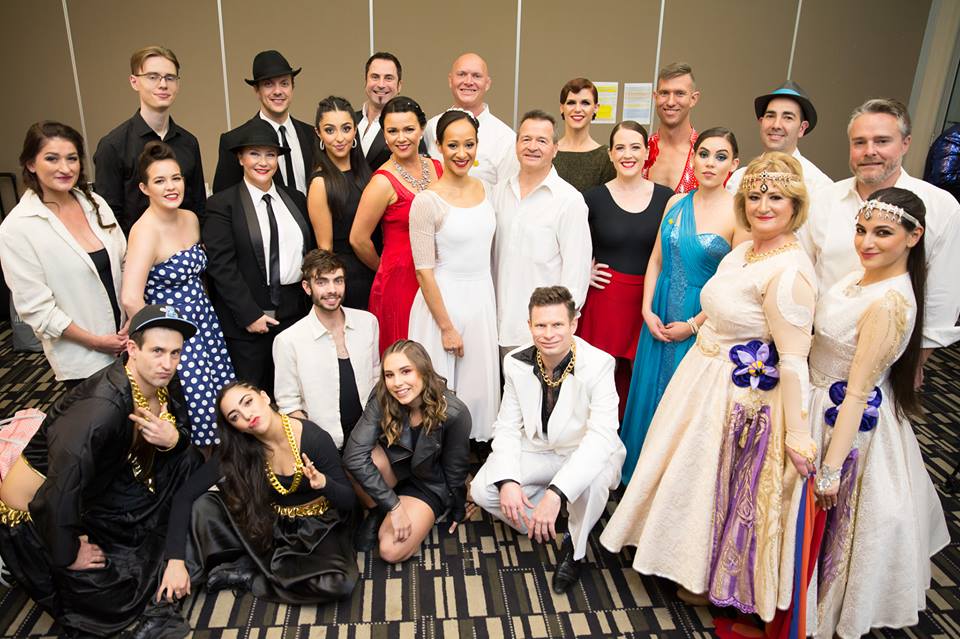 Mardirossian described: "We performed our dance to the fusion of the traditional Shalakho music and Zaruhi Babayan's beautiful version of Shalakho. Talented Dhol Player, Harout Bezdikian accompanied us. We wanted to give the audience an authentic Armenian cultural experience and enlighten and share with them our culture's beauty."
Minassian added: "So as I danced, remembering the words drummed and echoed in my mind from my beautiful teacher 'MAGGIE jun, remember SMILE, PROUD AND BREATH'. I did my best, that's all that matters. I was breathless in the end and I got carried away on stage like a little girl doing twirls so everyone can see my flower on the side. I was dancing for the memory of all my friends who died of cancer and people who have cancer. The money raised was terrific."
"There were several highlights on that evening. I wanted to create a beautiful cultural impact on the dance floor by organising a FLASH MOB DANCE. To our surprise, when we asked the judges to join in, they did so, together with other members in the audience. The next highlight and surprise to us was when we entered the green room, over 20 of the dancers were doing a shoorch par, being amazed and dancing Armenian too, congratulating us on our dance."
Mardirossian said: "During this experience, I really enjoyed getting to know Maggie on a personal level. I taught her Armenian dancing and she taught me how to cook delicious Armenian recipes. We really bonded and this experience was made even more special because of this.  I have lost many people who have been very close to my heart due to cancer and I will always cherish this experience because I also did this for them. It was an honour fundraising with Maggie for this fantastic cause and supporting the Cancer Council on behalf of ASDC. Maggie is not only a local everyday hero, but she is my hero and our community's hero too."
Maggie Minassian and Colette Mardirossian would like to kindly thank everyone in the community for their support as every dollar counts. Together we will beat cancer.