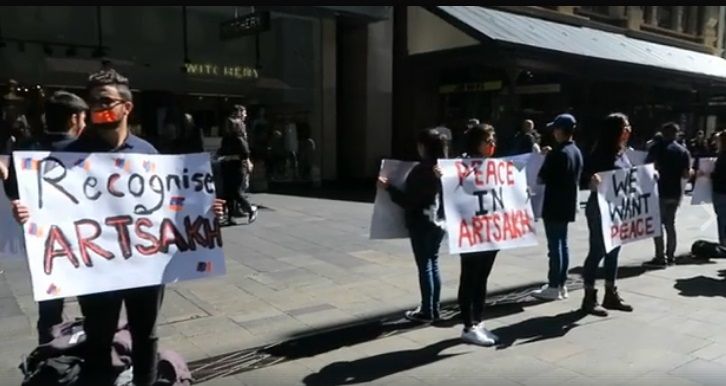 SYDNEY: On September 2nd the Republic of Artsakh celebrated its 26th anniversary as an independent and democratic state. Armenians around the world celebrated this momentous achievement whilst festivities and parades were held throughout the Republic of Artsakh. However, as the April 2016 war repercussions and memory continues to linger, the need for peace and international recognition is paramount.

On the morning of Saturday the 2nd of September, 22 members of the Armenian Youth Federation of Australia (AYF-AU) 'Pegor' chapter gathered in the bustling Sydney Central Business District (CBD) and held a Silent Protest demanding the Australian and international community recognise the Republic of Artsakh and halt Azerbaijan's aggressive foreign policy.



The Silent Protest, which lasted 2 hours, was met favourably by the Australian public who were eager to learn about the democratic Republic of Artsakh and understand the current situation. AYF-AU 'Pegor' members handed out over 1000 flyers throughout the day, educating the Australian public about Artsakh and the major threat it faces today – the Republic of Azerbaijan led by its dictator Ilham Aliyev.

AYF-AU Pegor Chapter's Daniel Berberian said: "Some may be critical about political activism on the basis that it may have no influence on Australia and the international community's stance on Azerbaijan, however there is no doubt that it at the very least demonstrates the will of the Armenian people and specifically the youth."

He added: "Whilst 14,000km separate Armenian-Australians from their motherland, AYF-AU 'Pegor' will continue to support the people of Artsakh and their rights to self–determination."

"The AYF of Australia and all its chapters will always aim to ensure political activism does NOT stop; demonstrating that our demands and fight for justice do not end on April 24th but continue daily until justice and peace is achieved."