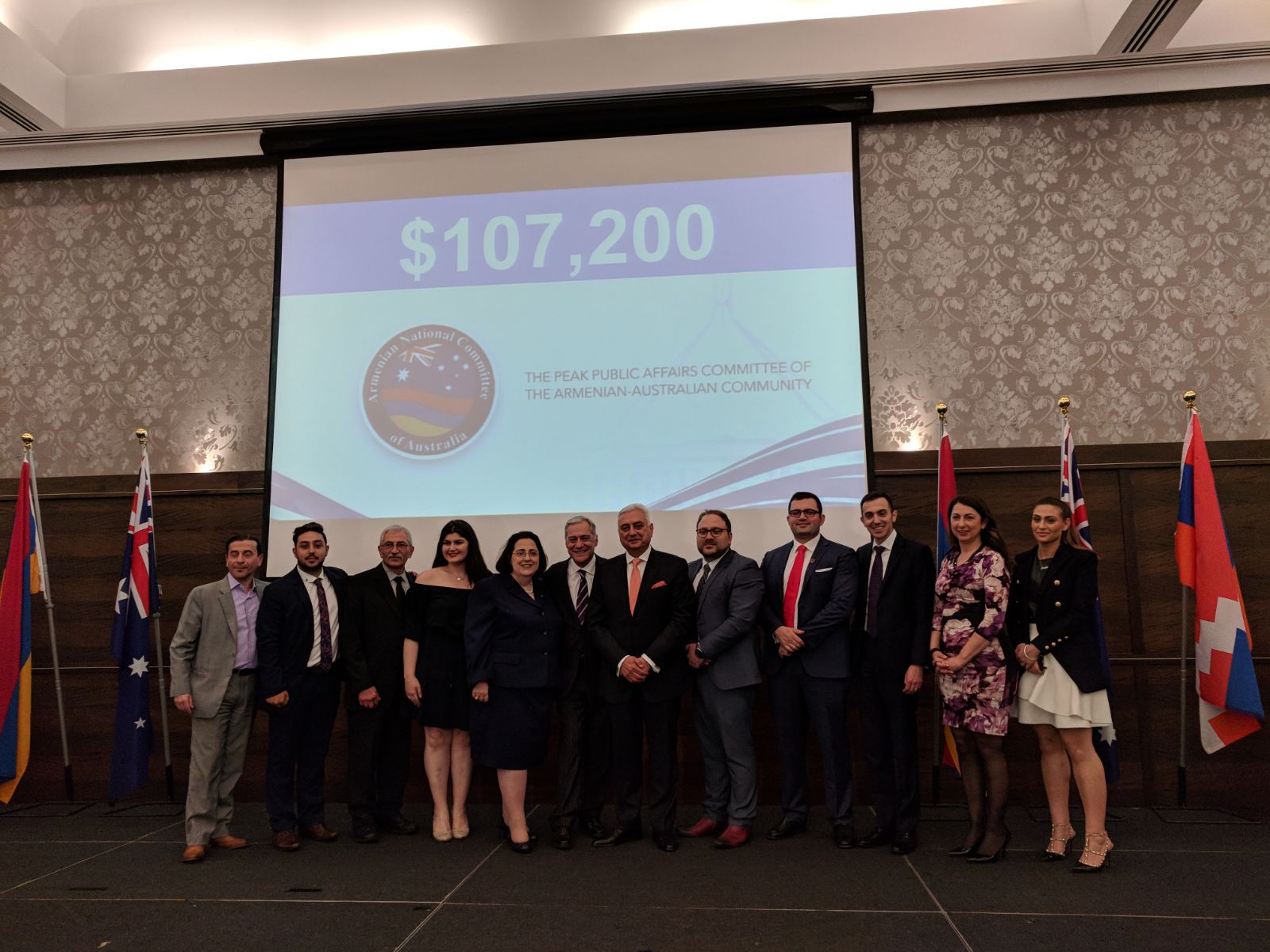 SYDNEY: The Armenian National Committee of Australia's (ANC-AU) Advocacy Week ended with a climax on Friday, 20th October with the organisation's Annual Banquet raising an amazing $107,200 to further Armenian and Armenian-Australian interests in public affairs over the next 12 months.
[OPENING VIDEO OF THE ANC-AU ANNUAL BANQUET, THE COMMUNITY SAYING "WE ARE HAI TAD"]
ANC-AU's night of nights also honoured legendary Australian newsman, George Donikian with the "ANC-AU Armenian-Australian Community's Friend of the Year" award, acknowledging his efforts in bringing to light his former network employer SBS's unacceptable editorial policy of referring to the Armenian Genocide with euphemisms. He also revealed his family story as a descendant of Armenian Genocide survivors when promoting the release of Hollywood epic,
The Promise
.
Donikian was unable to attend the event due to a new role in radio, however he sent a video acceptance message, while the award was received on his behalf by fellow legendary news anchor and the evening's superstar Master of Ceremonies, John Mangos.
The keynote speaker at the Annual Banquet was ANC America's Communications Officer, Elizabeth Chouldjian. She delivered a rousing endorsement of the activities of her ANC colleagues in Australia, while giving background of some of the most important "Hai Tad" work being done by her and her team in Washington D.C. and across the 50 states of the United States.
Chouldjian called on the community to support ANC-AU as they bring their important contribution to the combined efforts of Armenian National Committees around the world, in seeking justice for the Armenian Genocide, fighting for the rights to self-determination in Artsakh (Nagorno Karabakh), strengthening Armenia, and representing Armenian community interests.
ANC-AU used this banquet to draw light to the 20th anniversary of the passing of the first Armenian Genocide resolution, which was by the NSW Parliament in 1997. Then-Premier, Bob Carr and then-Opposition Leader, Peter Collins delivered messages by
video
, along with current Premier Gladys Berejiklian to honour this anniversary of what was a significant milestone.
ANC-AU Managing Director Vache Kahramanian highlighted the noticeable succession planning that was yielding results for his organisation, with a focus on the new administrative assistants keeping the office ticking and the growing collaboration between ANC-AU and the Armenian Youth Federation of Australia (AYF-AU).
Kahramanian touched on ANC-AU's activities over the last 12 months, including lobbying activities, The Promise premiere, ANC-AU assistance in forming and staffing the board of the Armenian Legal Centre for Justice and Human Rights, exposing of Azerbaijan's Caviar Diplomacy through mass media, and more.
This advocacy work culminated in the most recently completed Advocacy Week. This resulted in two powerful MP statements in Federal Parliament against Azerbaijan's anti-peace policies and actions in Nagorno Karabakh
(click here to read more and see videos of speeches)
.
ANC-AU Board Member, Taleen Shamlian also spoke to introduce the gathered to the new "Australia-Armenia Inter Parliamentary Union", which was formed earlier in 2017. Earlier during this Advocacy Week, the group hosted a historic Federal Parliament screening of
The Promise
(click here to read more on this)
.
Shamlian explained the goals of this group of over 50 MPs and Senators from Federal Parliament before inviting Co-Chair Trent Zimmerman MP to address the audience.
Zimmerman was joined by his Federal Parliamentary colleagues in Julian Leeser MP and Jason Falinski MP, both of whom addressed the audience to reaffirm their supportive position on Armenian issues of interest.
The NSW State Parliament was represented by Jonathan O'Dea MP, Walt Secord MLC, Rev. Fred Nile MLC, David Clarke MLC and former MLC, Amanda Fazio.
Premier Gladys Berejiklian could not attend in person, but was represented by her parents, Mr and Mrs Krikor and Arsho Berejiklian, who had the honour of receiving their daughter's Award on behalf of the Republic of Armenia's Diaspora Ministry. The Ministry's Australian advisor, Hanriet Andriasian handed the award over after reading a message from Minister Hranush Hakobyan.
The evening was full of entertainment, from MC John Mangos running a competitive auction with marquee items including signed and framed Henrikh Mkhitaryan (Manchester United) and Lionel Messi (Barcelona) jerseys, to a beautiful solo dance by the Hamazkaine Armenian Sydney Dance Company's Colette Mardirossian.
Two of the highlights on a night where new faces adorned the Banquet stage, was ANC-AU Board member Garineh Torossian's video and on-stage interviews with Admin Assistants, Olivia Dilanchian and Michael Kolokossian, then with ANC-AU Melbourne Chairperson, Asbed Boymoushakian (
video
below features video interview with admin assistants).
$107,200 was raised as the audience endorsed ANC-AU's 2018 advocacy plan in emphatic fashion.
"We thank our partners and the community from the bottom of our hearts," said ANC-AU Managing Director, Vache Kahramanian. "Every year, they step up and do the bidding to ensure truth and justice has a messenger on behalf of Armenia and the Armenian people in the hallways of Parliaments across Australia, and that messenger... that soldier, is the Armenian National Committee of Australia."