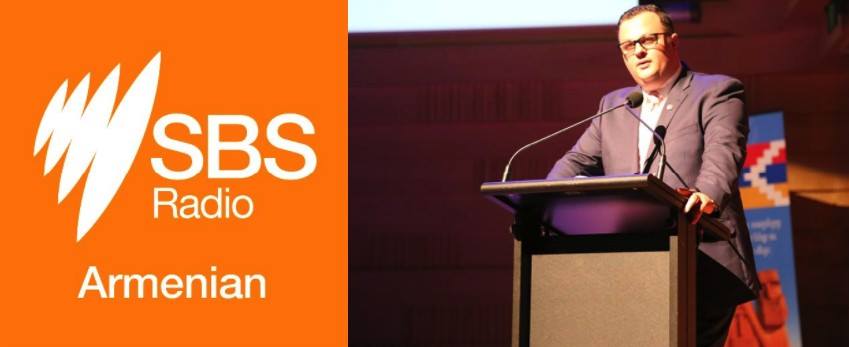 SYDNEY: Vahe Kateb of the Special Broadcasting Corporation's (SBS) Armenian Radio Program interviewed the Executive Director of the Armenian National Committee of Australia (ANC-AU), Haig Kayserian on Tuesday, 6th February 2018.
The interview was Kayserian's first since taking on the role of Executive Director of the Armenian-Australian community's peak public affairs body, therefore started with a discussion around recent changes ANC-AU made to its National Board and Office.
"We always hold up the mirror to ourselves, make decisions about how we can do things better, and this time we were fortunate enough to be able to make some personnel adjustments and positional adjustments to the National Board which I think is going to serve the Armenian-Australian community well when it comes to us serving their public affairs interests," Kayserian told Kateb.
After discussing the policy priorities of the ANC-AU, the interview went on to discuss the current positioning on issues of importance to Armenian-Australians at Local, State and Federal governments.
"For Australia to recognise the Armenian Genocide, we need Federal politicians with backbone and a Federal Parliament with backbone. Backbone to stand up for truth and justice in the face of threats that will inevitably be made by a Turkey that uses its diplomatic avenues to try and gag the Australian government," Kayserian added.
On Artsakh, he said ANC-AU will embark on a relentless "information campaign" to inform politicians about the OSCE Minsk Group peace process, and how Azerbaijan consistently hampers the possibility of peace in the Nagorno Karabakh region with breaches of the internationally-brokered ceasefire. Kayserian discussed the blatant undemocratic governance of Azerbaijan and cautioned Australian politicians and departments against siding with a "proven corrupt regime".
He said: "The currency of caviar is used by Azerbaijan. The currency of lavish trips to Baku is used by Azerbaijan. We deal in the currency of truth. We deal in the currency of our people."
The interview also reviewed other policy priorities of ANC-AU, including advancing relations with fellow ethnic communities, government relations on behalf of community organisations and schools, as well as assistance for refugee Armenians from the Middle East, in coordination with the Armenian Resource Centre of Australia.
CLICK HERE TO LISTEN TO INTERVIEW or listen below.