COMMUNITY APPEAL: Support #ARTSAKHSTRONG TELETHON AUSTRALIA on 19th March
By armenia.com.au | Friday, 09 March 2018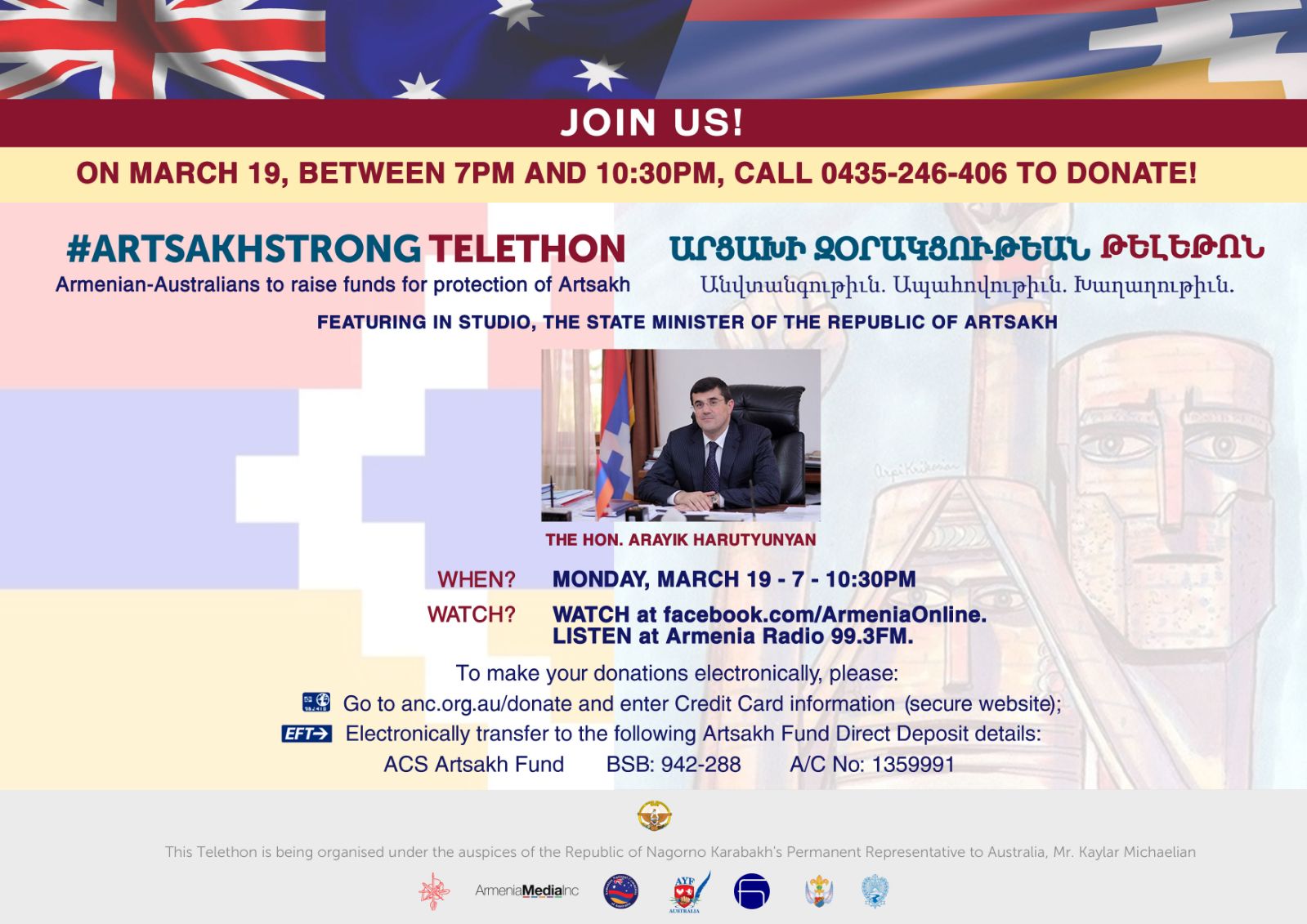 SYDNEY: Leaders of the Armenian-Australian community have recorded messages, urging all to support the second-ever #ARTSAKHSTRONG TELETHON, which will take place live on Facebook and Sydney Radio, on Monday 19th of March, 2018.



A special guest during the broadcast will be visiting State Minister of the Republic of Artsakh, the Honorable Arayik Harutyunyan.

Last time (click here) the Telethon took place in July 2016, over A$100,000 was raised for the "Republic of Artsakh Independence, Security and Peace Foundation" by the Armenian-Australian community.

That Telethon was held barely two months following the April 2016 attacks on Artsakh, launched by Azerbaijan with the intention to destroy the self-determined nation of Christian Armenians. Armenians in Australia and the world over participated in similar fundraisers, to support the aforementioned foundation, that has been assisting with security initiatives, including directly with the army and rebuilding homes for repatriation to key border villages.

Azerbaijan's attacks on Artsakh have continued with close to 100 Armenian deaths at the border since the previous Telethon. The "Republic of Artsakh Independence, Security and Peace Foundation" needs our continuing support, as we strive to keep #ARTSAKHSTRONG!

The Telethon is again being organised, under the auspices of Kaylar Michaelian - Australia's Permanent Representative of the Republic of Artsakh, by the Armenian Revolutionary Federation (ARF-AU), Armenia Media, Inc., the Armenian National Committee of Australia, the Armenian Youth Federation of Australia, Hamazkaine, Homenetmen and the Armenian Relief Society.

On Monday 19th March, between the times of 7pm and 10:30pm, the community is asked to call 0435-246-406 and make their pledges for donation.

The #ARTSAKHSTRONG TELETHON can be followed by watching live videos at www.facebook.com/ArmeniaOnline (click here) or listening to 99.3FM in Sydney.

There will be interviews with community leaders, contributors, while announcements of the donations will feature in the coverage.

ARF-AU Central Committee Chairman, Kevork Vartanian commented: "The enemy remains on the attack, by both refusing peace at the negotiation table and attacking Armenians illegally across the borders. This represents a call to action to not only our soldiers on the frontline, but to all Armenians, including us in Australia."

Vartanian added: "We all need to do our bit to keep Artsakh strong and secure, which will keep Armenia strong and secure. This Telethon is organised to allow Armenian-Australians to bring their participation to the security and bright future of the Republic of Artsakh."

See you on the evening of 19th March, 2018!