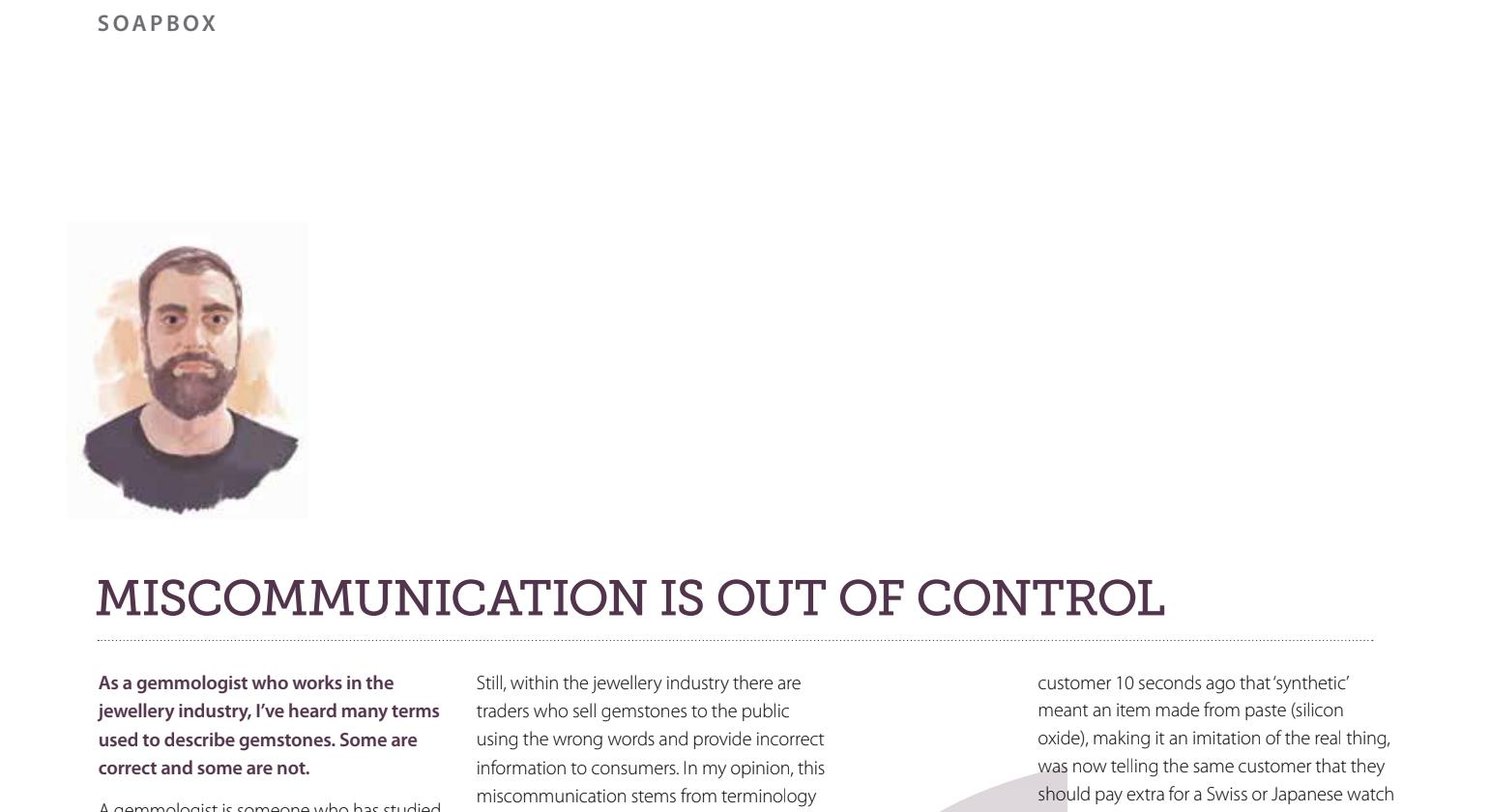 SYDNEY: Armenian-Australian jeweller and gemmologist, Masis Agopyan has had his article, titled "Miscommunication is out of control" featured in the Jeweller industry magazine.

Agopyan is the owner of Erebouni Jewellery in Crows Nest, who holds the record as Australia's youngest-ever gemmologist, diamond technologist and jewellery valuer since the mid-1990s.

His article from Jeweller Magazine is featured below:

[Section] Soapbox
[Month] February 2018
[Author] Masis Agopyan

Miscommunication is out of control

As a gemmologist who works in the jewellery industry, I've heard many terms used to describe gemstones. Some are correct and some are not.

A gemmologist is someone who has studied the field, is proficient in their knowledge of gemstones and can identify and classify gemstone material so why doesn't the industry accept the descriptions given by gemmologists?

According to the field of gemmology, a gemstone can be a mineral that naturally occurs and is mined out of the ground, cut and then polished. More often than not, it is then sold to the consumer as 'natural'.

Many gemstones are treated, like sapphires and emeralds for instance; however, in most instances, these treatments are industry-accepted and therefore considered a 'natural good'. One example of this is the 'oiling' of an emerald.

A gemstone can also be man-made, which is where we get into technical terminology as all man-made items with the same chemical composition as naturally-occurring gemstones are currently known as 'synthetic'.

Synthetic is a simple term when, for all intents and purposes, man-made gemstones are the same as naturally-occurring gemstones except that they are made in a laboratory.

Another type of gemstone is 'imitation'. An imitation can be almost any type of material that imitates a gemstone. Perhaps the most common is paste (glass) imitating diamonds and sapphires. When gemmologists use the term imitation, we mean an item that might look like a specific type of gemstone to the untrained eye but does not share the same chemical properties.

Still, within the jewellery industry there are traders who sell gemstones to the public using the wrong words and provide incorrect information to consumers. In my opinion, this miscommunication stems from terminology backed by the jewellery trade at large, including former heads of the Jewellers Association of Australia (JAA) in the early 2000s.

The said terminology dictates the following:
Natural – natural, removed from the ground and cut, then polished and set into jewellery;

Created – made in a laboratory, and with the same chemical composition as the natural item;

Synthetic – a pale imitation, often glass, pretending to be something else.

This is confusing for anyone who has qualifications in gemmology because it is quite simply wrong!

I used to work in a large store that had a couple of natural sapphire pieces. These pieces were generally Australian dark-blue sapphires and were communicated to staff and consumers as natural sapphires, which was technically correct from a gemmological perspective.

This store also sold created sapphires and these were explained as "gemstones created in a laboratory that are the same as natural gemstones". While this was technically correct, I had an issue with the word choice of 'created'. You see, the store also had synthetic pieces that were described as "glass that is similar in look to sapphire". This is where the entire trade falls down.

That same store stocked watch brands including Citizen, Seiko, Omega and Tag Heuer, whose models contained 'synthetic sapphire-crystal glass'. So a salesperson who was telling a customer 10 seconds ago that 'synthetic' meant an item made from paste (silicon oxide), making it an imitation of the real thing, was now telling the same customer that they should pay extra for a Swiss or Japanese watch that had synthetic sapphire-crystal glass!

Doesn't this mean that it is just silicon oxide? Of course not. The watch companies listen to gemmologists and industry experts, respecting scientific nomenclature enough to abide by the naming conventions that exist, and they use the correct words – there can be no argument over the terminology because it is science.

What happens to consumers who have been told that a synthetic is an imitation but also something that has been created is synthetic? They get confused. Who caused this confusion, confusion that creates a lack of trust between consumers and jewellers and which is hurting the entire industry with the wrong words? The industry itself has caused it by using 'created' and 'synthetic' in the wrong contexts.

The industry needs to accept the proper scientific nomenclature established by the field of gemmology. If we accept gemmological terms, then this issue of confusion is immediately gone. If we want to use 'created' then we must use it only interchangeably with the term 'synthetic' – the word 'imitation' must remain as imitation.

I hope the trade can band together and ensure they use the correct terms to counter-act this once and for all. We don't sell 9-carat yellow gold as 15-carat copper-silver alloy now, do we?

Name: Masis Agopyan
Business: Erebouni
Position: owner
Location: Sydney
Years in the industry: 25