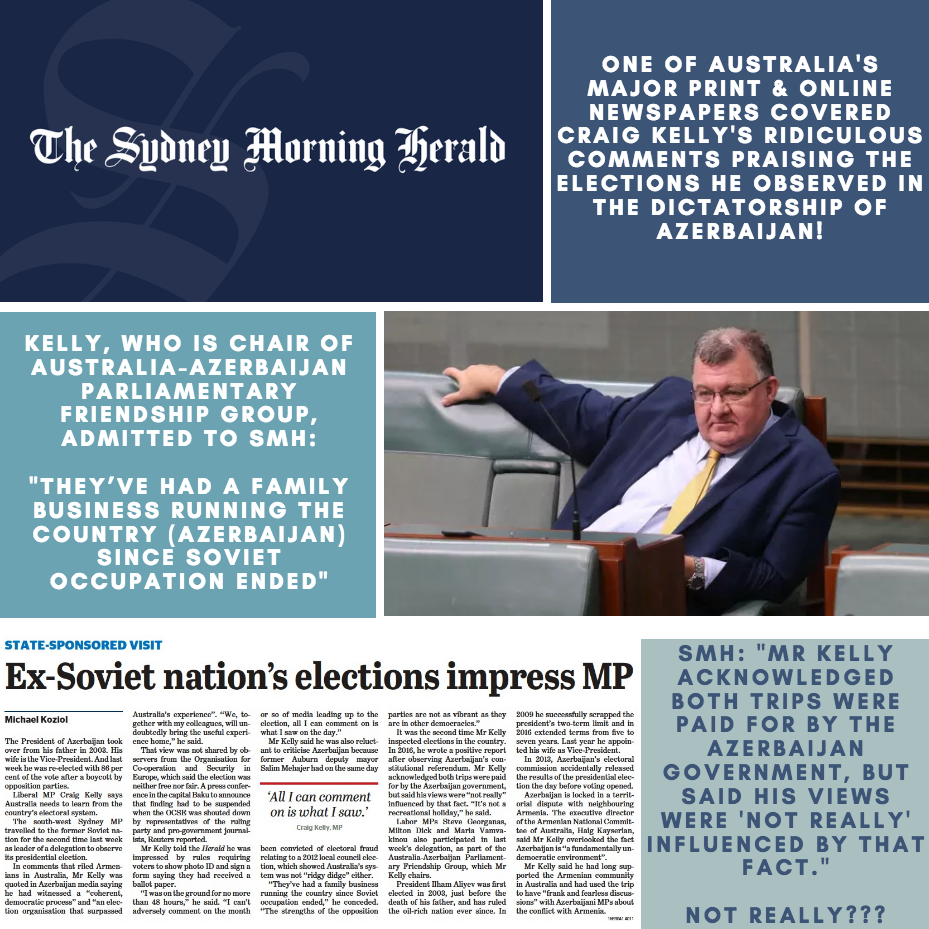 SYDNEY:
The Sydney Morning Herald
published Michael Koziol's article titled
"Australia should learn from 'coherent, democratic' Azerbaijan election, says Liberal MP after state-sponsored visit"
, exposing the sensational comments by Australian parliamentarian, Craig Kelly praising Azerbaijan's presidential elections which reinstated dictator, Ilham Aliyev.
The article appeared on page 11 of what is one of Australia's largest selling newspapers on 18th April 2018, as well as online at smh.com.au.
It begins with a scathing description of the facts:
"The President of Azerbaijan took over from his father in 2003. His wife is the Vice-President. And last week he was re-elected with 86 per cent of the vote after a boycott by opposition parties.

Liberal MP Craig Kelly says Australia needs to learn from the country's electoral system."
Further into the article, Kelly unbelievably admitted that the country is run as "a family business" alluding to the fact that an Aliyev has always been President, before admitting that his trip was paid for by the Aliyev regime. This is about a country he has visited twice to inspect polls, and which he has an intimate knowledge of as Chair of the Australia - Azerbaijan Friendship Group.
One of the more glaring sections of the article is when the author reveals that, while addressing whether his views were influenced by the oil-rich dictatorship paying for his trips to Azerbaijan, Kelly said "not really".
The Armenian National Committee of Australia (ANC-AU) Executive Director Haig Kayserian, who was quoted in the article, said this coverage "served a purpose".
"The message needs to be clear to Mr. Kelly and to all our political leaders, that Australia is watching," Kayserian said. "We will speak out when we see something that is not fair dinkum, and praising a perennial butcher of Armenians in Artsakh, a jailer of journalists and opposers, a hereditary dictator named Aliyev is certainly not fair dinkum."
He added: "We have been corresponding directly with Mr. Kelly and look forward to meeting with him to discuss this matter in greater depth. We hope that he has begun to see the light after referring to Azerbaijan as a 'family business' in the
Herald
, while backing that statement in personally sent emails in response to disheartened members of our community who wrote to him."
Over 130 people have commented on the online article at The Sydney Morning Herald website, while the Armenian-Australian community responded to an action alert by ANC-AU by sending over 100 emails voicing their discontent at his comments.
TO READ THE SMH ARTICLE ONLINE, CLICK https://www.smh.com.au/politics/federal/australia-should-learn-from-coherent-democratic-azerbaijan-election-says-liberal-mp-after-state-sponsored-visit-20180417-p4za2q.html.

TO MAKE YOUR VOICE OF DISCONTENT HEARD BY KELLY, FOLLOW THE STEPS BY CLICKING http://www.anc.org.au/news/Action-Alerts/ACTION-ALERT--Tell-Craig-Kelly-that-glorifying-the-murderous-dictatorship-of-Azerbaijan-is-unacceptable.



BACKGROUND INFORMATION
According to The Economist, Azerbaijan ranks 148/167 countries in terms of democratisation, a measure corroborated by Freedom House which ranks the Caspian oil state below Iraq, Iran, China and Russia in term of civil and political rights and freedoms.
Reporters Without Borders ranks Azerbaijan 162 out of 180 countries in terms of press freedom. Transparency International ranks Azerbaijan 122/180 on its Corruption Perceptions Index.
In its 2017/18 report, Amnesty International notes that according to Azerbaijani human rights defenders, more than 150 people – including journalists and political activists - remained imprisoned on politically motivated charges.
Human Rights Watch, in their 2018 World Report, expressed concern at Azerbaijan's repeated refusal to accept decisions handed down by the Council of Europe, the European Parliament, and the European Court of Human Rights condemning a range of rights abuses committed by the government – including the "unrelenting crackdown" on government critics and the detention of journalists and critics on politically motivated charges.
The Government of Azerbaijan has also recently been linked to a money laundering scandal known as the "Azerbaijani Laundromat" that saw $2.9 billion USD funnelled out of the country into shell companies based in the UK. The funds were used to pay off European politicians to vote against condemnation of Azerbaijani human rights abuses in the Council of Europe, and to mobilise international organisations –including UNESCO – to promote a favourable image of the authoritarian regime at the world stage. According to the investigation by the Organised Crime and Corruption Reporting Project, $200,000 (USD) of the Laundromat funds were traced to Australia.
Azerbaijan
continues its violence and persecution of Armenians in the Republic of Artsakh (Nagorno Karabakh), through ongoing violations of the internationally-brokered ceasefire agreement.
The OSCE Minsk Group has asked for the installation of gunfire locator systems, increase of monitors and the removal of snipers on the line of contact. Armenia and Artsakh have agreed to these requests, Azerbaijan has not.