CANBERRA: Following the election of Nikol Pashinyan as Prime Minister by the National Assembly of Armenia, the Armenian National Committee of Australia (ANC-AU) issued a memo to members of Australia's Federal Parliament and the New South Wales State Parliament notifying them of the "peaceful, constitutional and domestically-driven political transition" in the Republic of Armenia.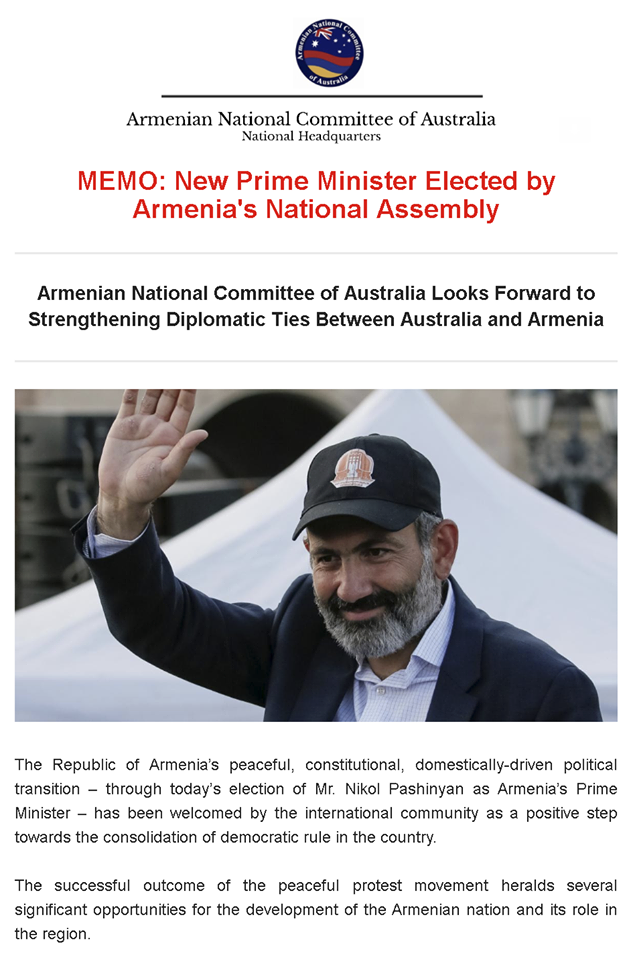 ANC-AU was also in Canberra on May 9th, using this opportunity to highlight the following prospects for deepening cooperation between Australia and Armenia in political and economic spheres:


Armenia has the capacity to advance shared democratic values and interests in the region, further distinguishing the country from the authoritarian practices of neighbouring Azerbaijan and Turkey.


Reform has centred around establishing an environment conducive to trade and international investment through the support of stable rules-based economic institutions free from corruption.


Calls for Armenia's greater integration into international institutions of political and economic cooperation promises to strengthen Armenia's participation in an increasingly connected global economy.


The promotion of Artsakh's inclusion in the OSCE Minsk Process, and further calls for Azerbaijan's constructive participation, signals positive momentum towards the resolution of the Nagorno-Karabakh conflict.



ANC-AU will continue to promote increase of positive bi-lateral relations between Australia and Armenia.