Australia's Department of Foreign Affairs & Trade:
denies knowledge that Turkey has threatened to ban Australians from Gallipoli, although evidence is black, white and colour;

changes its position on the Armenian Genocide for the second time this year, back to one of outright denial.
CANBERRA: Federal Senator Rex Patrick has exposed the confused and flip-flopping nature of the Australian Department of Foreign Affairs & Trade's (DFAT) knowledge and positioning on the Armenian Genocide, by raising questions on the matter during Senate Estimates at Parliament House, reported the Armenian National Committee of Australia (ANC-AU).
The DFAT representative who was selected to answer these questions on the 31st of May 2018, was the First Assistant Secretary of Europe and Latin America Division, Ms Catherine Raper.
She sensationally claimed that the Australian government had no knowledge of threats made by the Turkish government to ban Australians from visiting Gallipoli for the ANZAC Centenary services after NSW reaffirmed its recognition of the Armenian Genocide. This is despite a 2013 Press Release that is still live on the Republic of Turkey's Ministry of Foreign Affairs website, which says:
"These persons who try to damage the spirit of Çanakkale/Gallipoli will also not have their place in the Çanakkale ceremonies where we commemorate together our sons lying side by side in our soil."
This was seconded by then-Turkish Consul General in Sydney, Gulseren Celik, who told the ABC at the time in print (and confirmed again on video for
ABC 7.30
):
"We expect Australians to show the same kind of respect that we have shown to their history and their ancestry. Those individuals who show no respect to our history will not be welcome in Turkey."
Celik's
ABC 7.30
appearance confirming Turkey's threat against Australians is featured in the
video
below:
Despite all of this evidence, when Patrick asked Raper: "Is the government aware of threats made by the Turkish government to ban Australians from attending the ANZAC Day centenary services after the NSW government reaffirmed its recognition of the Armenian Genocide?"
Raper answered: "As far as we are aware, no such threats were made by the Turkish government."
After further probing from the Senator, who represents the state of Queensland in the national Parliament, on reports that the Turkish government uses Gallipoli access as a threat when Armenian Genocide recognition discussions advance in Australian state and/or federal parliaments, Raper answered:
"No there hasn't been. We enjoy good cooperations with the Turkish government on all the happenings of Gallipoli every year. As far as I'm aware, the Turkish government has not sought to connect those two issues (ANZAC Day in Gallipoli and Armenian Genocide recognition)."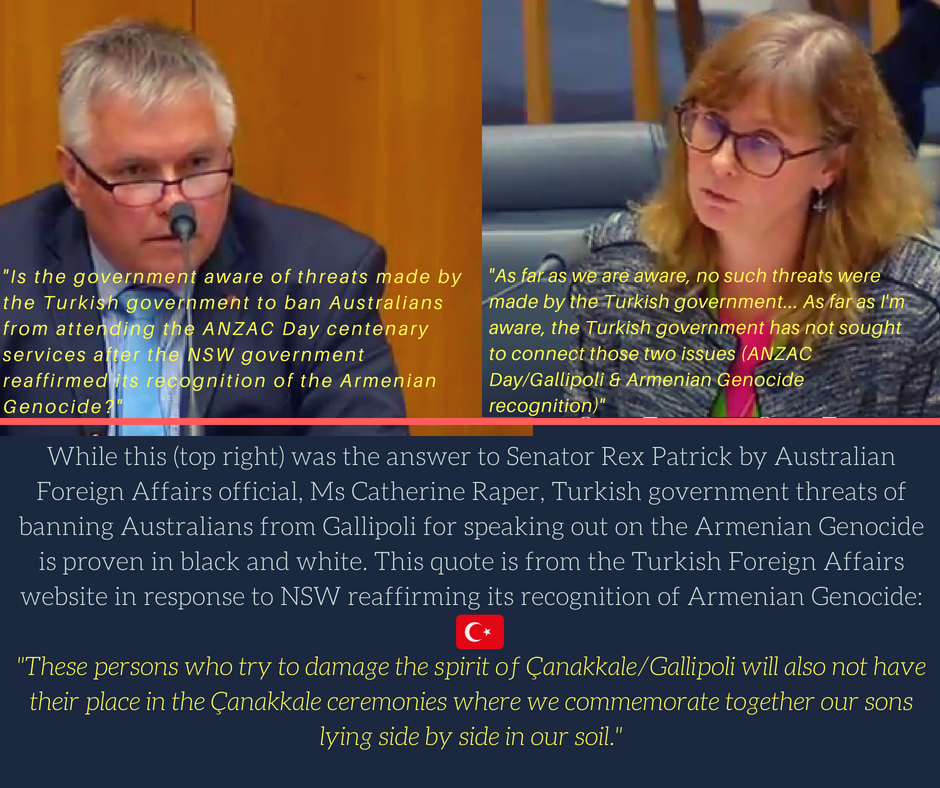 Raper went on to change DFAT's formal positioning on the Armenian Genocide once again. When asked in March 2018 by Senate Estimates (on notice) for Australia's position, DFAT had left out the very controversial statement that once featured in a letter to a Turkish lobby group, which said: "
We do not, however, recognise these events as 'genocide'...".


Barely two months later, and it now seems that DFAT has taken Australia back to its position of outright denial of the Armenian Genocide.
After admitting to Patrick that she has heard that the U.S. now uses the Armenian words of "Medz Yeghern" to describe the Armenian Genocide, Raper defined Australia's position as follows:
"We've had a long-standing position for many years, that we're deeply sympathetic to the Armenian people and recognise that those events took place, but we do not recognise those events as genocide as defined under the 1948 Convention."
Raper sights the 1948 UN Convention, which is where Raphael Lemkin used the Armenian Genocide and Jewish Holocaust as his samples while explaining why he coined the word "genocide". On further probing from Patrick, who asked if Australia would consider at least shifting its position to something more consistent with that of the U.S. (Medz Yeghern), Raper said:
"Our position remains as I've just stated and there are no plans to change that position."
ANC-AU Executive Director, Haig Kayserian denounced the "ill-informed and inept manner" in which the Department of Foreign Affairs has dealt with such an important human rights issue that impacts over 50,000 Armenian-Australians, most of whom are descendants of victims and survivors of the Armenian Genocide, as well as tens of thousands of Greek-Australians and Assyrian-Australians whose ancestors also suffered during the same genocide.
"The Department of Foreign Affairs is either confused, ill-informed or has chosen to misinform the Senate. None of these would be acceptable," said Kayserian. "It is in black and white on Turkey's Foreign Affairs website, and in colour on ABC's 7.30, that Turkey uses Gallipoli's ANZAC Day commemorations to threaten progress of Armenian Genocide recognition motions in Australia."
"This foreign dictatorship, which has one of the worst human rights records in the world with the largest number of journalists imprisoned, is using the sacred graves of our ANZACs as hostages to impose a gag order on Australia and make it complicit in genocide denial. It is appalling that our Department of Foreign Affairs responds by allowing the Turkish State to write this line in our foreign policy, despite knowledge that the Armenian Genocide, and the genocide of the Greeks and Assyrians, is nothing but a historical fact."
Kayserian added: "What is being exposed, and what we will continue to expose, is a diplomatically contorted, morally bankrupt and indefensible policy of the Department of Foreign Affairs in appeasing, or worse being complicit in, the Turkish State's repugnant policy of genocide denial. It is not befitting Australia's proud history of standing up for human rights and the extraordinary humanitarian aid to the survivors of the Armenian Genocide."
Senator Rex Patrick is a Senator representing the state Queensland in the national Parliament. He is a member of the Centre Alliance Party - formerly called the Nick Xenophon Team (NXT) Party - which has a policy position recognising the 1915 genocide of the Armenians, Greeks and Assyrians. The Armenian National Committee of Australia has thanked him on behalf of Armenian-Australians for raising these important questions.