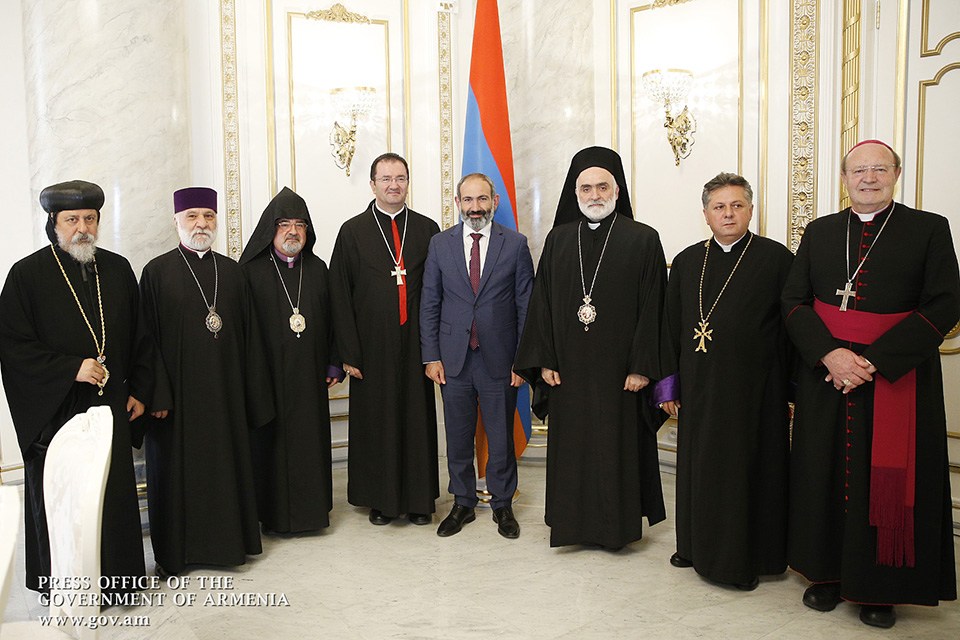 YEREVAN (Armenpress) — Prime Minister of Armenia Nikol Pashinyan received the delegation of leaders and representatives of Australian Eastern Apostolic Churches led by Most Reverend Robert Rabbat, Eparch of the Melkite Catholic Church of Australia and New Zealand also President of the Conference of Middle Eastern Bishops Australia.

Rabbat was joined His Grace Bishop Haigazoun Najarian - Primate of the Diocese of the Armenian Church of Australia and NZ, Very Reverend Monsignor Basil Soussanian - Parish Pastor Armenian Catholic Church of Australia, His Eminence Julian Porteus - Catholic Archbishop of Hobart, His Excellency Bishop Antoine Charbel Tarabay OLM - Eparch of the Maronite Catholic Eparchy of Saint Maroun of Sydney, His Grace Bishop Daniel - Primate Coptic Orthodox Diocese of Sydney and Affiliated Regions, and Reverend Elie Nakhoul - Episcopal Vicar for Media and Evangelization of Maronite Eparchy of Sydney.

The PM saluted the visit of the clergymen to Armenia and expressed confidence that it will foster the deepening of relations with the Armenian Apostolic Church. PM Pashinyan highlighted the unity and cooperation of Christian peoples for the sake of peace and stability.

Rabbat underlined the firm links of the Armenian community of Australia with the Church and noted that the close cooperation between Churches is important also for preventing violence and genocides in the world. He added that they are glad for the peaceful solution of political developments in Armenia, wishing success to the new Government of Armenia.

During the meeting the PM answered the questions of the clergymen, which mainly referred to the priorities of the Government in various spheres – fight against corruption, economic development, strengthening democracy and so on.