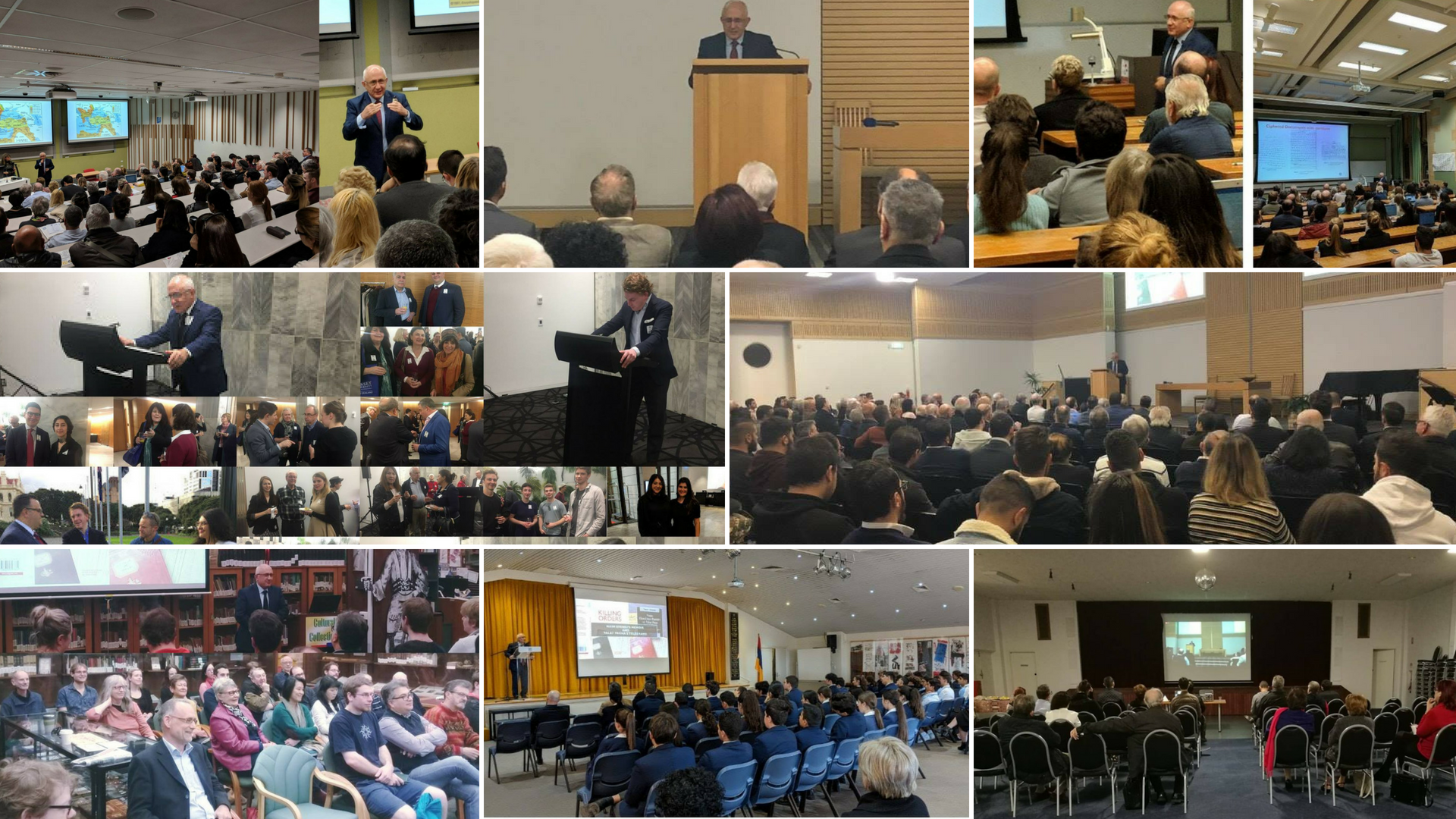 Australia/New Zealand: The Armenian National Committee of Australia (ANC-AU) hosted author of
"Killing Orders: Talat Pasha's Telegrams & the Armenian Genocide"
, Professor Taner Akcam, who delivered seven lectures over five days to packed audiences in the Australian cities of Sydney, Newcastle and Melbourne, and New Zealand cities of Wellington and Auckland, reaching hundreds about the undeniability of the Armenian Genocide.
The University of Sydney, University of Newcastle and University of Auckland hosted Akcam - widely regarded as one of the first Turkish scholars to acknowledge the Armenian Genocide - with audiences primarily filled with academic guests. Akcam also spoke in the New Zealand Parliament in Wellington, Melbourne's Armenian Community Centre, Sydney's Galstaun College and the Willoughby Uniting Church, which was live streamed at a gathering in Perth's Western Australian Hellenic Association centre.
In presenting 
Killing Orders: Talat Pasha's Telegrams & the Armenian Genocide
, Akcam was able to show archival evidence, previously dismissed as being 'fake', which refutes the ongoing denial of the Armenian Genocide. The sociologist and historian argued that the sanctioning of the genocide can finally be proven through official documents, and he summarised meticulous research he has undertaken as one of the most respected, award-winning names in the field.
ANC-AU Executive Director Haig Kayserian thanked the visiting Professor and all those who assisted in putting together this unprecedented series of lectures in Australia and New Zealand.
"Professor Akcam's research is arguably the most contemporary example debunking denialism of the Armenian Genocide, and his marathon effort to conquer our demanding program, which ensured this important information reaches as vast an audience as possible, is something we are very grateful for," said Kayserian.
"We would also like to thank the Armenian National Committee of New Zealand, the ANC-AU branches in Melbourne and Perth, Galstaun College, NZ Green MP Gareth Hughes, as well as the universities and the academics who helped ensure the success of Professor Akcam's visit."
(Read more about the New Zealand portion of Professor Akcam's visit by clicking here)