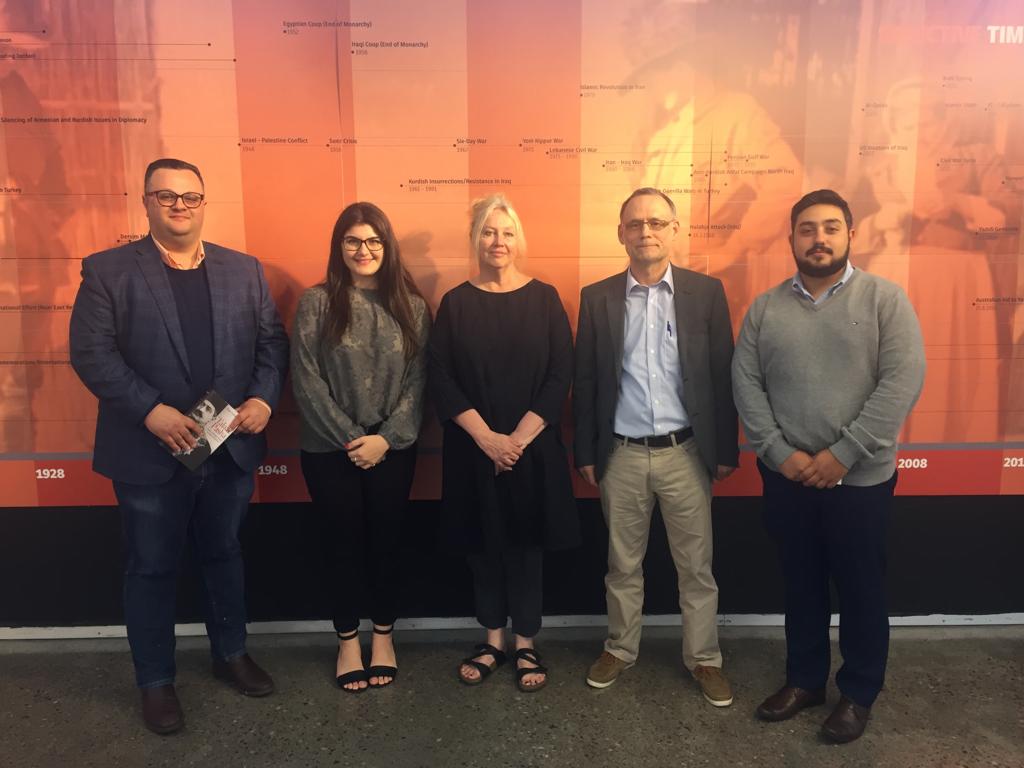 SYDNEY: The University of Newcastle is hosting an Exhibition, titled "
Long Shadows: The Great War, Australia and the Middle East",
which
offers a more comprehensive understanding of the events surrounding the ANZAC landing at Gallipoli in 1915, by portraying the significant crime against humanity that was occurring in the Ottoman Empire during the same time: the Armenian Genocide.

The Armenian National Committee of Australia (ANC-AU) visited the Long Shadows exhibit on Wednesday 19th September, 2018. It is a project led by historian, Associate Professor Hans-Lukas Kieser and put together by Art Curator, Ms Gillean Shaw. ANC-AU shot the following video with Kieser and Shaw from the University Gallery in Newcastle:



The Exhibition features a prominent section dedicated to the shared history between those who suffered the Armenian Genocide and the Australians who helped. It provides graphics and mementos – provided by Armenian-Australians including Vicken Babkenian and Nick Pezikian – from Australia's first major international humanitarian relief effort, which was to aid survivors of the Armenian Genocide.

Long Shadows also compares the experiences of the Armenians in 1915 and the Yazidis, who suffered from a genocide in the more recent past.

ANC-AU Executive Director, Haig Kayserian encouraged Sydney Armenians to take the drive to Newcastle and witness the Exhibit.

"The content was fantastic, but that was expected knowing the professionals who helped curate Long Shadows," Kayserian said. "What was less expected for us was the emotional reality we experienced after driving for two hours on the M1 from Sydney to Newcastle, where barely any Armenians live."

"It was overwhelming and humbling to have such a high quality and large exhibit detailing the history of our ancestors, detailing the assistance provided to them by our Australian forebears, and detailing the tragic continuing legacy of the unpunished Armenian Genocide at such a prestigious tertiary institution."

Kayserian added: "We encourage all Sydney Armenians to take the drive and witness these emotions for themselves. There have already been nearly 300 who have walked through the Exhibit, and it remains open until the 11th of November."

The "Long Shadows: The Great War, Australia and the Middle East" exhibit is open from 10am to 5pm Wednesday to Friday, and 12-4pm on Saturdays. For further information, please click here.