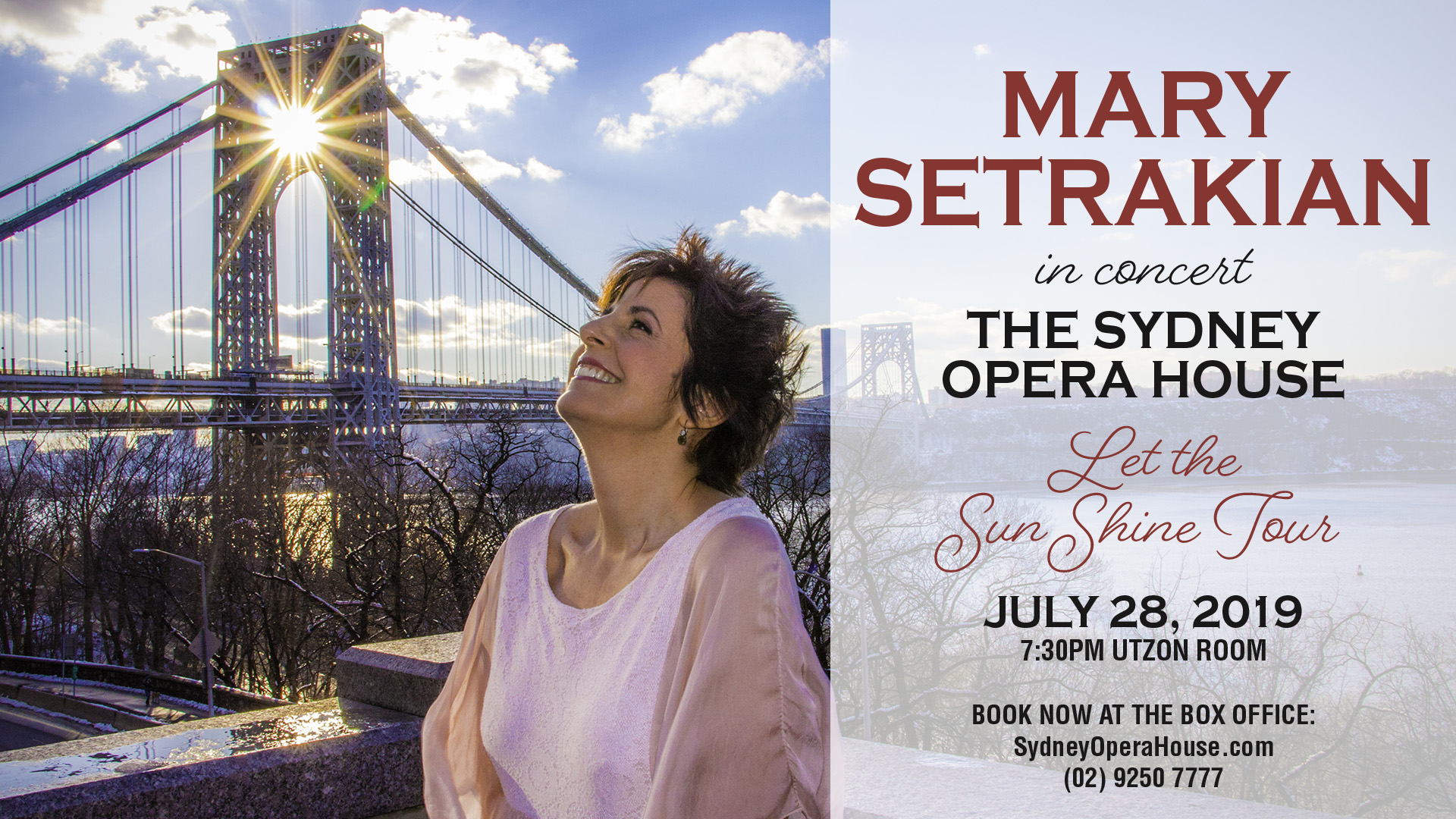 SYDNEY: Broadway Singer and Master Voice Teacher of Armenian heritage, Mary Setrakian is in Australia for the first time to present her Singing Masterclasses throughout Australia and present her one-woman concert at the Sydney Opera House on July 28th, which she's titled "LET THE SUN SHINE TOUR!"
Setrakian made her Broadway debut in Hello, Dolly! starring Carol Channing (cast recording). She toured with the Broadway companies of Phantom of the Opera (Madame Giry), Les Miserables, Hello, Dolly! (seen in several performances as Irene Molloy across from Carol Channing) and the World Tour of Evita (Eva Peron in Duisburg, Germany). Mary was featured at Carnegie Hall in Jubilee directed by Herbert Ross.
Her award-winning "Best Actress" regional roles include Fanny Brice in Funny Girl, Trina in Falsettos and the Narrator in Joseph and the Amazing Technicolor Dreamcoat.
Setrakian's critically acclaimed one-woman show, A New York Romance, was co-produced by the AGBU (Armenian General Benevolent Union) New York chapter for a seven-week run in Los Angeles, CA. The LA Times exclaimed "Chanteuse Setrakian is ... dazzling!"
Now Setrakian not only performs, but has become one of the most sought-after master voice teachers in the world. She prepared Nicole Kidman for her Golden Globe Award winning and Oscar nominated performance in Baz Luhrmann's Moulin Rouge.
She taught Mary J. Blige as well as the stars of John Turturro's musical movie Romance & Cigarettes, including Kate Winslet, James Gandolfini, Mandy Moore and Bobby Cannavale.
"My family came from the old country in the town of Bitlis, Armenia. My great grandfather Setrak Simonian, was killed by the Turks in 1899. After my great grandfather's murder, my family name was changed from Simonian to Setrakian - 'son of Setrak' - to honour my great grandfather," Setrakian explained.
"Setrak's son, my grandfather Arpoxit (Sox) Setrakian, escaped the Turkish Red Sultan in the early 1900s and came through Ellis Island, eventually raising his family in San Francisco, CA. Sox's son, my father Robert Setrakian, raised me and my three brothers there as well."
She added: "We weren't surrounded by a big Armenian community, but we always had pride in carrying our ancestry with us. My father absolutely loved singing and had me and my brothers harmonising around a reel-to-reel tape recorder from the time I was 3 years old. It was destiny that I'd become a Broadway singer."
Setrakian is also called upon by Disney to teach the leading players for the Broadway and touring companies of Elton John's Billy Elliot, Aida and The Lion King, Phil Collins' Tarzan, and Andrew Lloyd Webber's Bombay Dreams.
Other students of Setrakian include Kerry Washington, Juliette Binoche, Milla Jovovich, Sierra Boggess, Trudie Styler, Aida Turturro, Debra Cox, Annabella Sciorra, Keri Russell, Tate Donovan, Micky Dolenz, Josh Strickland, Simone, Patrick Cassidy, Charles Osgood, Danish pop star Tim Schou, and Italian stars Serena Autieri, Filippo Timi, Gala, Andrea Osvart, Denny Mendez, Roberta Gambarini, Marco Ligabue, Violante Placido, the a cappella group SeiOttavi, rapper Baby K and singers on the Italian TV shows X Factor, Sanremo and The Voice Italia.
Internationally, Setrakian is currently the Master Voice Teacher/Guest Artist at the Roma Film Academy and in New York City at the Susan Batson Studio. She has taught many workshops at the Pop/Rock School of Italian guitar legend Franco Mussida in Milan, Italy, CPM (Centro Professione Musica) since 2009. Mary has been teaching a variety of intensives and master classes in Rome, Milan, Naples, Venice, Palermo, San Remo, Ravenna, Manchester, Lisbon, Moscow, Brisbane and Yerevan since 2005.
She was invited to Yerevan in 2017 to be a jury member at the international SOSE FILM FESTIVAL. In addition to judging the feature films, Mary took the opportunity to share her singing workshop with the talented Armenian students at The Yerevan State Institute of Theatre and Cinematography.
Mary holds a Masters in Voice Performance from the New England Conservatory with Distinction and is a graduate of Stanford University in Music/Voice with Honors. She studied at the Tanglewood Music Festival with Phyllis Curtain and was a voice student of Joan Heller, Mark Pearson, Marie Gibson and Corinne Swall. She has studied acting with her mentor, Susan Batson, for over 30 years.
To book tickets for her show at the Sydney Opera House, click here.