SYDNEY: The Armenian Missionary Association of Australia (AMAA) has announced a special screening of Map of Salvation in the presence of Producer Samvel Saripekyan, in Sydney on Monday 12th August 2019, 4:30pm.

The screening will be hosted in the NSW Parliament House's Theatrette, by Member of the Legislative Council, Rev. Fred Nile.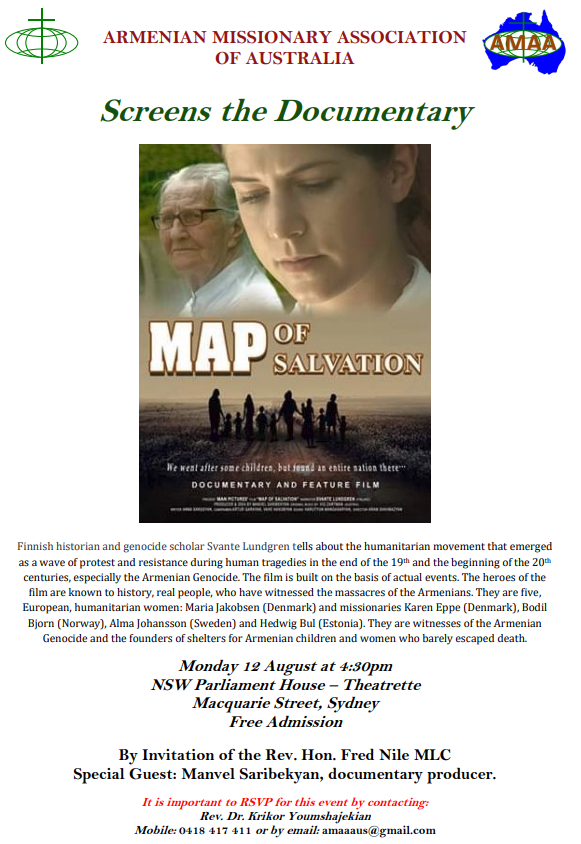 The film is about the humanist missionary movement that emerged as a wave of protest and resistance during human tragedies in the end of the 19th and the beginning of the 20th centuries, especially the Armenian Genocide. It is built on the basis of actual events. The heroes of the film are humanist missionaries known to history, real people, who have witnessed the massacres of the Armenians. They are five European women: Maria Jakobsen (Denmark) and missionaries Karen Eppe (Denmark), Bodil Bjorn (Norway), Alma Johansson (Sweden) and Hedwig Bul (Estonia). They are witnesses of the Armenian Genocide and the founders of shelters for Armenian children and women who barely escaped death.