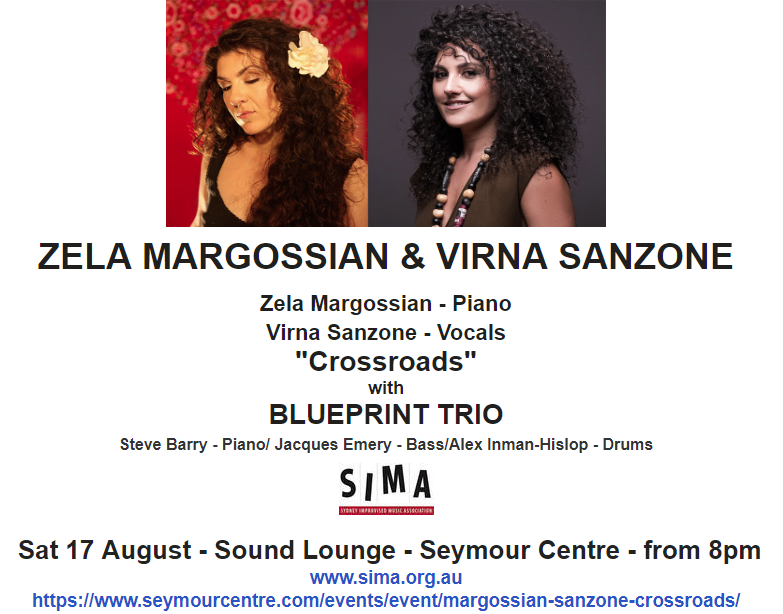 SYDNEY: Joining forces for the first time, Zela Margossian and Virna Sanzone unite for a cross cultural collaboration that celebrates their multiple ethnicities, including a shared Armenian ancestry.
Considered one of Australia's most distinguished jazz and soul artists, Virna Sanzone has been an integral part of artistic projects spanning a broad range of genres. 
The Italian Project
with pianist Paul Grabowsky represented Sanzone's first exploration of her heritage through music, receiving critical and audience acclaim at the Stonnington Jazz Festival, Wangaratta Jazz Festival and the SIMA Women's International Jazz Festival.
Pianist Zela Margossian's musical journey began in Beirut, moved to Armenia and finally made its way to Sydney. Drawing on her cultural background, classical experience and her transition to jazz, Zela's debut, 
Transition
, demonstrates the beauty of fusing musical genres and cultures. This promises to be a spectacular night of contemporary, intercultural music.
Details:


Sat 17 August - Sound Lounge - Seymour Centre - from 8pm
https://www.seymourcentre.com/events/event/margossian-sanzone-crossroads/