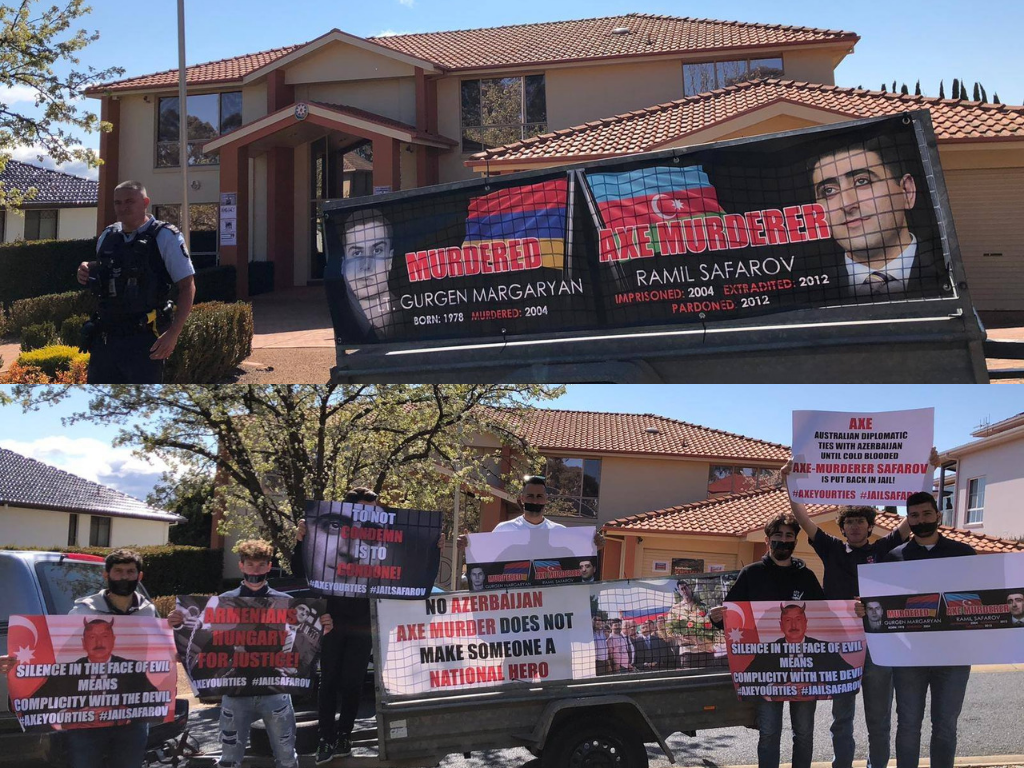 CANBERRA: The Armenian Youth Federation of Australia (AYF-AU) has held a silent protest at the Azerbaijani Embassy in the nation's capital Canberra, marking the seventh anniversary of the extradition and pardon of convicted axe murderer, Ramil Safarov.
15 years ago, on 19th February 2004, with an axe in hand, the then-Azerbaijani army Captain brutally delivered 16 blows to the sleeping body of Armenian Army Lieutenant Gurgen Margaryan, to the extent of almost decapitation, when both officers were attending a NATO Partnership for Peace program in Hungary.
On 13th April 2006, a Hungarian court sentenced him to life imprisonment – without the right of appeal for 30 years – as judge Andras Vaskut cited: "Safarov had no remorse for the premeditated nature and brutality of his crime….the murder of a sleeping man in peace time is always a crime and cannot be an act of heroism."
Sunday's demonstration by the Armenian Youth Federation of Australia in Canberra was to protest the date that saw Judge Vaskut's ruling come undone.
On 31st August 2012, after serving a mere eight years of his life sentence, a dodgy deal between Azerbaijan and Hungary saw Safarov extradited to Azerbaijan, where upon arrival he was greeted by the same President Ilham Aliyev who had assured the Hungarian Government and the world that Safarov would serve the remainder of his sentence.
But instead, this axe murderer was immediately issued a dictatorial pardon and gifted a full military parade, before being promoted to the rank of Major and despicably rewarded an apartment. Ironically, all of this with eight years of back pay.
The Azerbaijani Embassy did not accept AYF-AU's letter of protest in person, however this was left for them with authorities.
Parts of it reads as follows:
"This cunningly unremorseful, hateful, racist man is no longer in jail. And that is why we are here today as members of the Armenian Youth Federation of Australia."
"We are here because seven years ago, on the 31st of August 2012, Azerbaijan bought the extradition of Safarov back to Baku. Then, your President, Ilham Aliyev pardoned him, promoted him to Major, honoured him with the title of 'National Hero', and paraded him on the streets of Baku as 'an example of patriotism for the Azerbaijani youth' – that is a direct quote from your country's human rights commissioner, Ms. Elmira Süleymanova."
"According to Ms. Süleymanova, the axing of a sleeping young Armenian man while he was asleep during a peace mission is 'an example of patriotism for the Azerbaijani youth'."
"Similar statements were made by Mr. Aliyev and many considered senior in Azerbaijani leadership, clearly showing the fostering of racist hatred towards Armenians in your Republic."
"The status of Safarov as a promoted, paraded and free citizen of Azerbaijan is typical of the Armenophobia that has hampered the possibility of peace and security in the region of Nagorno Karabakh – where the citizens of the Republic of Artsakh and the Republic of Azerbaijan deserve to live in peace."
"Believing that cold-blooded, racially motivated murder is not and should never be an example of patriotism, we call on Azerbaijan to arrest and return Ramil Safarov to jail in order to serve out his life sentence, to retract and condemn all praise and tolerance of the racism that breeds such violence."
The Azerbaijan Embassy organised a counter-protest by sticking posters on the garage door of their premises, which said "Karabakh Belongs to Azerbaijan" and spreading of the Khojaly myth.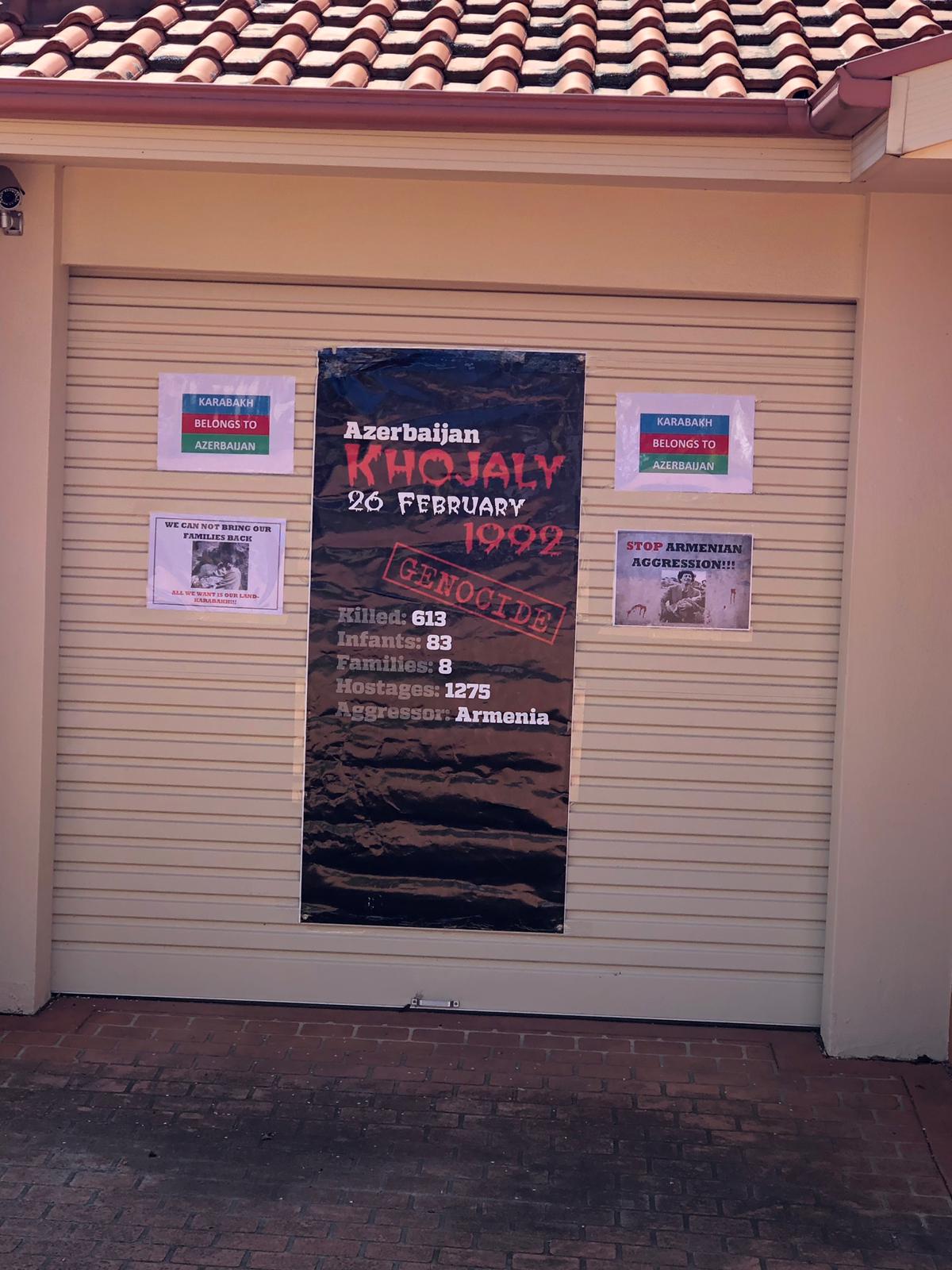 Another letter was delivered by the AYF-AU to the Hungarian Embassy, which reads in part:
"We call upon the Government of Hungary to publicly explain its course of actions, particularly in light of evidence exposed by the Organized Crime and Corruption Reporting Project (OCCRP) revealed that several bank transfers in excess of US$7 million were made to a Budapest bank account around the time the Hungarian government extradited Safarov to Azerbaijan."
"As part of the ongoing investigation into the 'Azerbaijani Laundromat' – a nearly US$3 billion slush fund tied to Azerbaijan's ruling elite and used to buy influence around the world as revealed by Hungarian investigative journalism NGO Atlatszo."
"They noted that this Budapest bank account belonged to an offshore company owned by the son of an influential Azerbaijani politician."
"We request that you immediately call upon the Azeri authorities to re-incarcerate Safarov in line with Article 5 of the European Convention."