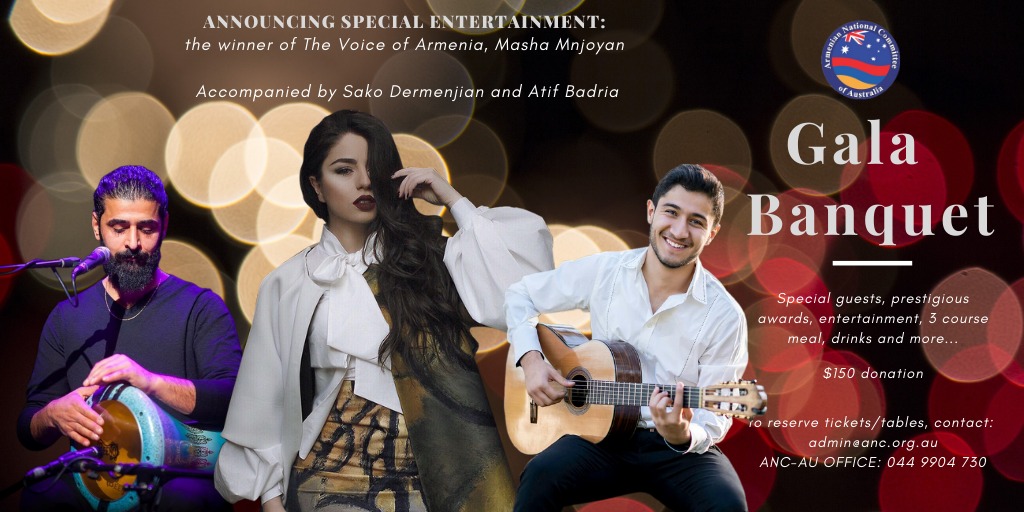 SYDNEY: The Armenian National Committee of Australia's (ANC-AU) most anticipated event of the year, its Annual Gala Banquet will feature a performance by the winner of the inaugural The Voice Armenia, Masha Mnjoyan.

In what will be the 2019 edition of the ANC-AU's night of all nights at The Hilton Sydney on Saturday 30th November 2019, the ANC-AU will report on its significant achievements over the past year.

"The ANC-AU Gala Banquet is our annual opportunity to celebrate our collective accomplishments in the name of Hai Tad (the Armenian Cause), together with all those who contributed within our community and beyond," said ANC-AU Executive Director Haig Kayserian.

"This year's event will be no exception as it was one of our most accomplished 12 months, highlighted by a Federal parliamentary debate calling for Armenian Genocide recognition in honour of the 70th anniversary of the UN Genocide Convention, as well as the visit of the highest profile political delegation from Artsakh and the historic first Federal-led Australian Delegation to Armenia and Artsakh," he added.

On the night, ANC-AU will also reveal the recipient of our prestigious ANC-AU Armenian-Australian Community's Friend of the Year award. Past recipients of this honour include Gladys Berejiklian, Joe Hockey, Paul Fletcher, Joel Fitzgibbon, Trent Zimmerman, Bob Carr, John Alexander, Phillip Adams, Jonathan O'Dea, Walt Secord, Michael Atkinson, Professor Colin Tatz, among others.

The distinguished Armenian National Committee Freedom Award will also be presented – with past recipients from around the world including U.S. Senator Robert Menendez, Film Director Terry George, German politician Cem Ozdemir, Australian Parliamentarian Joe Hockey, Armenian Studies pioneer Professor Richard Hovanissian, The Uniting Church in Australia, Grammy Award-winner Serj Tankian and New York Times Bestselling author Chris Bohjalian, among others.

Not only will the Gala Banquet host honourees from Australian public life, it will also include entertainment acts from a talented group of Armenians.

In her performance, Masha Mnjoyan will be accompanied by percussions master Atif Badria and Sako Dermenjian - an Armenian who has earned a reputation as one of Australia's best up-and-coming classical guitarists.

To support the Armenian National Committee of Australia with your attendance, please book your tickets and tables by consulting the phone numbers on the flyer below or online by clicking here.