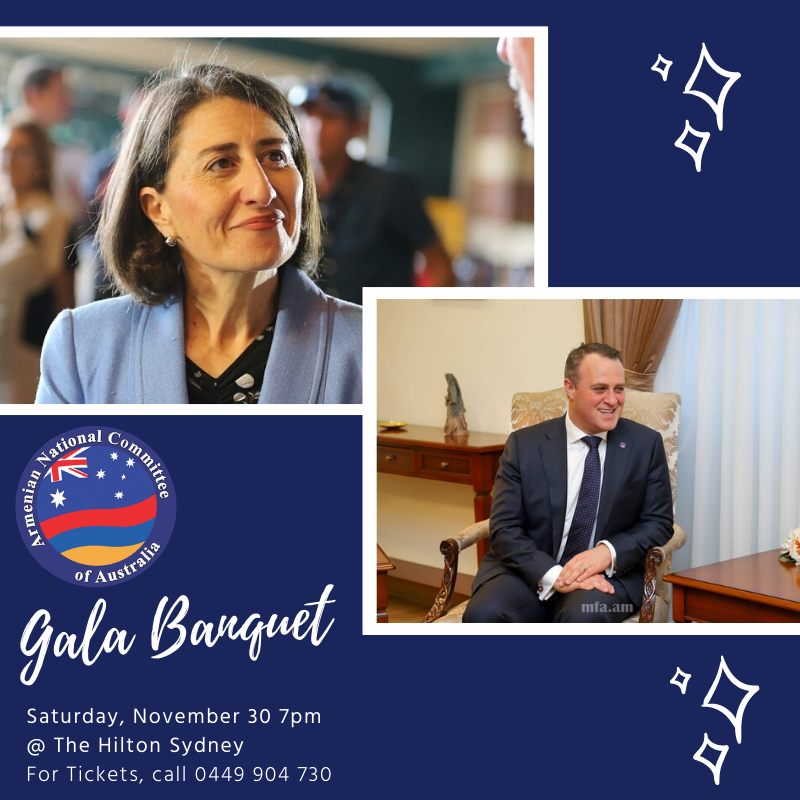 SYDNEY: Two Australian political powerhouses of Armenian heritage, the Premier of Australia's largest state of New South Wales the Hon. Gladys Berjiklian and Federal Member of Parliament Mr. Tim Wilson MP  will both be in attendance at the Armenian National Committee of Australia's (ANC-AU) 2019 Gala Banquet to be held at The Hilton in Sydney on 30th November.

Ms. Berejiklian, who represents the NSW electorate of Willoughby in Sydney's North Shore, and Mr. Wilson, who is the Member for the Melbourne electorate of Goldstein, will appear together at an Armenian-organised event for the first time.

Ms. Berejiklian and Mr. Wilson have both been major spearheads of Armenian issues in their respective parliaments, particularly in regards to the recognition of the Armenian Genocide, and their support for the self-determination of the Republic of Artsakh.

"We are honoured to have two of Australia's highly regarded political actors from State and Federal governments, both of Armenian heritage, come together on one evening to celebrate the advocacy achievements of our community," said ANC-AU Executive Director Haig Kayserian.

Since her historic victory earlier this year that made her the first elected female Premier of NSW, Ms. Berejiklian has visited Armenia, meeting the country's President and Prime Minister. She also hosted a delegation from the Republic of Artsakh in NSW during July 2019.

Mr. Wilson, who is Chair of the Australian Parliament's House of Representatives Committee on Economics, recently participated in the first Federal-lead Australian Delegation to Armenia.

Mr. Wilson also had the opportunity to celebrate Armenia's 28th anniversary festivities in Gyumri, where he met President Armen Sarkissian and Prime Minister Nikol Pashinyan, as well as the President of the Republic of Artsakh, Bako Sahakyan.

"The Armenian National Committee of Australia's Gala Banquet is that unique celebratory evening that can bring together such significant individuals from Australian public life, and Ms. Berejiklian and Mr. Wilson will be joined by several other parliamentary colleagues we will announce in forthcoming days," said Kayserian.

"This year's Gala will celebrate one of our most accomplished 12 months, highlighted by the launch of the Armenian Professional Network of Australia, a Federal parliamentary debate calling for Armenian Genocide recognition in honour of the 70th anniversary of the UN Genocide Convention, as well as the visit of the highest profile political delegation from Artsakh and the historic first Federal-led Australian Delegation to Armenia and Artsakh," he added.

To support the Armenian National Committee of Australia with your attendance, please book your tickets and tables by consulting the phone numbers on the flyer below or online by clicking here.